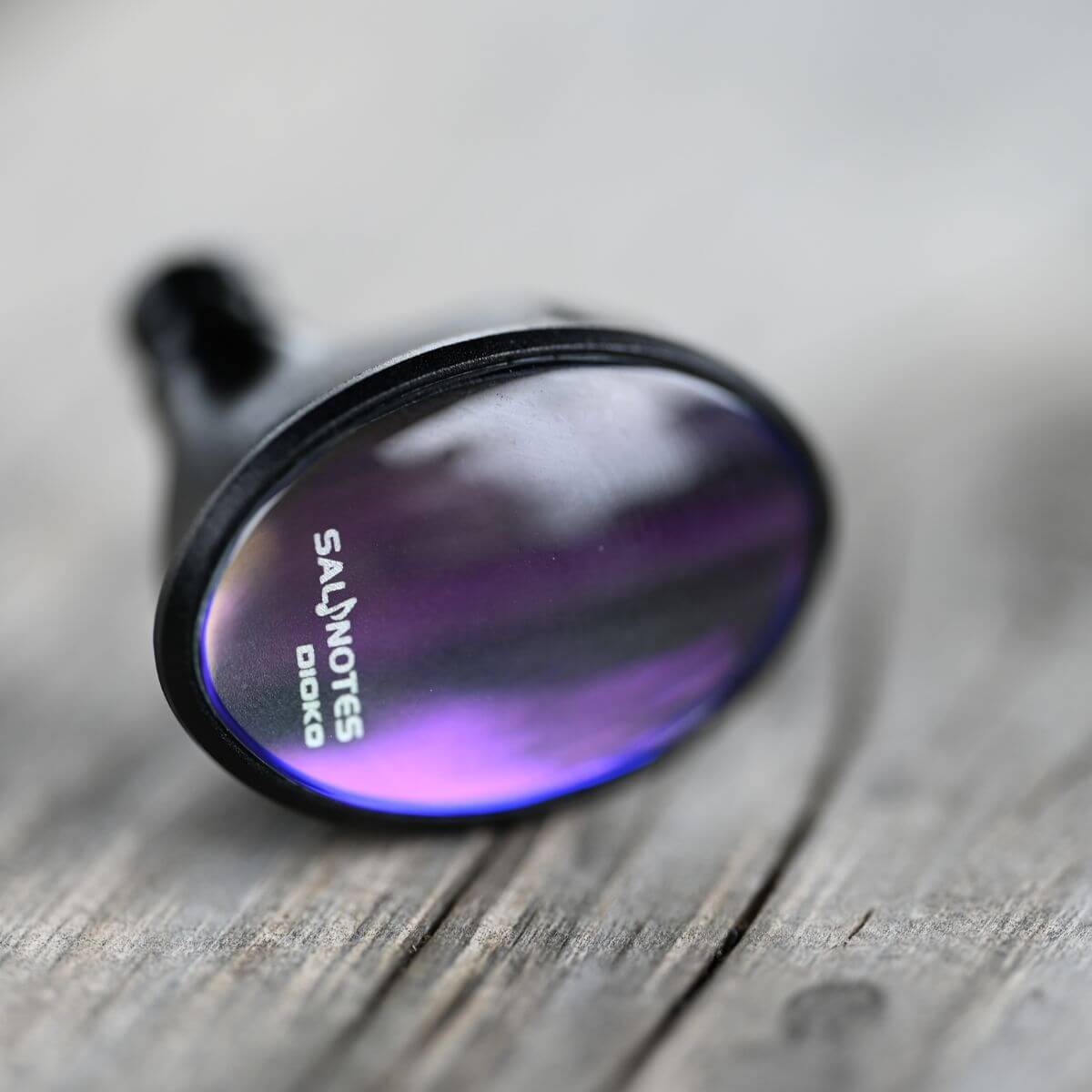 Disclaimer
This review is based on a sample provided by Linsoul to convey a sincere quality review to our readers.
No remuneration or compensation, such as a manuscript fee, has been received for publishing this, and it is an honest evaluation based on measurement data from personal testing and personal opinion.
Please read the privacy policy of this website.
Recommended for people like this
People who like studio tuning
People who value texture
People who value localization
People who want to hear bright, detailed sound
People who want well-balanced earphones
Overview of 7Hz x Crinacle Salnotes Dioko
This review will give an overview of 7Hz x Crinacle Salnotes Dioko. A complete review of this product can be found here.
audio-sound Score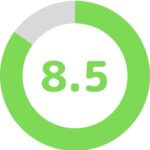 Total Score: 8.5 / 10.0
Package: 8.5 / 10.0
Build quality: 9.0 / 10.0
Fitment: 7.5 / 10.0
High range: 8.5 / 10.0
Mid range: 9.5 / 10.0
Low range: 8.0 / 10.0
Less distortion: 8.5 / 10.0
Want to see the score ranking? Click here!
Basic Specifications
Frequency response: 5Hz to 40kHz
Impedance: 16Ω
Sensitivity: 106dB
Cable connector: 0.78mm 2pin
package
Packaging meets price standard. The outer box is simple and made of paper, making disposal easy.
Package contents
7Hz x Crinacle Salnotes Dioko
Eartips
Carring case
Instructions
Build quality
Build quality meets price standard. The faceplate is very beautiful.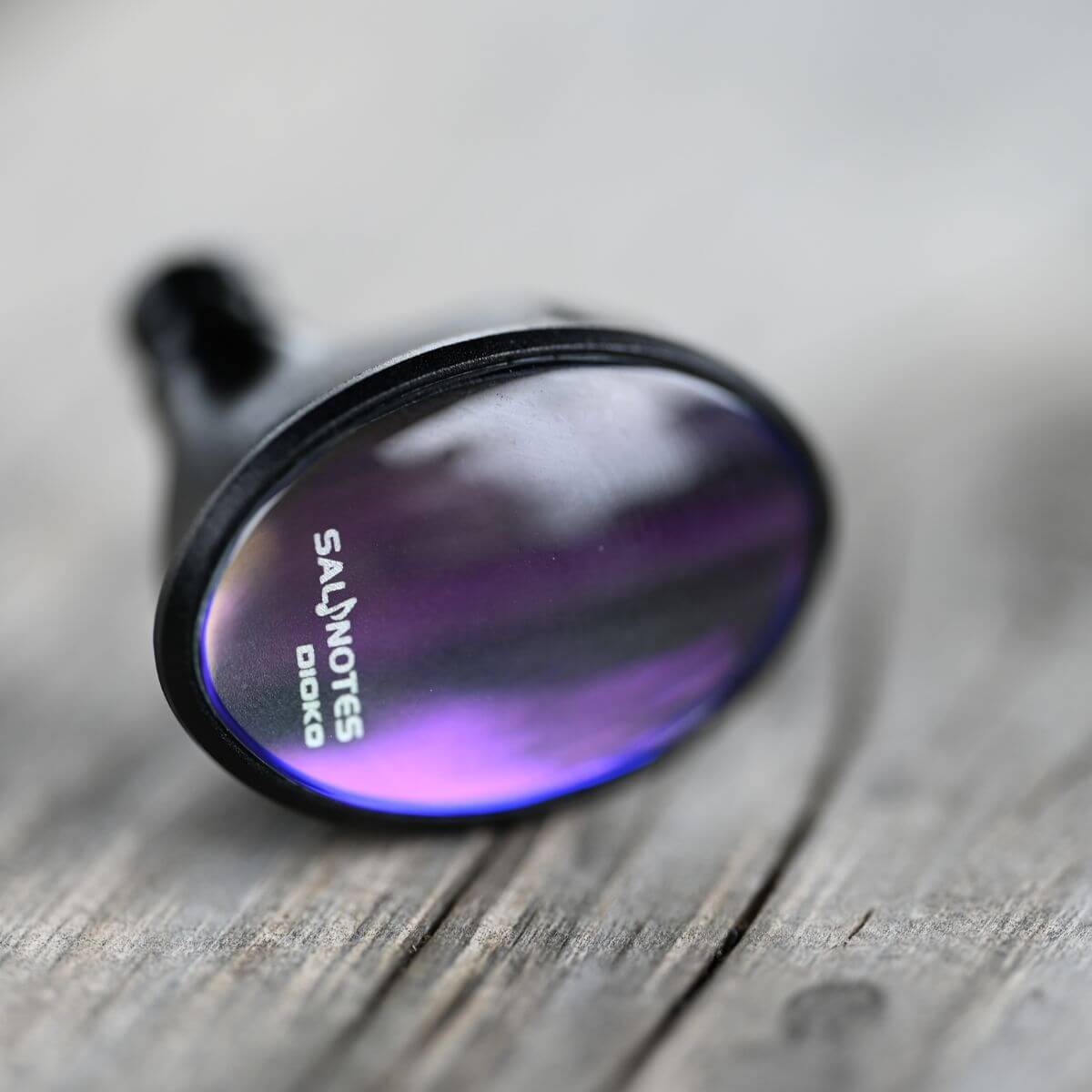 Fit
The fit is not bad. Some of it depends on the ear tips, but personally, I found them a bit poorly secured.
Sound quality
REW Frequency Response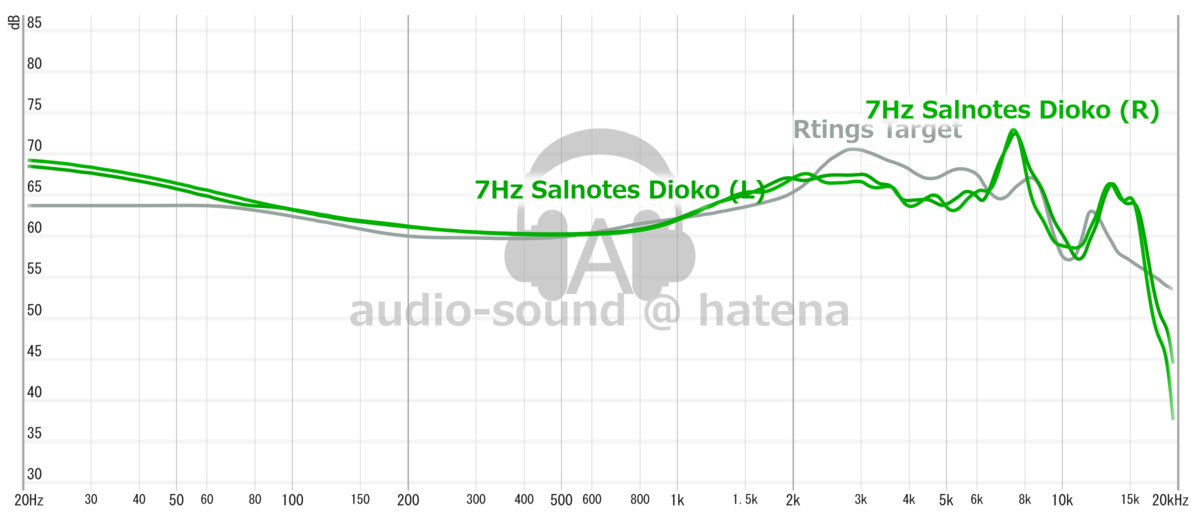 Sound quality description
In this review, I use the standard eartips size L and drive it with the FiiO M15.
This product, as the name suggests, involves a prominent reviewer, "Crin," whom I greatly respect, and if you check the frequency response of the 7Hz x Crinacle Salnotes Dioko, you can easily confirm that Crin has prepared a great sound balance graph for these earphones. The sound balance is closer to neutral than flat, but overall well-defined from low to high frequencies.
My evaluation scheme also gives near outstanding ratings for sound balance, and I am thrilled to be able to taste Crin's good work.
Please see here for detailed reviews on sound quality.
Sound quality general comment
Original Sound Fidelity: A+
Recommendation: A-
Personal preference: B
7Hz x Crinacle Salnotes Dioko is at a superior level in sound balance and THD characteristics, has excellent braking characteristics, and superficially appears to be a very good earphone, beating most high-end models.
DIOKO is not a miracle earphone in the sense that, for example, LETSHUOER S12 or JVC HA-AE5T are.
Sound quality features
Pros
High fidelity to original sound
Fairly good texture
Fairly good localization
Excellent damping characteristics
Consistent phase response
High sound image consistency
Low distortion
Good sound balance
Cons
A little short on high frequency extension
Lacks resolution.
Expression is thin and nuance lacks depth.
General comment
The 7Hz x Crinacle Salnotes Dioko earphones have excellent sound balance, low distortion, and clean sound, giving a refreshing and delicate sound. The high consistency of the sound image, which comes from the dumping and phase characteristics of the plane-driven drivers, is also very attractive. Unfortunately, the lack of resolution makes the musical expression of these earphones sound thin, which puts them far below their rivals, but many people will still like the sound.
Purchase link