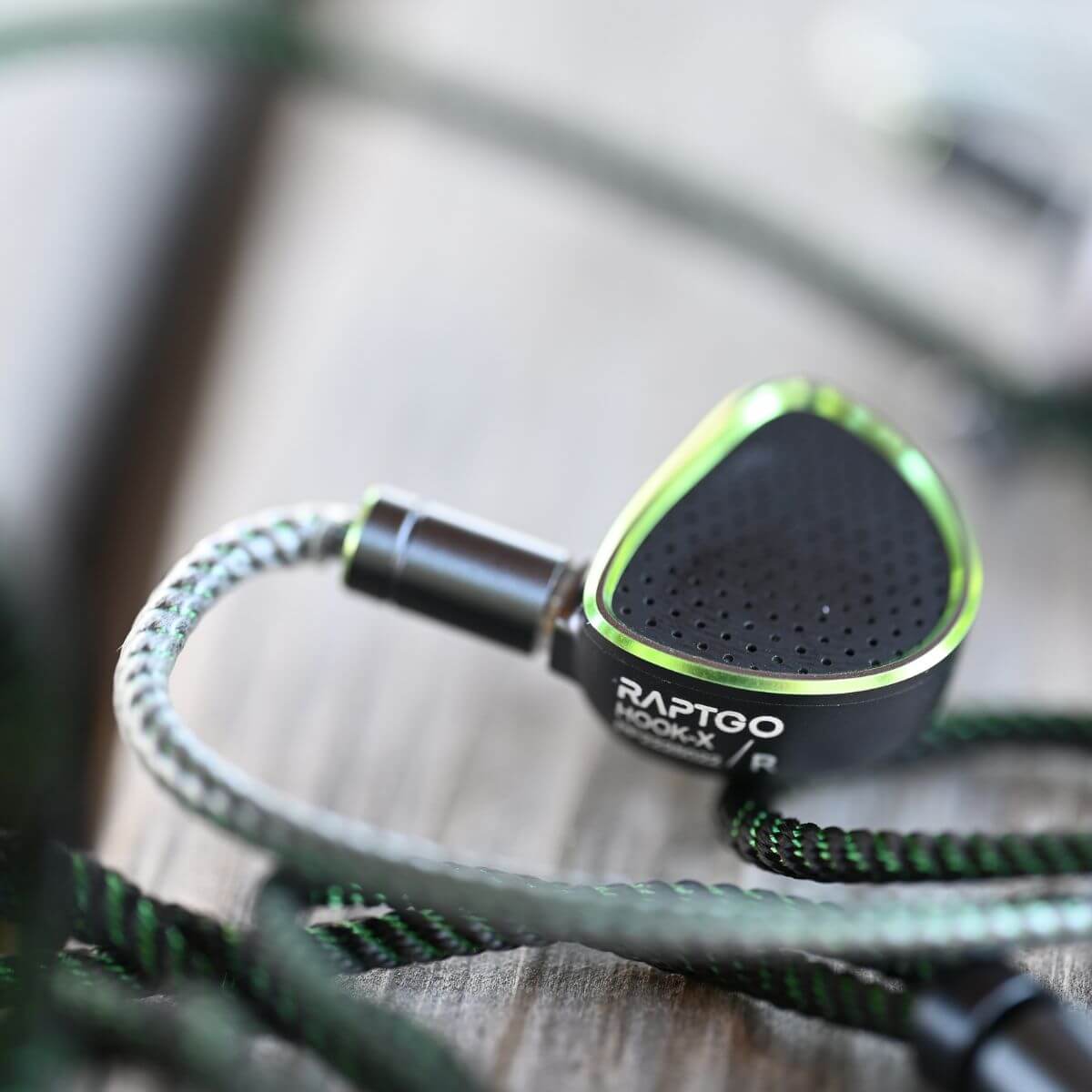 Disclaimer
This review is based on a sample provided by Linsoul to convey a sincere quality review to our readers.
No remuneration or compensation, such as a manuscript fee, has been received for publishing this, and it is an honest evaluation based on measurement data from personal testing and personal opinion.
Please read the privacy policy of this website.
Recommended for people like this
People who like studio tuning
People who value texture
People who like glossy and smooth sound
Vocal fetishists
People who want well-balanced earphones
Overview of RAPTGO HOOK-X
This review will give an overview of RAPTGO HOOK-X. A complete review of this product can be found here.
audio-sound Score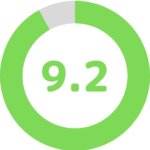 Total Score: 9.2 / 10.0
Package: 8.5 / 10.0
Build quality: 8.5 / 10.0
Fitment: 8.5 / 10.0
High range: 9.0 / 10.0
Mid range: 10.0 / 10.0
Low range: 9.5 / 10.0
Less distortion: 8.0 / 10.0
Cost performance bonus: 11.0 / 10.0
Want to see the score ranking? Click here!
Basic Specifications
Frequency response: 20Hz to 40kHz
Impedance: 15Ω
Sensitivity: 105dB
Cable connector: 0.78mm 2pin
Features of RAPTGO HOOK-X
Up-and-coming audio brand's Earphones with planar drive drivers that combine the best of technology
The HOOK-X is the first hybrid in-ear monitor to combine planar and piezoelectric (PZT) drivers. These two drivers are the most sensational driver technologies in the audio industry, yet they have never before been used together in an IEM format. We took on the challenge of this groundbreaking concept, and through careful engineering and testing, we have succeeded in creating an IEM that perfectly represents the powerful characteristics of these drivers in perfect sound quality. Unlike other IEMs that are simply packed with exaggerated drivers, the result is a well-balanced, well-tuned product that allows you to enjoy your music with the acoustic superiority of the drivers and their harmonious tonal qualities.
package
Packaging meets price standard. The outer box is simple and made of paper, making disposal easy.
Package contents
RAPTGO HOOK-X
Eartips
Carring case
4.4mm/2.5mm/3.5mm termination replacement plugs (1 of each)
Instructions
Build quality
Build quality meets price standard. The faceplate appears to be almost open. It should be noted that the sound insulation is low.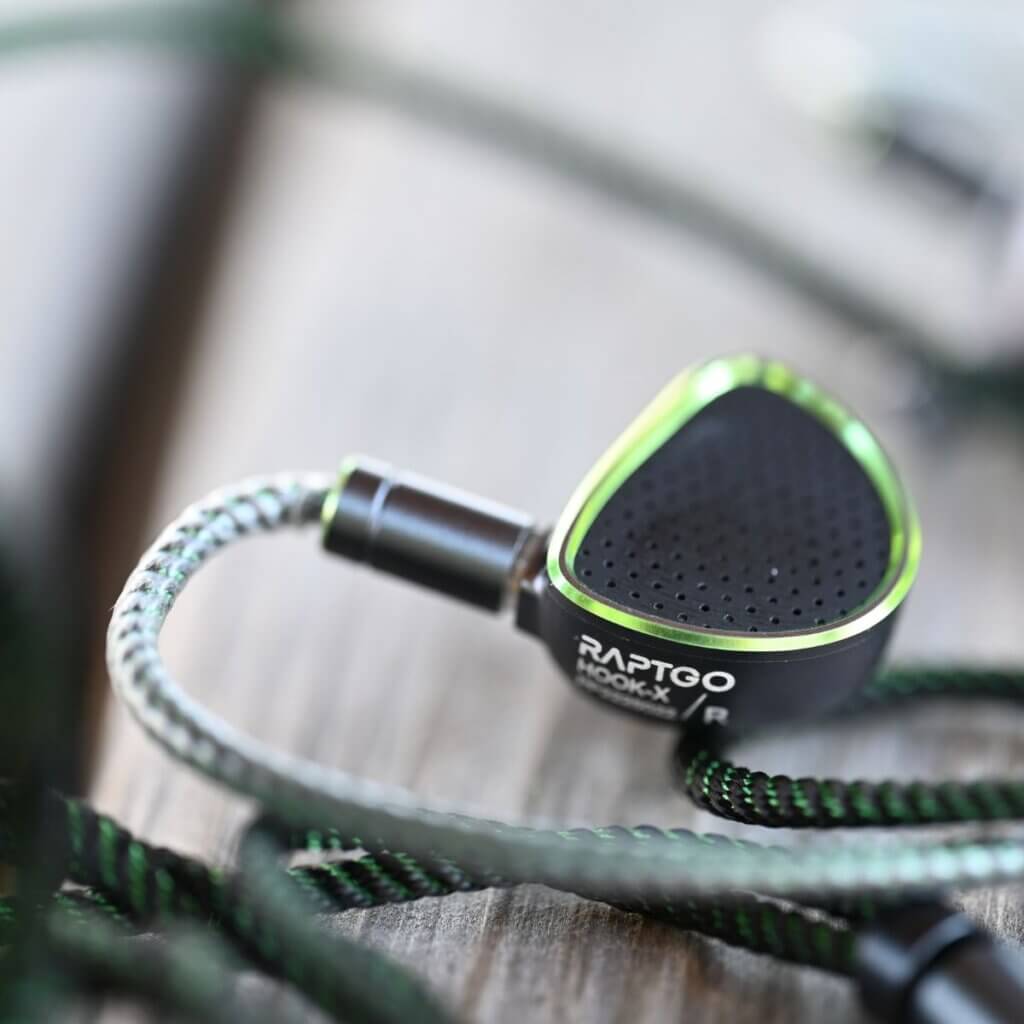 Fit
The fit is good.
Sound quality
REW Frequency Response
Sound quality description
In this review, I use the standard eartips size L and drive it with the FiiO M15.
The RAPTGO HOOK-X is balanced close to the Sonarworks Target, one of the well-established studio tuning targets, providing a nearly neutral, original-fidelity sound for most people.
Please see here for detailed reviews on sound quality.
Sound quality general comment
Original Sound Fidelity: A+
Recommendation: A+
Personal preference: S
The RAPTGO HOOK-X is a rather excellent model that delivers a quality sound close to orthodox studio tuning with sufficient resolution and audio specifications to meet the price level.
It is not an outstanding earphone like the LETSHUOER S12, but it is well above the price level and comparable to high-end products.
If I were to leave my position as a reviewer and judge by sound preferences, it is obvious that the S12 has an overwhelming advantage in classical music, but perhaps I prefer the HOOK-X to the S12 for pop songs because of its better focus on vocals and smoother sound. This may be due to my familiarity with the Sonarworks Target, as I have always been a fan of Sonarworks products.
This is my first experience with RAPTGO products, and the brand seems quite capable.
Sound quality features
Pros
High fidelity to original sound
Fairly good texture
Localization close to the speaker
Good damping characteristics
Good sound balance
Good focus on midrange
Good resolution
Cons
Lacking in high frequency extension
Quite prone to distortion when volume is turned up
General comment
The RAPTGO HOOK-X is a very high overall quality earphone with an innovative configuration that combines planar drive and piezo drivers, but the sound balance is well organized in a good studio tuning style.
The overall quality of the package is high enough to meet the standards of this price range and to compete well with many models priced above this one. The competing LETSHUOER S12 is so good that it may be lagging behind in terms of buzz, but many people may prefer the HOOK-X's sound when it comes to vocal tracks.
Purchase link