Disclaimer
This review is written based on a "private purchase" or "product rented for a price".
No remuneration or compensation, such as a manuscript fee, has been received for publishing this, and it is an honest evaluation based on measurement data from personal testing and personal opinion.
Please read the privacy policy of this website.
Recommended for people like this
People who like sharp sound
People who want to hear cool and stylish guitar
People who like dry sound
People who like bright sounds
Overview of MEZE RAI SOLO
This review will give an overview of MEZE RAI SOLO. A complete review of this product can be found here.
audio-sound Score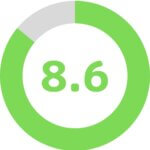 Total Score: 8.6 / 10.0
Package: 8.0 / 10.0
Build quality: 8.5 / 10.0
Fitment: 8.5 / 10.0
High range: 8.0 / 10.0
Mid range: 8.5 / 10.0
Low range: 8.0 / 10.0
Less distortion: 8.5 / 10.0
Want to see the score ranking? Click here!
Basic Specifications
Frequency response: 18Hz to 22kHz
Impedance: 18Ω
Sensitivity: 105dB/mW
Cable connector: mmcx
package
The packaging meets the price standard. However, it may be plain compared to the luxurious packaging of recent Chinese earphones.
Package contents
There is no shortage of accessories.
MEZE RAI SOLO
Eartips
Carrying case
Explanatory documents
Build quality
The overall texture is smooth and well sculpted, and the MEZE emblem is beautifully displayed.
Fit
The fit is quite good.
Sound quality
REW Frequency Response
Sound quality description
In this review, I use the standard eartips size L and drive it with the FiiO M15.
MEZE RAI SOLO has a V-shaped sound signature with emphasis on the upper midrange to mid-high range. It has an impressive sound with a bit of luster, but the midrange is a bit blurred and lacks dryness and freshness.
Please see here for detailed reviews on sound quality.
Sound quality general comment
Original Sound Fidelity: A-
Recommendation: B+
Personal preference: B
If you like bright sounds with a tendency toward a little sharpness, RAI SOLO is highly recommended. It is not bad, especially if you are attracted to sharp guitars, dry and slightly coarse cymbals, and aggressive female vocals with an emphasis on shouting.
Sound quality features
Pros
High resolution
Sound field with a sense of depth
Fairly high fidelity of original sound
Lustrous sound
Sharp and crisp sound
Cons
Lacks low-frequency depth
Dry and crumbly sound
Tends to be noisy and clattering
Vocals with a strong shout
General comment
MEZE RAI SOLO is an IEMs that delivers sharp, high-resolution sound. This product will be quite attractive to those who seek a sharpness to their guitar edge.
Purchase link
MEZE RAI SOLO
$199.00

amazon.com