Disclaimer
This review is written based on a "private purchase" or "product rented for a price".
No remuneration or compensation, such as a manuscript fee, has been received for publishing this, and it is an honest evaluation based on measurement data from personal testing and personal opinion.
Please read the privacy policy of this website.
Recommended for people like this
People who care about localization
Lo-fi sound lovers
SHURE fan
Overview of Shure AONIC 3
This review will give an overview of Shure AONIC 3. A complete review of this product can be found here.
audio-sound Score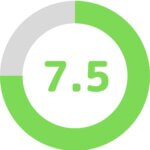 Total Score: 7.5 / 10.0
Package: 8.0 / 10.0
Build quality: 8.0 / 10.0
Fitment: 7.5 / 10.0
High range: 8.5 / 10.0
Mid range: 7.5 / 10.0
Low range: 6.0 / 10.0
Less distortion: 7.5 / 10.0
Want to see the score ranking? Click here!
Basic Specifications
Frequency response: 22Hz to 18.5kHz
Impedance: 28Ω
Sensitivity: 108dB/mW
Cable connector: mmcx
package
The packaging for the Shure AONIC 3 is as good as the price or a little more luxurious.
Package contents
There is no shortage of accessories.
Shure AONIC 3
Many eartips
Carrying case
Explanatory documents
Build quality
The exterior build quality meets the price range standard.
Fit
The fit is not flattering, worse than Etymotic Research. If you have small ears, they will pop out of your ears.
Sound quality
REW Frequency Response
Sound quality description
In this review, I use the standard eartips size L and drive it with the FiiO M15.
The Shure AONIC 3 has a warm-neutral sound. The sound tends to cluster in the midrange, with high resolution and good localization, so the midrange is clearly audible, but the texture is unnatural.
Please see here for detailed reviews on sound quality.
Sound quality general comment
Original Sound Fidelity: B
Recommendation: B-
Personal preference: D-
The AONIC 3 is the least expensive of the current AONIC series, but based on sound quality alone, it is probably the most decent of the 3, 4, and 5 in the current series. High resolution and localization accuracy make the AONIC 3 a somewhat practical monitor earphone.
However, they are riddled with the usual problems of SHURE earphones, including a high distortion rate, muddy and hard-to-hear low frequencies, a cagey sound with no discernible disconnect, and a complete lack of exhilaration. It is not a phone.
For some reason, Shure has a bad habit of not focusing on distortion rates and continues to produce distortion-prone audio equipment. The headphones have good sound balance and the distortion rate in the midrange is not so high that it becomes a problem, so much so that it is rather excellent, but the earphones have always been bad because the sound balance is poor and there is almost nothing good about them at all.
It was not so noticeable before because the surroundings were not good and it could be said that it was within the range of individuality, but if they are producing products like this by the standards of 2022, we can't even look at them.
If you bought KZ earphones these days with blinders on, you'd likely get better earbuds than these.
Sound quality features
Pros
Mild listening comfort
Excellent localization
Proper focus on the midrange
Lo-fi and nostalgic
Cons
lack in transparency
Lacks dynamism
Lacks exhilaration
Lacks depth
Lacks high frequency extension
Lo-fi sound
General comment
SHURE is known for great monitor headphones, but the earphone department is really not good. If you have the money to buy the SHURE AONIC 3, there is a good chance you would be better off buying the next earphones in the same price range with blinders on. Couldn't they have done something about the design?
Purchase link
Shure AONIC 3
$199.00

amazon.com