Disclaimer
This review is based on a sample provided by Linsoul to convey a sincere quality review to our readers.
No remuneration or compensation, such as a manuscript fee, has been received for publishing this, and it is an honest evaluation based on measurement data from personal testing and personal opinion.
Please read the privacy policy of this website.
Recommended for people like this
People who like the sound of monitor speakers
People who are particular about the midrange
People who like a bright and transparent sound
People who focus on vocals
People who prefer electric guitar
Overview of Tripowin x HBB Olina
This review will give an overview of Tripowin x HBB Olina. A complete review of this product can be found here.
audio-sound Score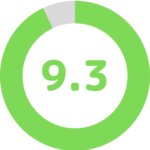 Total Score: 9.3 / 10.0
Package: 8.0 / 10.0
Build quality: 8.5 / 10.0
Fitment: 8.5 / 10.0
High range: 8.0 / 10.0
Mid range: 10.5 / 10.0
Low range: 9.0 / 10.0
Less distortion: 9.0 / 10.0
Want to see the score ranking? Click here!
Basic Specifications
Frequency response: 10Hz to 43kHz
Impedance: 32Ω
Sensitivity: 110dB/mW
Cable connector: 0.78mm 2pin
package
The package meets the price standard.
Package contents
The accessories are relatively complete. There are enough eartips.
Tripowin x HBB Olina
Eartips
Replacement filter
Carrying case
Instruction manual
Build quality
The overall texture is smooth and well-molded.
Fit
The fit is relatively good.
Sound quality
REW Frequency Response
Sound quality description
In this review, I use the standard eartips size L and drive it with the FiiO M15.
The Tripowin x HBB Olina has a gentle V-shaped sound that is fairly close to neutral. The highs are tuned to deliver speaker-like forward localization, and the midrange has near-perfect texture and excellent structure, so three-dimensionality is assured. Resolution is also high, and harmonic distortion is kept low, well above the price level. In a word, a very good earphone.
Please see here for detailed reviews on sound quality.
Sound quality general comment
Original Sound Fidelity: A+
Recommendation: S+
Personal preference: S+
The Tripowin x HBB Olina is one of the best earphones you can get in under $100 range, and in terms of audio specs, it's hard to find a better model at a higher price point.
The higher priced Moondrop Starfield seems to be the closest competitor. Perhaps because of the similarity in driver materials and construction, the acoustics tend to be similar, but the Olina offers a more three-dimensional and structured sound, while the Starfield is generally more smoothly tuned. Since they are nearly equal, it is a close call as to which is better, but my recommendation is the Olina.
Sound quality features
Pros
Fresh
High resolution
Perfect texture
High fidelity of the original sound
Near-perfect monitor speaker sound
Excellent sound image consistency
Highly transparent sound
Front localization
Cons
A little lacking in exhilaration
Lacks clarity.
Lacks depth
Lacks a bit of high frequency extension
General comment
The Tripowin x HBB Olina is one of the great earphones that offers very high quality, high resolution neutral sound at a low price of around $100. It unquestionably fits at the top of my recommendation list.
Purchase link