Chinese earphones are rapidly gaining a strong presence and a huge following among audiophiles. Among them, "Tripowin" has been rapidly gaining presence in recent years as a competent brand. Tripowin has emerged as a standard brand thanks to its excellent exterior design, well-tuned high-quality sound, and above all, attractive pricing that makes it easy to purchase.
This article presents a catalog of the latest popular earphones from the well-established Tripowin.
Tripowin × HBB Olina SE
Tripowin x HBB Olina is a collaborative project that has quickly become a favorite among audiophiles worldwide; HBB (Hawaiian Bad Boy from "Bad Guy Good Audio Reviews ") used their years of experience and vast database of IEM frequency measurements to develop balanced, articulate, and enjoyable acoustic characteristics for Olina.
With the Tripowin x HBB Olina SE, HBB has further refined the sound of Olina by incorporating the insights gained from its audio tuning research. With its new sound and refined design, Olina SE further enhances the legacy of the original Olina.
The Olina SE features the second generation of the carbon nanotube (CNT) dynamic driver first featured in the original Olina. This 10mm driver has been updated to enhance the diaphragm structure, especially at the suspension edge, and to increase the surface film tension for faster driver response. This driver delivers a dynamic range of 10Hz to 40kHz for a comprehensive hi-fi listening experience.
Features
Tripowin and HBB Collaboration
2nd generation 10mm CNT dynamic driver
More balanced sound quality
All aluminum housing
High purity detachable 2-pin cable
Related Articles
Tripowin Lea
Tripowin Leȧ uses the latest generation of liquid crystal polymer (LCP) diaphragm drivers for superior tonal balance and audio resolution. This 10mm driver, which is also used in very popular models from other manufacturers, is further enhanced by the addition of an acoustic chamber instead of the usual sound tube. By eliminating the sound conduit, a more realistic sound field and depth are achieved while suppressing unwanted harmonic resonance. Compared to the previous generation 10mm dynamic driver, this LCP diaphragm has tighter surface tension and resistance, allowing for quicker response and improved audible sound quality. It delivers the next generation of high resolution in the dynamic driver category.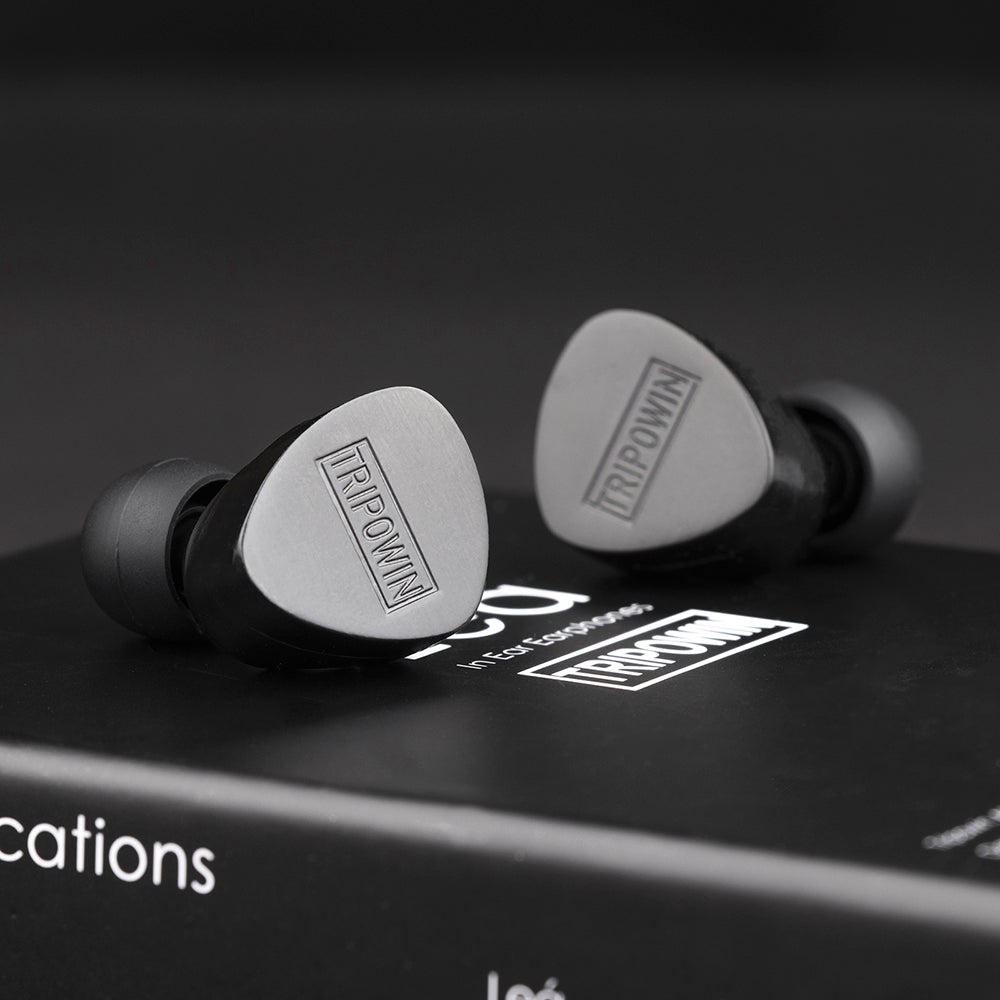 Leȧ focuses on balance tuning, featuring strong low-frequency rumble and impactful bass, natural midrange, and a high-frequency curve that matches the natural hearing of the human ear.The responsiveness of the LCP diaphragm allows Leȧ to produce a tight, powerful bass punch that is ideal for all genres. The LCP diaphragm and acoustic chamber design also ensures that the midrange remains neutral and unobstructed by the bass, reproducing the tone intended by the recording engineer. The treble is extended with a natural decay slope to produce a sound with uncomfortable detail.
Features
State-of-the-art 10mm LCP dynamic driver
Balanced tuning
Upgraded silver-plated oxygen-free copper cable
Related Articles
Tripowin Rhombus
Tripowin Rhombus features the American Knowles 33518 balanced armature driver and the new 10mm LCP/PU composite dynamic driver. 33518 is Knowles' latest Tripowin's new 10mm LCP/PU driver is a composite design consisting of a liquid crystal polymer diaphragm layer as the dome and a polyurethane layer as the suspension edge. The new design allows for a single dynamic speaker. This new design provides the sound uniformity of a single dynamic driver with the tonal distribution and characteristics of a multi-driver setup.
The tight diaphragm tension of the LCP layer enables remarkably fast and dense mid and high frequency reproduction, while the PU layer slows down large wavelengths and increases bass ringing for a rich midrange. This double-layer composite diaphragm is also matched with a double-layer high-tension copper voice coil for more responsive driver movement. Combined with the powerful N52 magnet system found in headphones, Rhombus creates a musical experience with speaker-like dynamics and rich textures.
Rhombus was acoustically engineered to find the balance between musical enjoyment and monitoring accuracy. The newly developed dynamic drivers deliver a surprisingly powerful sub-bass punch and rich midrange texture. The mids, however, are nicely tuned so as not to be muddy or bloated. Highs are well extended by Knowles' ultra-treble balanced-armature drivers, but are comfortable without any piercing frequencies.
Features
Knowles 33518 balanced armature driver + 10mm LCP/PU driver
CNC shell design by software engineers
Detachable high-quality sound cable
Accurate acoustics
Related Articles
TRIPOWIN X HBB Olina
Tripowin has partnered with one of the audiophile world's legendary audio critics, "Bad Guy, Good Audio Reviews" (aka Hawaiian Bad Boy), to create the next market-shaking, ultra-performance, budget in-ear monitor to follow the acclaimed Mele, the "TRIPOWIN X HBB Olina".
Olina uses the best diaphragm design that has been praised in the best in-ear monitors ever made: a 10mm carbon nanotube (CNT) diaphragm, which utilizes an integrated network of carbon tube structures and is considered one of the strongest and stiffest materials available with respect to tensile strength and modulus. Previous generation IEMs using CNT diaphragms have often been considered the best tuning and performance monitors. Now we have the latest generation CNT diaphragm design, which has increased the film velocity, thereby improving the transient attack and perceived audio clarity.
Olina is tuned using an acoustic cavity rather than a typical rubber sound tube. This eliminates unwanted harmonic resonances, resulting in a more lively and expansive sound.
From strong, clean lows to natural mids, the Olina is ideal for those looking for a well-balanced monitor. The high frequencies are also tuned to extend naturally while maintaining detail reproduction and airiness.
Olina combines the world's best dynamic drivers with the most precise tuning.
Features
High-performance dynamic driver with 10mm cavity
Carbon nanotube (CNT) diaphragm material
Tripowin and HBB's new collaborative IEM
High quality materials. Aluminum alloy, resin
Detachable 2-pin cable
Related Articles
Summary
Tripowin has been offering a series of masterpiece earphones with a refined exterior design and pursuing acoustic performance that rivals the best earphones on the market in terms of sound quality, while focusing on a relatively low price tag. This Chinese earphone brand, which continues to receive rave reviews from audiophiles, will continue to attract attention in the future.