1more's flagship true wireless earbuds, the 1more EVO, has been released.
supecification
Bluetooth 5.2 with LDAC
-42dB smart noise cancellation
5.5-8 hours of playback (ANC ON/OFF)
Hybrid architecture HiFi sound quality
Dual device connectivity
3D Ceramic Look
IPX4 waterproof rating
Sophisticated appearance
The 1MORE EVO uses the same long, rounded charging case design as its 1more predecessor. The material of the charging case is the same as the previous generation, but 1MORE EVO's charging case has a more matte and matte finish for a more luxurious feel than the previous generation. At the same time, the wear resistance of the charging case has been further improved.

And the "1MORE" logo on the top of the charging case has also been changed from the previous dark tone to the current rose gold color. The overall look of the charging case has been changed from the understated and introverted look of its predecessor to the current understated luxury look.

The black and rose gold earbuds look very noble and elegant, and coupled with the drop-shaped, streamlined body, 1MORE EVO has a rounded feel and soft lines. The beautiful, luxurious form is as refined as its flagship. 1MORE EVO features an ergonomic design, and each earphone weighs only 5.7g, so there is no sense of strain on the ear even when worn for long periods of time.
42dB hybrid noise cancellation
With 1MORE EVO, noise-canceling performance has also evolved from the previous generation. While previous products have already been highly acclaimed for their 1MORE noise cancellation performance, 1MORE EVO represents a new breakthrough in the noise cancellation experience.
The EVO features 1MORE's proprietary QuietMax noise cancellation technology. The earphones employ "Feedforward + Feedback" dual-microphone active noise cancellation technology, integrating smart algorithms to deliver precise and instantaneous noise cancellation. The depth of noise cancellation can reach 42dB. The noise canceling performance of the earphones has passed the certification and application of the National Market Regulatory Administration, and has also been certified by SGS, an internationally renowned testing institute.
With active noise cancellation reaching a depth of 42dB, EVO brings a solid sense of silence to your music. In noisy subways, in cafes and restaurants where people buzz, on boulevards where cars drive by, and everywhere in between, EVO delivers the silence you need to hear your music comfortably.
Selectable and optimized noise cancellation
The 1MORE EVO has multiple built-in noise cancellation and transparency modes. These modes include depth, comfort, wind-noise resistance, vocal transparency, and ambient transparency.

These are not only listener-selectable, but can also be set to be selected automatically by 1MORE EVO itself. 1MORE EVO has innovatively added an intelligent dynamic noise canceling mode, allowing the earphones to intelligently match the scene, allowing the user's ears to hear the most It can now automatically select the appropriate noise canceling mode that makes you feel comfortable. With the addition of intelligent dynamic noise cancellation, users no longer need to manually switch noise cancellation modes frequently, bringing a comfortable noise cancellation experience in any situation.
Hybrid configuration and LDAC support for outstanding sound performance
1MORE EVO features a diamond-like diaphragm dynamic driver and a balanced armature driver optimized for HiFi sound quality. It also supports LDAC, a high-quality Bluetooth codec, for high-resolution wireless audio transmission at 24bit/94kHz.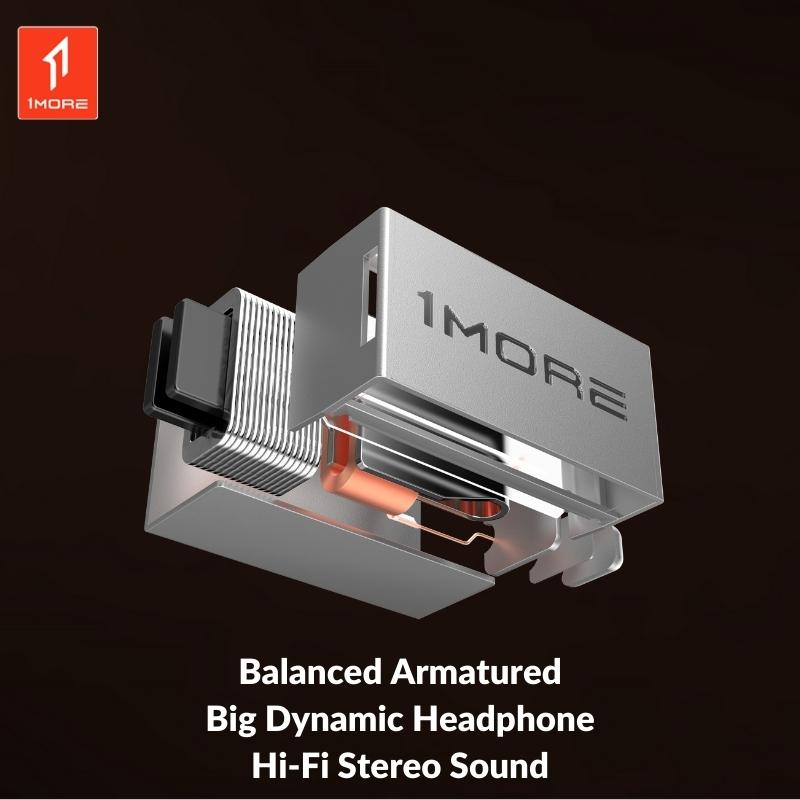 Price & Availability
Considering 1more's track record to date, the 1more EVO is expected to be a very good True wireless earphones. Hybrid driver configurations are 1more's specialty, and 1more has been working with Sonarworks in recent years to create a number of well-balanced sounding products that are quickly gaining a reputation for excellence.
1more Evo is priced at about $180 and is now available at Aliexpresss and other retailers.