A New Outlook for Shanling
In recent years, the audio industry has become increasingly focused on the field of personal audio devices, with product lines shifting almost completely to portable D/A converters, portable headphone amplifiers, portable high-resolution audio players, and, most importantly, IEMs/headphones.
Shanling believes that 2021 will be a turning point, when the audio industry will return to its roots, and the home audio field will take over.
It started with the Shanling M30
Already a few weeks ago, Shanling announced the Shanling M30 Modular Desktop HiFi Streaming Player, signaling the company's re-entry into the field of high-quality home desktop hi-fi.
Now, more product announcements are coming, and they are all envisioned with the same approach, that is, as so-called desktop audio systems, with the Shanling EM5 and Shanling EA5 being revealed.
Shanling EM5, a Desktop streaming DAC/AMP
Shanling is focusing on music streaming based on the industry standard UPnP with the EM5. the Shanling EM5 Streaming DAC/AMP is designed as a DLNA certified streaming client. In addition, it also supports Apple AirPlay to access a wide range of streaming services.
It can be operated with the appropriate application on your smartphone or tablet. In addition, a touch screen display is provided on the top of the EM5, allowing all functions to be operated comfortably on the device.
The Shanling EM5 Streaming DAC/AMP is equipped with Bluetooth, allowing you to connect directly to your mobile device as a source without the need for network infrastructure.
The backbone of the desktop audio chain
The Shanling EM5 Streaming DAC/AMP is designed primarily for use with headphones, and offers a wide range of flexible connection options to accommodate a variety of headphone models.
In addition to the most common options for unbalanced headphones, there are also options for balanced connections in the form of XLR and 4.4mm jacks.
As the name suggests, this solution is intended to function not only as a preamplifier, but also as a versatile D/A converter, so it can be used as a flexible interface for power amplifiers and active speaker systems.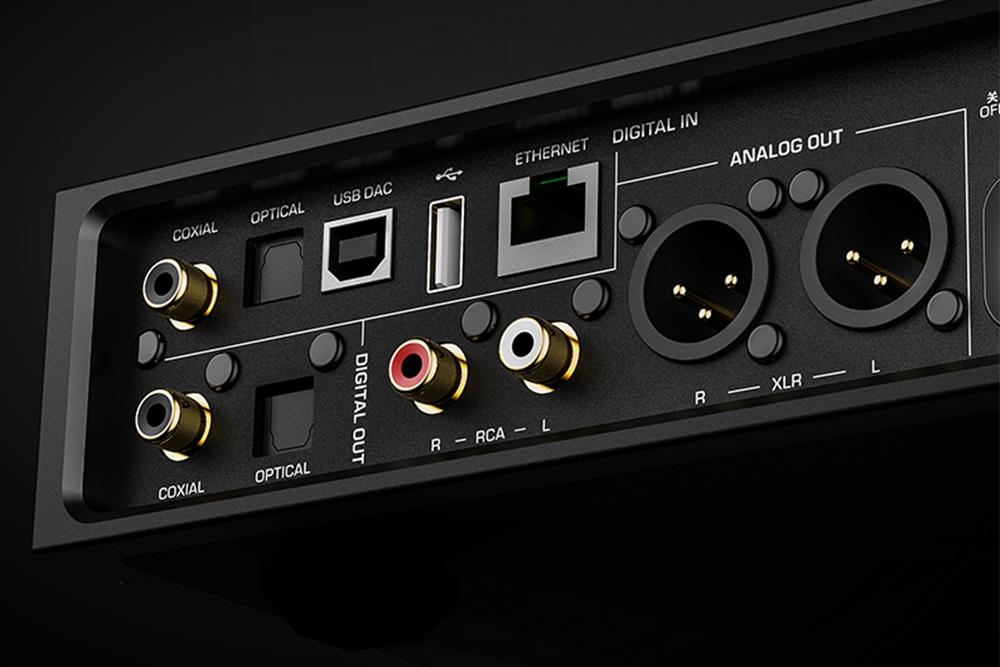 Specifications of Shanling EM5
System closed customized Android, with built-in streaming app
Display touchable 4.7" HD
Power supplySeparate power supply for analog and digital sections
Low noise toroidal transformer for analog section
Switching power supply for digital section
Analog circuitry
AKM AK4493 DAC
OPA2211 as low-pass filter
Two TPA6120A2 for headphone output
2X Muse8920 for preamp output
3rd generation FPGA
CPAF filter technology
KDS crystal oscillator
Panasonic tantalum capacitors
Headphone output: 6.35mm single-ended, 4.4mm and 4-pin XLR balanced
Preamp outputs RCA & XLR outputs
Digital inputs USB, coaxial, optical, LAN, external driver USB slot
Digital Output Coaxial & Optical
Output Power
Single ended 6.35mm - 540mW @ 32Ohm
Balanced - 1620mW @ 32Ohm
Wireless connection
Wifi 2.4 & 5G
Supports DLNA and AIrplay
Supports bi-directional Bluetooth 4.2 and LDAC
Audio support
PCM 32bit/384kHz
DSD256 native, DSD512 software
8x MQA
Due to a printing error in some media, the diagram of some units of EM5 shows OPA1612. The actual part used is OPA2211.
Summary
The Shanling EM5 is designed to function as the backbone of an Android-based home audio system, with MicroSD music storage, DLNA-compatible content server, Bluetooth, and AirPlay support. Shanling's system software technology has been well-developed through the development of digital audio players, and this seems to be a promising model in this type of product.
You can check out the details here.
Purchase link