Rising IEM brand KiiBOOM has released the KiiBOOM Allure, a single-driver IEM.
A Single Driver with the Sound of Twenty... The Allure was designed with a minimalistic approach towards maximizing the full potential of a single driver in-ear monitor.
Features
A Single Driver with the Sound of Twenty
The Allure was designed with a minimalistic approach towards maximizing the full potential of a single driver in-ear monitor. Dynamic drivers are the traditional hallmark driver types in the audio industry, and continue to be the staple behind the world's most renowned speakers and headphones. While balanced armature drivers provide easy workability in an earphone setting due to their small size, they cannot compare to the sheer power, tonal coherency, and acoustic timbre a full-sized dynamic driver can provide. To obtain the best sound a single dynamic driver can provide, we at KiiBOOM have engineered the perfect driver and acoustic housing to bring your music to life.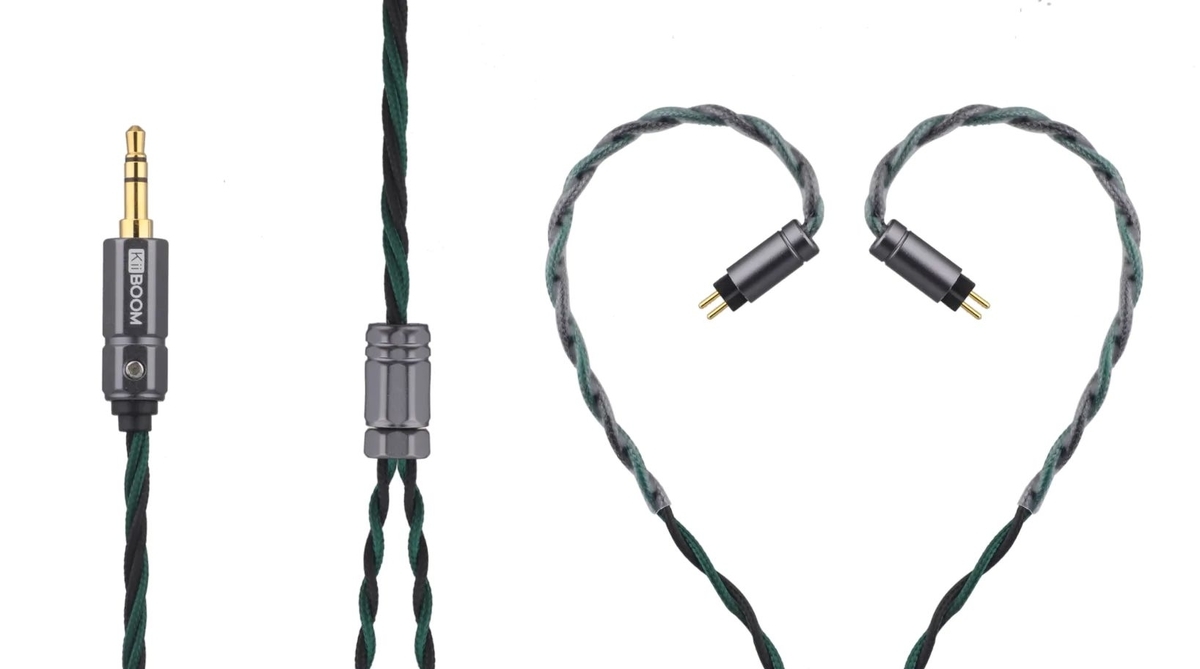 Technical Details
Driver Information: Single Beryllium Plated Diaphragm Dynamic Driver
Impedance: 18ohm
Sensitivity: 112db
Cable Connector: 0.78mm 2PIN
Frequency Response: 20-40kHz
BERYLLIUM PLATED DIAPHRAGM
The diaphragm membrane of a dynamic driver is the central component that determines the quality of the sound. Because sound waves move across the membrane as vibrations, the harder the tensile strength of the diaphragm, the faster the sound can reverberate. For this reason, we have used one of the world's strongest yet lightest metals - beryllium - as our membrane. Beryllium has an incredible tensile strength and when used as a diaphragm material, can provide impactful bass response and audio resolution unlike any other drivers.
We utilized a diamond-like carbon (DLC) polymer diaphragm which has already been engineered to produce tonal balance, and plated three separate layers of beryllium to harden and strengthen the membrane. This creates a diaphragm which is ultra responsive due to its increased surface tension. You will immediately notice the enhanced audio resolution that truly defines Hi-Fi and is nothing like heard from any other earphones. The more responsive membrane also makes for harder hitting bass impact and crystal clear treble details. The technology behind the Allure is the single driver solution to mobile high-fidelity audio.
MULTI-STEP ACOUSTIC ENGINEERING
There were 4 separate steps involved in carefully engineering the sound behind the Allure. The first step involved engineering the dynamic driver components themselves, including the magnets, diaphragm, and internal cavity structures, to achieve the perfect sonic qualities. Software-based tuning was then utilized to adjust the frequency and impedance measurements to precisely control tonal balance across the entire frequency range. The acoustic cavity of the housing material was also generated using our proprietary software algorithm and CNC'd in a precise manner to avoid any parallel surfaces.
This eliminates harmonic cancellation of soundwaves and also helps bring about a wider perceived soundstage in the music. Finally, we selected the exact acoustic dampening material to finetune the upper treble frequencies to bring about detailed, yet comfortably natural highs and a sense of air with each note. The resulting sound of the Allure can only be described as tonally accurate like a studio monitor, yet still lush and enjoyable for the day-to-day music lover.
ABOUT KIIBOOM
Our hobbies bring us excitement and color an otherwise mundane day-to-day life. They are opportunities to express our creativeness, explore unique interests, and discover what it means to be us. KiiBOOM is a collective of hobby enthusiasts from all around the world, with passions ranging from mechanical keyboards, high-fidelity audio, art toys (designer toys), garage kits, fountain pens, knives, watches, and fashion. Each member brings a unique set of R&D, marketing, and manufacturing skill sets from their respective fields, and allows an extremely diversified and comprehensive pool of knowledge on how to improve their hobbies.
Our global team ranges from the United States, Germany, Mexico, United Kingdom, Singapore, and Korea. These extensive connections allow us to maximize supply chains and take advantage of both ideas and materials from around the world. A central office and core team in Guangdong, China provides direct oversight into the manufacturing process amongst the creators we partner with for each product.
KiiBOOM exists to invent innovative product designs that can help people enjoy the things they love like never before. KiiBOOM is not solely crowdfunding or a group-purchase platform. We utilize extensive community-based inputs to produce and deliver tangible projects that are ready to ship to you upon order. We bring over 20 years of combined experience in designing, manufacturing, and distributing groundbreaking products across each field. KiiBOOM is ready to fuel a new era of hobbies and passions with every project.
Review
Price & Availability
KiiBOOM Allure is available now for $99 at KiiBOOM Official and other retailers.