Disclaimer
This review is based on a sample provided by KiiBOOM to convey a sincere quality review to our readers.
No remuneration or compensation, such as a manuscript fee, has been received for publishing this, and it is an honest evaluation based on measurement data from personal testing and personal opinion.
Please read the privacy policy of this website.
Recommended for people like this
People who value sound balance
People who like warm sound
People who value sound image consistency
Overview of KiiBOOM EVOKE
This review will give an overview of KiiBOOM EVOKE. A complete review of this product can be found here.
audio-sound Score
Total Score: 8.6 / 10.0
Package: 7.5 / 10.0
Build quality: 8.5 / 10.0
Fitment: 8.5 / 10.0
High range: 9.0 / 10.0
Mid range: 9.5 / 10.0
Low range: 9.0 / 10.0
Less distortion: 8.0 / 10.0
Want to see the score ranking? Click here!
Basic Specifications
Frequency response: 20Hz to 44kHz
Impedance: 16Ω
Sensitivity: 112dB
Cable connector: 0.78mm 2pin
Features of KiiBOOM EVOKE
Evoke - Where Music and Precision Collide
The Evoke is a hybrid in-ear monitor designed using the combinations of a single dynamic driver for bass, a full range balanced armature driver for mids, and a micro tweeter balanced armature for the upper trebles. This 3 driver configuration balances the best of all worlds in performance-to-efficiency ratio.
SUBWOOFER IN AN EARPHONE
The new 10mm dynamic driver features a liquid-crystal polymer (LCP) membrane for a deep and powerful bass response. Like the our other models, the Evoke has been engineered to put acoustic accuracy first, implying a studio monitor-like tonal signature. This translates to a thunderous sub-bass impact that still keeps the midrange neutral for a precise tonality in instruments and vocals. It is the closest you can get to a physical studio monitor with subwoofer setup within an earphone design.
BALANCED ARMATURE DRIVERS
The full range balanced armature is carefully engineered to cohere to the bass range of the dynamic driver and deliver a full-bodied midrange, while keeping the tonal presentation flat and neutral. Using a separate balanced armature driver for the midrange and the upper treble allows greater control of the frequency spectrum, allowing an exact acoustic engineering to achieve the perfect natural and detailed musical presentation. Using only genuine American Knowles balanced armature drivers, the Evoke maximizes the full potential of these drivers to achieve a sonic performance unparalleled by even the most famous earphones in the industry. The Evoke is the first in its class to masterfully deliver top of the line musical performance in a minimalist driver combination.
MEDICAL RESIN PRINTED SHELLS
The housing of each Evoke unit is precisely 3D printed using European medical-grade resin often used for hearing aids. This ensures safety to the skin and comfort over many hours of listening. Our resin is also more durable, which will keep your unit safe from day to day handling. After printing, each shell is paired, sanded down, polished, and finished by hand.
4-CORE UPGRADED COPPER CABLE
The Evoke comes standard with an upgraded 4-core oxygen-free copper cable that is woven in an oxygen-free enclosure. This minimizes corrosion in the wires and keeps your music sounding transparent even over time. The 2-pin connector also means you can easily swap out different cables with the Evoke.
ABOUT KIIBOOM
Our hobbies bring us excitement and color an otherwise mundane day-to-day life. They are opportunities to express our creativeness, explore unique interests, and discover what it means to be us. KiiBOOM is a collective of hobby enthusiasts from all around the world, with passions ranging from mechanical keyboards, high-fidelity audio, art toys (designer toys), garage kits, fountain pens, knives, watches, and fashion. Each member brings a unique set of R&D, marketing, and manufacturing skill sets from their respective fields, and allows an extremely diversified and comprehensive pool of knowledge on how to improve their hobbies.
Our global team ranges from the United States, Germany, Mexico, United Kingdom, Singapore, and Korea. These extensive connections allow us to maximize supply chains and take advantage of both ideas and materials from around the world. A central office and core team in Guangdong, China provides direct oversight into the manufacturing process amongst the creators we partner with for each product.
KiiBOOM exists to invent innovative product designs that can help people enjoy the things they love like never before. KiiBOOM is not solely crowdfunding or a group-purchase platform. We utilize extensive community-based inputs to produce and deliver tangible projects that are ready to ship to you upon order. We bring over 20 years of combined experience in designing, manufacturing, and distributing groundbreaking products across each field. KiiBOOM is ready to fuel a new era of hobbies and passions with every project.
package
I think EVOKE's package meets the price standard, but may be a little short.
While the large carrying case is attractive, the accessories are near minimal at this price point. For example, if you look at the packaging of the TANGZU x HBB Wu Heuday Edition in the same price range, you might understand my feelings.
Package contents
KiiBOOM EVOKE
Eartips
manuals
Carrying Case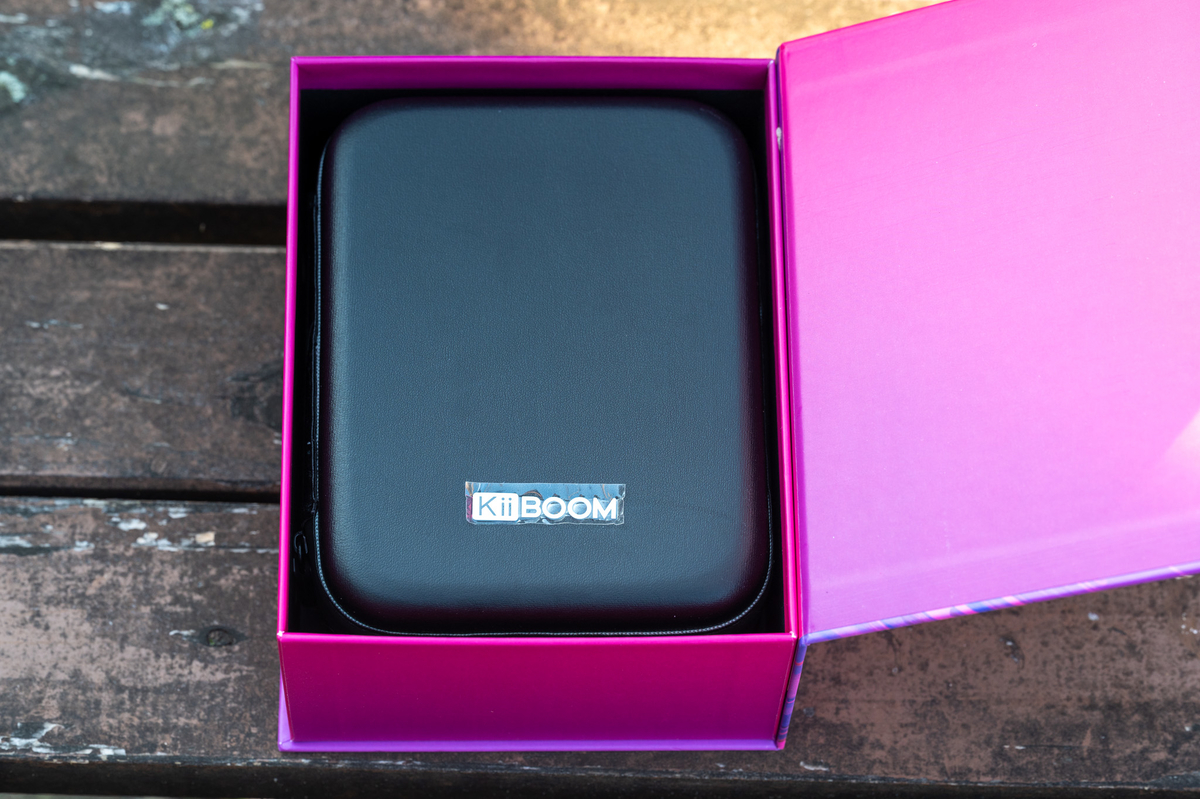 Build quality
Build quality meets price standard.
The faceplate is beautiful.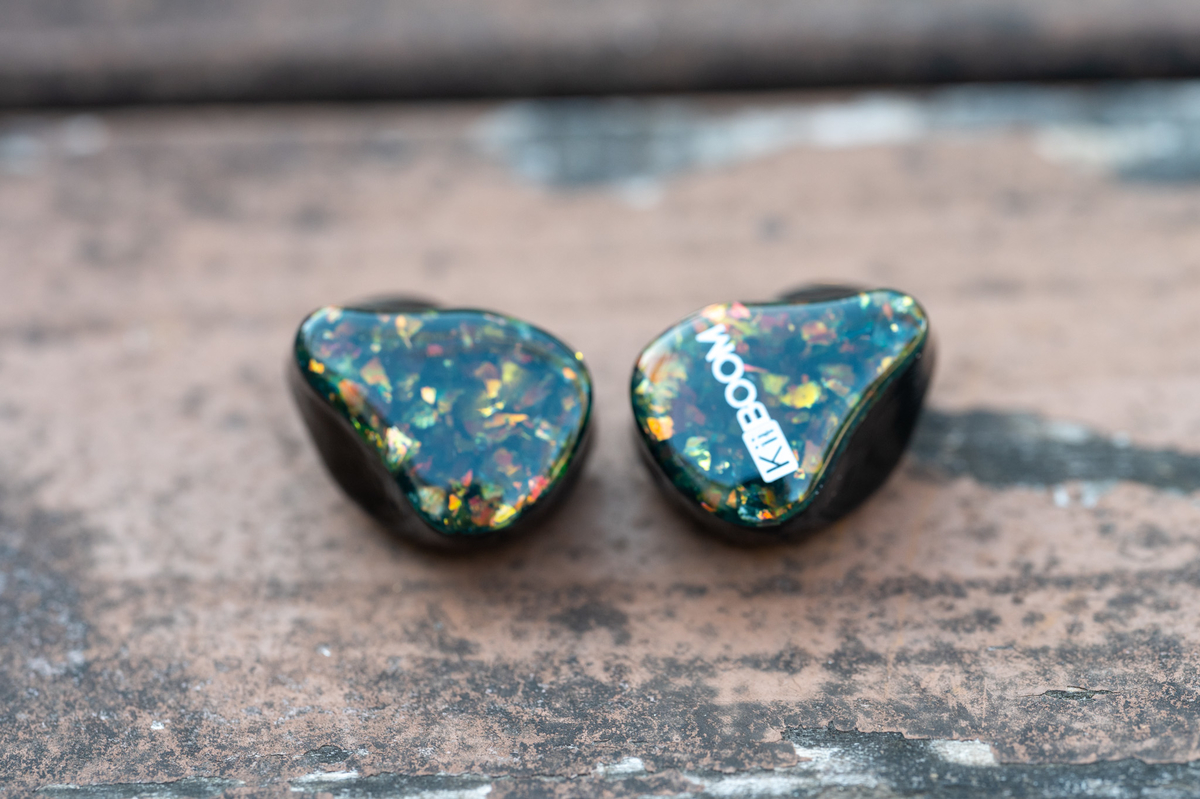 Fit
The fit is good.
Sound quality
REW Frequency Response
audio status
Sound quality description
In this review, I use the standard eartips size L and drive it with the FiiO M15.
KiiBOOM EVOKE has a near neutral sound signature.
Please see here for detailed reviews on sound quality.
Lows / Bass
The low frequency range of the KiiBOOM EVOKE is quite linear and deep with good visibility. It is also highly transparent and sounds quite monitor-like.
The bass drum kicks are also very heavy and have a palpable impact. I am the type of person who listens to music at a volume lower than the appropriate level (approximately 80 dB), so the low frequency range is a little poorly balanced at this volume, but for those who listen at a louder level of around 100 dB, this seems to be just about right.
The electric bass sounds a bit bright, but has good spread.
In terms of depth, it is quite capable of satisfying low-frequency enthusiasts and is sinking, but depending on the volume, it may not be enough. The level is a bit lacking for many, at least at the right volume.
Mids
The midrange is almost perfectly neutral and balanced, and the texture is accurate.
The EVOKE's central midrange tends to be quite distorted, which gives it a rich, warm impression with lots of incidentals, but it also tends to sound flat and poorly separated from the background.
Vocals sound a bit fluffier thanks to the incidentals, the electric guitar's edge coloration also tints the space a bit, and the background sounds bright and atmospheric.
These sonic tendencies bring out the brightly spotlighted midrange with an even richer sense of color, making it sound somewhat fantastical.
Also, this midrange may be a little bright for many people, but distortion has the effect of acclimating this harshness and making it easier to listen to.
If you like a sound where the ultra-high frequencies are closed and the richness is a little higher in the mid-range with a slightly higher sense of density, you may like it. However, if the volume exceeds the proper level, the distortion becomes stronger, so the sound is likely to be a little too low in transparency for those who usually listen at high volumes.
Highs / Treble
EVOKE's high frequencies have been adjusted to attenuate well with an awareness of the speaker's forward localization. Extension is at a rather lackluster level.
The energy in the upper highs is a bit lacking, and the level of subtlety and detail is a bit lacking, but instead, the overall sound is quite safe, and even those who are sensitive to high frequencies should feel comfortable.
Cymbal crashes are balanced with a little more glare. A little distortion is also added, so it has a rough feel and sounds a little wild.
Sound quality general comment
Original Sound Fidelity: A+
Recommendation: A-
Personal preference: B+
If you like a sound that sounds a little brighter and richer with a hint of midrange, the KiiBOOM EVOKE is a pretty attractive candidate. It is not outstanding in its price range, but it is better than average and fully competitive with earphones like the AFUL Performer 5. If you prefer a more immersive sound, I recommend the AFUL Performer 5; if you prefer a more forward-localized sound, I recommend the EVOKE. The overall sound performance of the EVOKE may be better for many, but I prefer the sound of the AFUL Performer 5.
Sound quality features
Pros
Accurate texture representation
Excellent sound image consistency
Good sound balance
Good focus on the midrange
Forward localization
Lustrous sound
Massive
Comfortable to listen to
Warm
Excellent original fidelity
Cons
Lack of high frequency extension
Lack of transparency in the midrange
Amount of low frequency range is not enough to satisfy low frequency lovers
General comment
The KiiBOOM EVOKE is a multi-driver hybrid that is well-tuned for smooth, well-connected, and consistent sound. The overall audio specs meet the price level, making it an above-average and relatively good choice in its price range. However, when evaluating the package as a whole, you may find it a bit lacking in accessories.
Purchase link