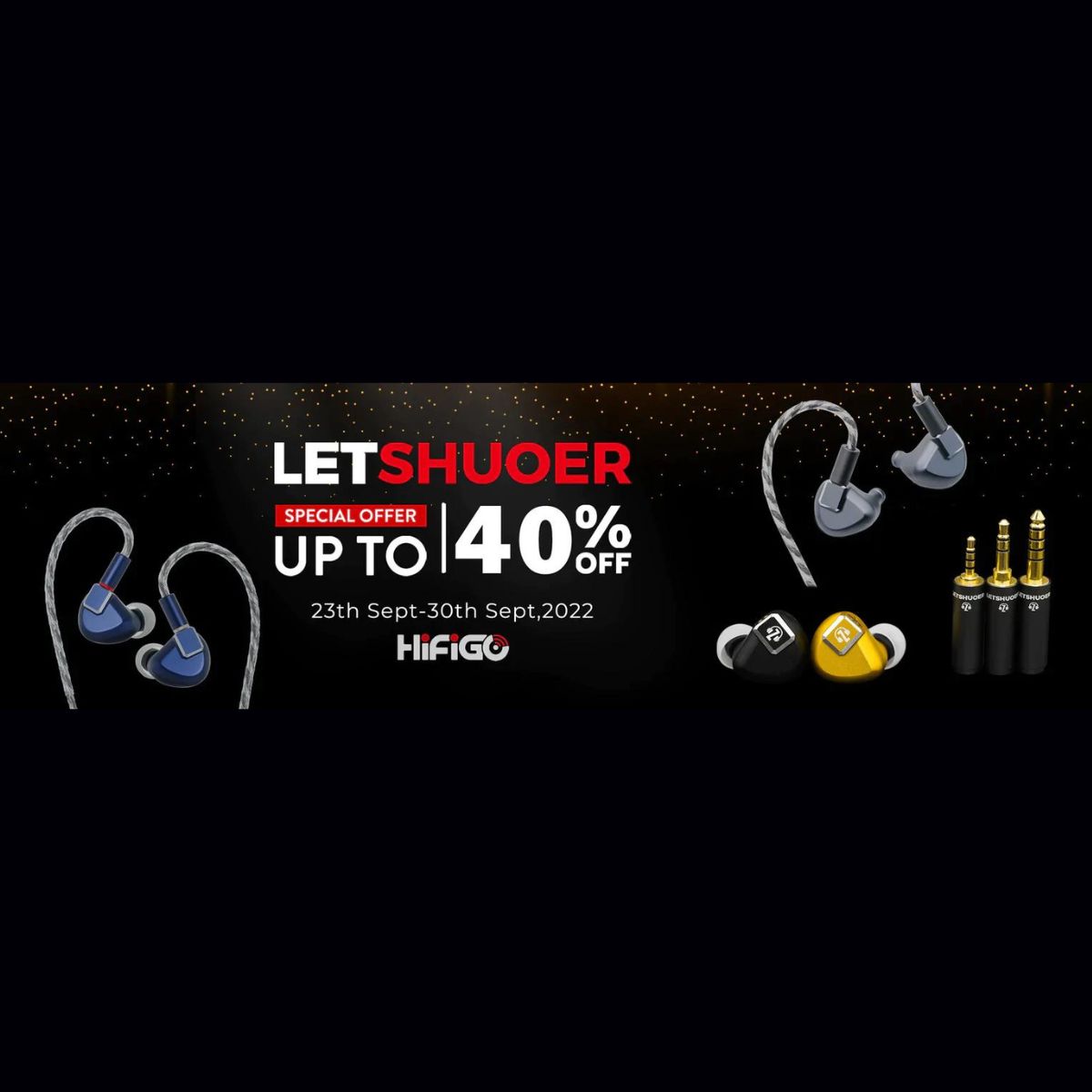 Hifigo is bringing you a comprehensive sale on the entire LETSHUOER Product catalog. Order your award-winning premium in-ear monitors from the house of LETSHUOER with exciting discounts. We are offering up to 40% discounts on famous products from LETSHUOER like the Soloist, Tape Pro, and Singer. New products like the Z12 Gold Edition, S12 Pro, S12, etc. are also coming on discount during this flash sale. The LETSHUOER Crazy Sale starts today and it will be active till September 30th, full seven days of crazy discounts on the LETSHUOER entire product catalog. We assure you will be getting the best prices online, make sure to check out the entire sales catalog here.
Let's check out some highlights from the Sale!!
LETSHUOER Z12 Gold Edition
The special Gold Edition of the latest launched LETSHUOER x Z Reviews Z12 is going to be on sale for the very first time. This planar driver set has been recently launched and promises an impressive sound performance. It is designed over the award-winning S12 housing a 14.8mm planar magnetic driver unit and tuning suggestions by Zeos from Z Reviews. Z12 Gold Edition is getting praise for its impeccable sound with powerful sub-bass rumble and amazing resolution. Grab the Z12 at a never-before price during the latest LETSHUOER Sale!!
LETSHUOER Soloist
Based on the Liquid Silicone Kevlar driver unit, the LETSHUOER Soloist is available with an exciting deal during the latest sale. Kevlar is a very strong and stiff material, it provides an incredibly fast transient response with excellent sensitivity. Soloist achieves a quick, punchy, lively sound with easy drivability. During the LETSHUOER Sale, the Soloist is available with a huge discount. Usually, the set retails for 239$, grab it for just 143.40$ during the sale!!
LETSHUOER EJ07M
Are you looking for a flagship? You must have heard pretty good things about the EJ07M multi-driver hybrid flagship earphone from LETSHUOER. With a seven-driver hybrid configuration consisting of four EST drivers from Sonion, dual balanced armature drivers, and a 10mm CNT dynamic driver unit per side, the EJ07M promises impressive sound performance with ultimate resolution and details. While the pair retails for 669$, grab it at an amazing deal price of just 511$ during our latest sale!!
LETSHUOER Conductor
LETSHUOER's current flagship, the Seven-driver tribrid Conductor is also available at discount during the current sale. Packed with four high-performance low-power Electrostatic drivers, dual high-resolution balanced armatures, and a 10mm liquid silicone dynamic driver unit, the LETSHUOER Conductor delivers unmatched performance. The resolution, the clarity, and the details with the Conductor is simply exceptional!! Believe us, you are in for a treat with the LETSHUOER Conductor. Conductor has a retail price of 1029$, but grab it for just 926$ during our LETSHUOER Sale!!
LETSHUOER Singer
We have brought something for everyone with our LETSHUOER sale. The single EST driver-based LETSHUOER Singer is actually one of the most affordable EST-based sets in the market. The pair retails for 119$, Grab it for just 71.40$ during our current sale. Singer is praised all around for its exceptional vocal performance and lovely midrange, pretty sure it won't disappoint you!!
LETSHUOER Tape Pro
Tape Pro is a highly-celebrated IEM from LETSHUOER. This was actually the pair that brought the revolution of EST drivers for IEMs and it excels in its sound performance delivering crisp resolution and amazing clarity at a pocket-friendly price. What can be better than getting a sweet deal on an amazing set and making it more affordable? Tape Pro retails for 179$, during our sale, grab it for just 107.40$!!
Final Words
This is just a short glimpse of the entire picture. The entire LETSHUOER catalog is on sale. Check out deals on the flagship EJ09, S12, EJ07M Lava Edition, and many more products over here. We assure you of quick shipping and full support for the products!! Happy Shopping!!