Planar-driver IEMs TRN Kirin have been released.
Features
14.5mm Planar Magnetic Driver
Replaceable Tuning Nozzles
Magnesium Alloy Housing Forging the Momentum of Sound
The balancing Act Pressure Relief Vent
8-Core Silve-plated OFC Cable&Swappable Plugs
Specifications
Driver: planar magnetic driver
Connector: 2 pin
Plug: 3.5mm/2.5mm/4.4mm
Sensitivity: 106dB
Frequency Response Range: 7Hz-40KHz
Impedance: 32ohm
Product Weight: 15g+26g (earbud+cable)
Cable Length: about 1.2m
14.5mm Planar Magnetic Driver
The TRN Kirin features all-new planar magnetic driver and acoustical inner structure-A marriage of Nano-grade planar magnetic driver and our custom acoustical structure. By combining asymmetric magnetic circuits and custom acoustics housing, our design eliminates distortion, provides precise imaging and produces transparent sound.
Replaceable Tuning Nozzles
The TRN Kirin earphone is the best of its kind, equipped with three gold-plated brass nozzles that can change the tuning of the sound. The inner diameter and length of the nozzle will affect the overall sound presentation. This innovative design provides the users with a choice to change the tuning of their earphones.
Magnesium Alloy Housing Forging the Momentum of Sound
The housing of TRN Kirin is made of CNC-machined magnesium alloy. This aerospace material is effective in reducing harmonic resonance, providing a rigid and durable structure. Kirin's sonic signature has been fine-tuned over time by TRN's team of musicians, sound engineers, and audiophiles to produce the most accurate sound reproduction possible.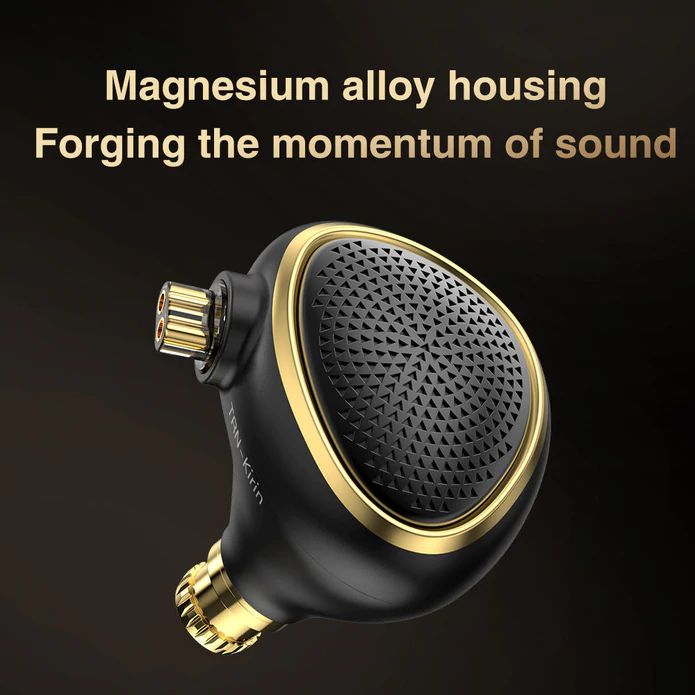 The balancing Act Pressure Relief Vent
TRN Kirin's airflow control technology was designed to deliver the best performance in the class of earphones by equalizing internal chamber pressure through a specially-designed vent in front of driver assembly. This innovative technology results in a cleaner bass response, exceptional image clarity and superb detail retrieval.
8-Core Silve-plated OFC Cable&Swappable Plugs
TRN Kirin planar earphone is a audiophile-level IEM, featuring professional components and build quality. The 8-core silver-plated OFC cable is excellent in sound transmission and anti-interference. With swappable plug options of 3.5mm, 2.5mm and 4.4mm balanced plugs along with its comfortable ergonomic fit will surely bring you the best music experience at home or on the go.
Price & Availability
TRN Kirin is now available at Linsoul and other sellers for $129.80.