Disclaimer
This review is written based on a "private purchase" or "product rented for a price".
No remuneration or compensation, such as a manuscript fee, has been received for publishing this, and it is an honest evaluation based on measurement data from personal testing and personal opinion.
Please read the privacy policy of this website.
Recommended for people like this
People looking for practical DJ monitors that are affordable and easy to use out of the club or performance practice.
People who want to enjoy commentary and lecture videos
People who want to concentrate on listening to guitar and snare
People who focus on hearing vocals and narration
People looking for affordable headphones for practicing their instruments
Overview of Behringer HPX2000
This review will give an overview of Behringer HPX2000. A complete review of this product can be found here.
audio-sound Score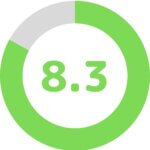 Total Score: 8.3 / 10.0
Package: 7.5 / 10.0
Build quality: 8.5 / 10.0
Fitment: 8.5 / 10.0
High range: 7.0 / 10.0
Mid range: 10.0 / 10.0
Low range: 6.0 / 10.0
Less distortion: 8.0 / 10.0
Want to see the score ranking? Click here!
Basic Specifications
Frequency response: 20Hz to 20kHz
Impedance: 64Ω
Sensitivity: 110dB/mW
package
The packaging is simple for a commercial product. It is made of paper, eco-friendly, and easy to dispose of.
Package contents
There is no shortage of accessories. The package includes the following:
Behringer HPX2000
3.5mm to 6.35mm adapter
Build quality
Build quality is above standard for the price. It is very lightweight and has a cool design. It can also be folded.
Fit
The earmuffs are reasonably thick and quite comfortable to wear.
Sound quality
The Behringer HPX2000 has a flat sound, leaning toward the midrange, which sounds midrange-centric. The midrange is very neutral, so vocals sound clean, but the soundstage is narrow. The sound is not very open, even though it is open.
The following review was tested with a FiiO M15.
Please see here for detailed reviews on sound quality.
Sound quality general comment
Original Sound Fidelity: A-
Recommendation: B+
Personal preference: B+
The Behringer HPX2000 is an excellent headphones for DJ performers to use on site. They are practical headphones that faithfully transmit the atmosphere of a hot venue while accurately emphasizing and transmitting the central midrange so that the music is not buried in it.

In everyday music listening situations, they may be suitable for those who want to focus especially on the vocal area, or for those who want to enjoy chamber music or small JAZZ in a compact space, but in general, they are hard to recommend.
Sound quality features
Pros
Near-perfect texture representation
Bright
Excellent focus on midrange
Vocal focus
Lush
Cons
Too less low frequency
Noisy midrange
Vocals tend to sound shouty
Hard, inorganic sound
Poor sense of separation
Lacks high frequency extension
Some songs sound tinny and gruff, which is unpleasant
Easy to get tired of listening
General comment
The Behringer HPX2000 is a highly practical DJ monitor headphones optimized for DJ performers to hear what they need to hear while becoming one with the frenzy around them in the field. They are not really suited for music appreciation, but their very good midrange texture expression is surprisingly good for their low price.
Purchase link
Behringer HPX2000
$19.90

amazon.com