Disclaimer
This review is based on a sample provided by Linsoul to convey a sincere quality review to our readers.
No remuneration or compensation, such as a manuscript fee, has been received for publishing this, and it is an honest evaluation based on measurement data from personal testing and personal opinion.
Please read the privacy policy of this website.

Recommended for people like this
People who care about the texture of instrumental sounds
People who like Etymotic sound
People who like speaker sound
People who want to enjoy various sounds with one earphone
People who want earphones with excellent cost performance
Overview of JOYODIO SHINE
This review will give an overview of JOYODIO SHINE. A complete review of this product can be found here.
audio-sound Score
Total Score: 9.1 / 10.0
Package: 8.5 / 10.0
Build quality: 8.5 / 10.0
Fitment: 8.5 / 10.0
High range: 8.0 / 10.0
Mid range: 9.5 / 10.0
Low range: 10.0 / 10.0
Less distortion: 7.5 / 10.0
Cost performance bonus: 12.5 / 10.0
Want to see the score ranking? Click here!
Basic Specifications
Frequency response: 20Hz to 40kHz
Impedance: 11-31Ω
Sensitivity: 106±3dB
Connector: 0.78㎜ 2pin
Features of JOYODIO SHINE
The Inspiration of Light & Shadow
4-Level Adjustable Tuning Switch
3D-Printed Sound Tubes&High-end Zinc Alloy Faceplate
8-Strand Detachable Silver-plated Cable
Joyodio SHINE-The Inspiration of Light&Shadow
As a brand focusing on innovative design and its unique aesthetics, this time Joyodio is presenting an earphone inspired by light and shadow-SHINE. Light cannot be touched but still exists in every corner of our life. At the darkest moment comes the light. In our interpretation, light is the flipside of shadow. The SHINE earphone is an exquisite masterpiece with fabulous tuning switches that will amaze everyone in every detail.
1DD+2BA Hybrid HiFi IEM
The SHINE in ear earphone adopts hybrid technology to display extraordinary timbre and breakthrough performance. Featuring an innovative high-performance 7mm dual magnetic&dual cavity dynamic driver, complemented with 29689 and 30019 balanced armatures, SHINE is tuned to be overall smooth and natural in full frequency. Specially the bass is powerful and clear, while the mids&high are rich, clean and listenable.
4-Level Adjustable Tuning Switch
The best feature out of SHINE must be the 4-level adjustable patented tuning switch. Designed based on multi-channel frequency crossover, using adjacent frequency band crosstalk suppression and phase compensation technology, the low frequency, high frequency and ultra-high frequency work smoothly on SHINE. Moreover up to 16 styles of different tuning can be reached.
3D-Printed Sound Tubes&High-end Zinc Alloy Faceplate
Comfort is another factor we care about more than appearance. The ergonomic design of SHINE is based on an in-depth study of the human ear contour. The included soft silicone eartips improve the tightness of the earplugs and it can effectively isolate noise. With 3D-printed resin shell and lightweight metal faceplate, SHINE is comfortable to wear even for long session.
8-Strand Detachable Silver-plated Cable
Premium 8-strand silver-plated cable is chosen for SHINE to better protect the signal transmission, while it also has excellent conductivity to provide stable and high-quality sound for headphones. The multi-strand braiding technique effectively shield the interference signal, so that you can enjoy high-quality music freely.
Joyodio SHINE-Experience the Fun of Light and Shadow
Joyodio was founded with the intention of bringing trendsetting headphone designs and innovative acoustic technology to audiophile around the world. With that concept in mind, Joyodio has independently pioneered the development of 4-level adjustable tuning switch in-ear monitor, setting a new standard for the industry.
The newly launched model-SHINE is conceived in terms of light and shadow. The warm sunlight cannot be seen or touched, but you can feel the warmth in every part of you, like the shadow by your side, giving you hope and strength.
We contribute light and heat in our own way, and right now, Joyodio is with you to witness your "Shine" moment. From the exquisite casing to the commendable 4-level tuning switch and the 3D-printed tube construction, SHINE has considered every aspect, down to the smallest detail, in order to incorporate Joyodio's high-end headphone concept into these headphones.
package
The quality of the packaging meets the price standard.
It feels luxurious for under $100.
Package contents
JOYODIO SHINE
Eartips
Carrying case
Tuning Pin
Manuals
Build quality
Build quality meets the price standard.
Fit
The fit is good.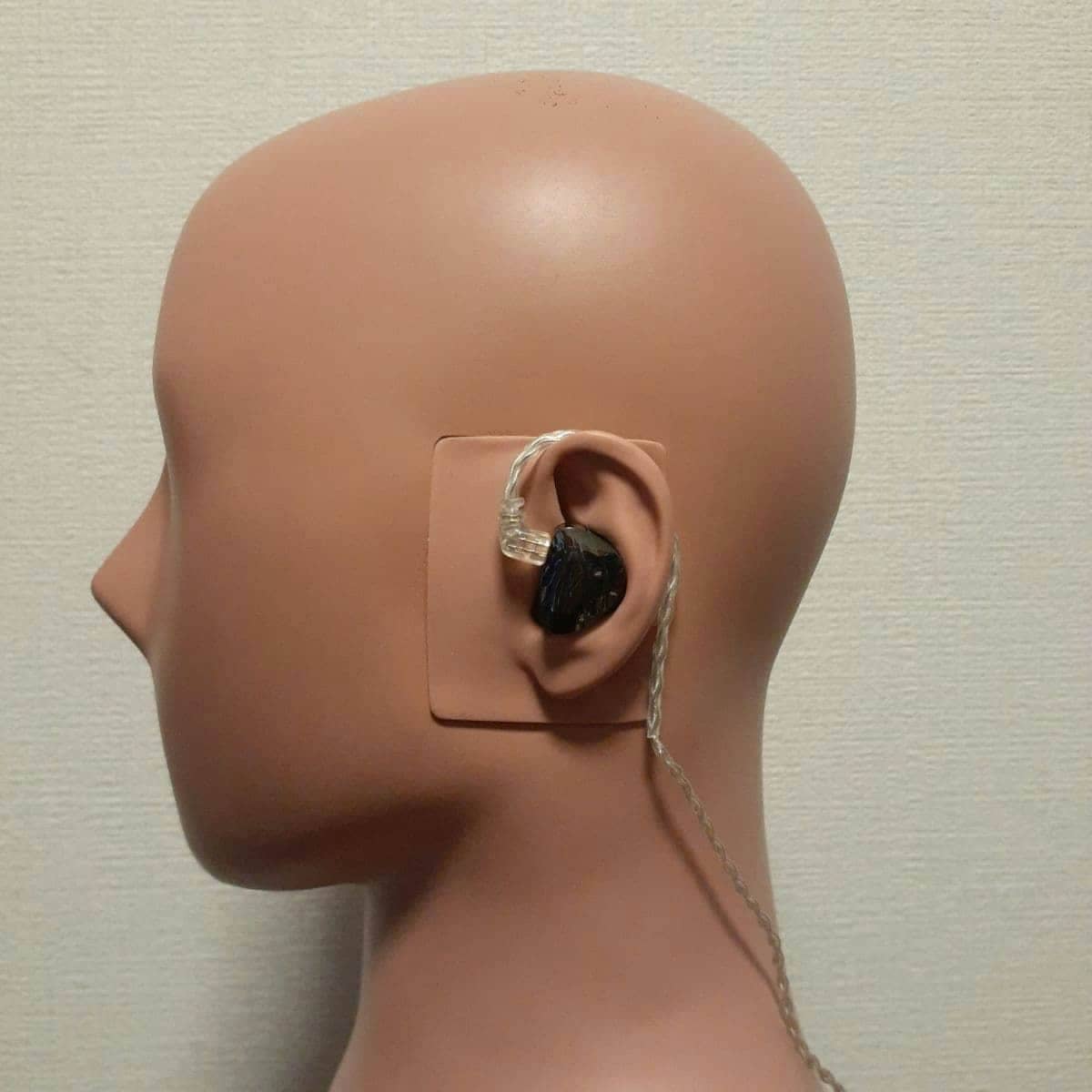 Sound quality
REW Frequency Response
audio status
Blue: 0000 / Red: 0001 / Yellow: 0010 / Green: 0011
Blue: 0100 / Red: 0101 / Yellow: 0110 / Green: 0111
Blue: 1000 / Red: 1001 / Yellow: 1010 / Green: 1011
Blue: 1100 / Red: 1101 / Yellow: 1110 / Green: 1111
Sound quality description
In this review, I use the standard eartips size L and drive it with the FiiO M15.
JOYODIO SHINE has a U-shaped sound signature that is close to neutral. By tweaking the tuning switch, it is possible to make the sound much closer to flat.
Please see here for detailed reviews on sound quality.
Lows / Bass
In general, the low frequency range of the JOYODIO SHINE is strongest at the "1000" setting with only the low frequency switch turned on.
At that setting, you can experience considerable depth and heaviness.
Conversely, it can be set almost flat for Etymotic Studio monitor-type adjustments.
Not only the low-frequency switch 1, but also the low-frequency switch 4, is involved in the volume of the low-frequency range, and when 1 is turned off and 4 is turned on, the low-frequency range can be adjusted to be almost completely flat.
Turning the 4 switch ON increases the efficiency, so it may be more comfortable when used with a smartphone.
Mids
The midrange of JOYODIO SHINE can be heard in a relatively neutral balance at any setting, and depending on the setting, it can approach almost perfect neutrality.
The midrange lacks clarity, which sounds dry with a lot of distortion and incidental sounds due to the adverse effects of the hybrid model, but it has high resolution, so you can hear vocals and instruments with a lot of life instead of poor transparency.
Nevertheless, the expression tends to be flat and lacks depth due to poor separation from the background, and the sound tends to be lacking in terms of a sense of three-dimensionality. The lack of detail also makes the separation a bit lacking.
For those who like Etymotic monitors, setting it to "0111" will give you a similar sound.
JOYODIO SHINE(0111)
Highs / Treble
The biggest drawback of the JOYODIO SHINE is in the high frequencies.
The high frequencies of SHINE are generally not balanced by the brightness of the midrange, and the overall sound lacks energy, definition, and subtlety.
A second switch is assigned for high frequencies, but unlike the other switches, its effect is quite limited, so the switch basically does not solve the high frequency problem.
Conversely, the third switch is effective for ultra-high frequencies and, depending on the settings, can provide quite good extension.
Sound quality general comment
Recommendation: S+
Personal preference: A+
Although JOYODIO SHINE has some difficulties in the high frequency range, the overall sound is very well arranged, and the adjustment by the switch is quite appropriate. It is true that the individual sounds of the switches are lacking when viewed as stand-alone sounds, but the fact that 16 different sounds can be enjoyed is a great advantage. Moreover, the direction of the adjustment is reasonable, and it works quite effectively except for the high frequency switch.
It is surprising that the product is so well made for such a low price of almost $100.
Sound quality features
Pros
Excellent texture
Good original sound fidelity
Heavy, deep bass
Excellent sound image consistency
Excellent resolution
16 ways to sound
Cons
Lacks detail
Lacks subtlety
High frequency switch rarely effective
Lacks transparency
General comment
JOYODIO SHINE is neutral-tuned IEMs with an adjustable switch system for sound quality. Despite its fatal flaw of lack of detail when used for studio monitoring, the very ambitious and complete switch system allows for 16 different sound possibilities. The standard of the package is also well above the price, and the overall workmanship is quite excellent.
Purchase link
JOYODIO SHINE
$79.99