Disclaimer
This review is based on a sample provided by KZ to convey a sincere quality review to our readers.
No remuneration or compensation, such as a manuscript fee, has been received for publishing this, and it is an honest evaluation based on measurement data from personal testing and personal opinion.
Please read the privacy policy of this website.
Recommended for people like this
People who want to hear deep low frequency
People who like a warm sound
People who care about build quality
Overview of KZ × HBB DQ6S
This review will give an overview of KZ × HBB DQ6S. A complete review of this product can be found here.
audio-sound Score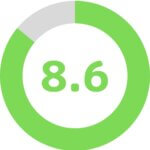 Total Score: 8.6 / 10.0
Package: 7.5 / 10.0
Build quality: 8.5 / 10.0
Fitment: 8.5 / 10.0
High range: 7.5 / 10.0
Mid range: 9.0 / 10.0
Low range: 9.0 / 10.0
Less distortion: 8.5 / 10.0
Cost performance bonus: 10.5 / 10.0
Want to see the score ranking? Click here!
Basic Specifications
Frequency response: 26Hz to 40kHz
Impedance: 25Ω
Sensitivity: 116dB
Cable connector: 0.75mm 2pin
package
The package of KZ DQ6S is simple.
Package contents
The accessories are relatively complete. There are enough eartips.
Build quality
The build quality of the exterior is above the standard for the price range. The build quality of the recent KZs has improved to a much higher level than before.
Fit
The housing fits relatively well and is comfortable to wear.
Sound quality
REW Frequency Response
* This measurement is based on the HATS measurement, and the resonance peak is set at around 9 kHz.
Sound quality description
In this review, I use the standard eartips size L and drive it with the FiiO M15.
The sound signature of the KZ DQ6S is a warm neutral sound with a full midrange, and since Tripowin x HBB Mele had a similar warm neutral sound, I guess this is the sound that HBB likes.
Please see here for detailed reviews on sound quality.
Sound quality general comment
Original Sound Fidelity: A-
Recommendation: B+
Personal preference: B
The KZ DQ6S sounds like a warm neutral sound similar to the Mele, but reconfigured with more emphasis on the high frequencies.
There is an improvement in dynamism, but it is still generally a bit lacking, and it depends on what you think of the considerable deterioration in midrange expressiveness. In general, audiophiles tend to be more concerned with the midrange, so the Mele is more audiophile-friendly, while the DQ6S is more fun than the Mele, with deeper and more refined lows and improved highs.
Sound quality features
Pros
Relatively high original sound fidelity
Clean midrange
Warm
Deep low frequencies
Cons
Lacks a sense of construction
Lacks a sense of freshness.
Lacks a sense of definition
Lack of high frequency extension
Lack of micro detail
General comment
The KZ x HBB DQ6S has a low-frequency sound that is typical of the HBB collaboration model, and when it comes to low-frequency quality, it is superior to the Mele, another collaboration model. However, the breathtakingly accurate midrange textures of the Mele have receded here, sounding a bit thin. The dynamism has been improved, so if you don't like the gentle sound of the Mele, the DQ6S will appeal to you more.
Purchase link