Disclaimer
This review is based on a sample provided by Linsoul to convey a sincere quality review to our readers.
No remuneration or compensation, such as a manuscript fee, has been received for publishing this, and it is an honest evaluation based on measurement data from personal testing and personal opinion.
Please read the privacy policy of this website.
Recommended for people like this
People who like a fuller sound
People who like a dense sound
People who are sensitive to high frequencies
People who like a warm sound
People who like a darker, calmer sound
Overview of TRN TA2
This review will give an overview of TRN TA2. A complete review of this product can be found here.
audio-sound Score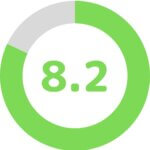 Total Score: 8.2 / 10.0
Package: 8.5 / 10.0
Build quality: 8.0 / 10.0
Fitment: 8.5 / 10.0
High range: 7.5 / 10.0
Mid range: 8.5 / 10.0
Low range: 8.0 / 10.0
Less distortion: 8.5 / 10.0
Want to see the score ranking? Click here!
Basic Specifications
Frequency response: 7Hz to 40kHz
Impedance: 16Ω
Sensitivity: 116dB
Cable connector: 0.75mm 2pin
package
Packaging is a little better than standard for the price. It comes with more earpieces, a conversion adapter to 6.35mm, and a metal case.
Package contents
The accessories are relatively complete. There are enough eartips.
TRN TA2
Eartips (3 types)
3.5 mm to 6.35 mm conversion adapter
Carrying case
Build quality
The build quality of the exterior is above the standard of the price range.
Fit
The fit is quite good.
Sound quality
REW Frequency Response
* This measurement is based on the HATS measurement, and the resonance peak is set at around 9 kHz.
Sound quality description
In this review, I use the standard eartips size L and drive it with the FiiO M15.
The TRN TA2 has a narrow V-shaped sound that is focused in the midrange. The sound image is slightly condensed in the front, making it easy to understand the overall picture of the music, but also making it sound cramped. The mid-range is dense and dense, and the vocal image can be heard loudly, with a rather high sense of fullness and high resolution, so it is surprisingly worth listening to, but it lacks dynamism, and the sound field tends to be flat.
Please see here for detailed reviews on sound quality.
Sound quality general comment
Original Sound Fidelity: A-
Recommendation: C+
Personal preference: B
It's hard to rate this model. The cheaper TRN MT1 (okcsc ED10) and the more expensive TRN VX Pro are both relatively good, so the TRN TA2, with its middling overall performance and few positives other than resolution, is easily overshadowed and placed in the non-mainstream camp.
In many cases, it is better to buy the MT1 than the MT1, and if you buy more from the MT1, the VX Pro is better in terms of sound balance and use. In other words, unless you want to have a complete collection of TRN products, it's better to just pass on it.
Sound quality features
Pros
High resolution
Relatively high fidelity of original sound
Warm sound
High sense of fullness
Sound field with a sense of depth
Sweet and nostalgic sound
Dense
Elegant
Cons
Lacks micro detail
Lacks low frequency depth
Blurred overall sound
Flat sound image
Poor sense of separation
Lack of high frequency extension
General comment
The TRN TA2 is a listening earphone with a dense sound. It's not bad for relaxing and enjoying music, but many people will find it too quirky, lacking in detail reproduction despite its high resolution, and overall fuzzy. Not only are there many better earphones in the same price range, but even the TRNs tend to be an even bigger letdown since there are other reputable and excellent options nearby, such as the MT1, which you can get for less, and the VX Pro, which you can buy with a little patience.
Purchase link