Disclaimer
This review is based on a sample provided by SoundPEATS to convey a sincere quality review to our readers.
No remuneration or compensation, such as a manuscript fee, has been received for publishing this, and it is an honest evaluation based on measurement data from personal testing and personal opinion.
Please read the privacy policy of this website.
Recommended for people like this
People who like a high level of fullness in their sound
People who want to relax and listen to music
Overview of SoundPEATS Air3 Pro
This review will give an overview of SoundPEATS Air3 Pro. A complete review of this product can be found here.
audio-sound Score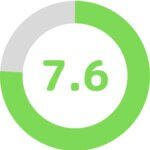 Total Score: 7.6 / 10.0
Package: 8.0 / 10.0
Build quality: 8.0 / 10.0
Fit: 8.5 / 10.0
High range: 8.0 / 10.0
Mid range: 7.0 / 10.0
Low range: 7.0 / 10.0
Less distortion: 8.0 / 10.0
Communication quality: 8.5 / 10.0
Active Noise Canceling: 5.5 / 10.0
Want to see the score ranking? Click here!
Basic Specifications
Continuous / maximum playback time: 6h / 24h
Waterproof performance: IPX4
Supported codecs: aptX Adaptive / aptX / AAC / SBC
High level ANC effect, for a quiet listening space
Biocellulose diaphragm reproduces sound delicately, no compromise on sound quality.
Support for high-resolution mainstream codec aptX Adaptive
Superb improvement of wireless earphone left-right independent reception
method
Compact size and overwhelming stamina for long hours of use
package
The SoundPEATS Air3 Pro package meets the price standard.
Package contents
There is no shortage of accessories. The package contains the following:
SoundPEATS Air3 Pro
Charging case
USB Type-C cable
Eartips (3 sizes)
Manual
Build quality
The build quality is standard or slightly better considering the price.
Fit
The fit is good. They fit well even on small ears.
Connection quality
I tested it by connecting it to a Cayin N6II/E02 with AAC.
I don't know, I haven't been in crowded places, but it is stable in my home. Distance tolerance is excellent, and the connection is seamless and intact even at a distance of about 5 meters. Across a barrier, it will be interrupted for a moment, and then it will be somewhat intermittent, though not to the point where you cannot hear the music.
There may be a small amount of white noise, but most people probably won't notice it.
Interface/operation
| | |
| --- | --- |
| Power ON | Open the lid of the charging case |
| Power OFF | Store the earphones in the charging case and close the lid |
| Pairing | After turning on the earphones, if there is no connection, the pairing mode will automatically start |
| Play/Stop | Tapping the multi-function button twice |
| Song forward | Press and hold the multi-function button on the right ear for 1.5 second |
| Volume + | Tap the multi-function button on the right side once |
| Volume - | Tap the left multi-function button once |
| Answer call | Tap the multi-function button twice |
| End call | Tap the multi-function button twice |
| Reject call | Press and hold the multi-function button for 1.5 seconds |
| Gaming mode ON/OFF | Tap the left multi-function button three times |
| Switch between Normal, ANC and Hear-through mode | Press and hold the multi-function button on the left ear for 1.5 seconds |
Sound quality
REW Frequency Response
Sound quality description
The following review was tested on a FiiO M15 with an aptX connection.
The overall original sound fidelity of the SoundPEATS Air3 Pro is not bad. However, the overall sound lacks linearity, and although the midrange has high resolution, it suffers the most from sounding muddy. If you feel a kind of unique airiness in this midrange, you will like it, but audiophiles will say it is unnatural to hear it up front with low transparency. It is a sound that makes it difficult to grasp a sense of distance. The low frequency range is tuned to emphasize depth, which was well-received in T2, but it is shallower than T2 even with ANC on.
Please see here for detailed reviews on sound quality.
Sound quality general comment
Original sound fidelity: A
Recommendation: C+
Personal preference: D+
To be frank, it is difficult to understand the intention of tuning the SoundPEATS Air 3 Pro. It has a difficult and habitual sound as if KZ tuned it. This is probably the result of the tuning process where the person in charge of the product added his or her own preferences based on easily understandable targets such as the Harman target, Etymotic target, or Sonarworks target, but I don't know the circumstances.

I don't know why SoundPEATS decided to make these earphones, which are more difficult to tune than the previous ones, and the quality of the low frequency range, which used to be their strong point, has deteriorated, after they made a series of rather good and convincing tuning in their recent products.
Sound quality features
Pros
Mild listening comfort
Adequate focus on the midrange
High resolution
High fullness
Cons
Habitual sound
Difficult to localize
Lack of consistency in sound image
Lack of thickness in the low frequencies
Lack of high frequency extension
Muddy midrange lacking clarity
General comment
SoundPEATS Air3 Pro doesn't have the deep, heavy, lively bass that traditional SoundPEATS fans love, nor does it have the streamlined, audiophile tuning that SoundPEATS has been known for lately. I'd like to believe that this is not a change of direction, as it seems to be an attempt to keep the overall balance while adding its own unique touches, but compared to the attractive SoundPEATS T2, the difference is too big.
Purchase Link