Disclaimer
This review is based on a sample provided by Tranya to convey a sincere quality review to our readers.
No remuneration or compensation, such as a manuscript fee, has been received for publishing this, and it is an honest evaluation based on measurement data from personal testing and personal opinion.
Please read the privacy policy of this website.
Recommended for people like this
Mid-range oriented
People who are sensitive to piercing and sharp sounds and high frequencies
People who value operability
People who value communication quality
People who value playback time
Overview of Tranya F4
This review will give an overview of Tranya F4. A complete review of this product can be found here.
audio-sound Score
Total Score: 7.5 / 10.0
Package: 8.0 / 10.0
Build quality: 8.5 / 10.0
Fit: 8.5 / 10.0
High range: 6.0 / 10.0
Mid range: 7.5 / 10.0
Low range: 5.0 / 10.0
Less distortion: 8.0 / 10.0
Communication quality: 9.5 / 10.0
Want to see the score ranking? Click here!
Basic Specifications
Continuous / maximum playback time: 6h / 30h
Waterproof performance: IPX5
Supported codecs: AAC / SBC
Tranya F4 Features
13mm Driver for Premium Sound - Tranya F4 wireless earbuds are specially designed with a 13mm larger driver, offering full-bodied audio at every turn. Compared with other smaller drivers, the headphones have a wider soundstage, delivering clear mids, detailed trebles, and well-defined bass.
30H Playtime and Fast USB-C Charging - With extremely low power chipset design, the earbuds can last 6 hours of continuous listening experience from a single charge, and extend 24 hours with the charging case. With a fast charging case, 10 minutes charging will give you 2 hours playtime.
Half In-Ear Design and Clear Call - The earbud adopts half in-ear ergonomic design and only weights 3g, which enables the earbuds to stay in your ears firmly with air-like ultra comfort. Built-in 4 microphones can filter the surrounding noise and clearly enhance your voice, achieving superior clear phone call during zoom meeting, conference call, etc.
Low Latency Game Mode - Equipped with the Bluetooth 5.3 technology, Tranya F4 Bluetooth earbuds provide instant pairing and stable transmission without interruptions. The low-latency game mode can give you a smooth and faster transmission. You will never experience any delay in video watching, games playing.
Universal  Compatibility - Equipped with the latest Bluetooth 5.3 chip, the earbuds will automatically power on, then connect to your device after take them out of the case, ensuring you faster connection, more stable transmission, and ultra-low latency. The headphones are widely compatible to most of devices built-in Bluetooth like Android phones, laptops, etc.
package
The Tranya F4 package meets the price level.
Package contents
There is no shortage of accessories. The package contains the following:
Tranya F4
Charging case
USB Type-C cable
Manual
Build quality
Build quality meets the price standard.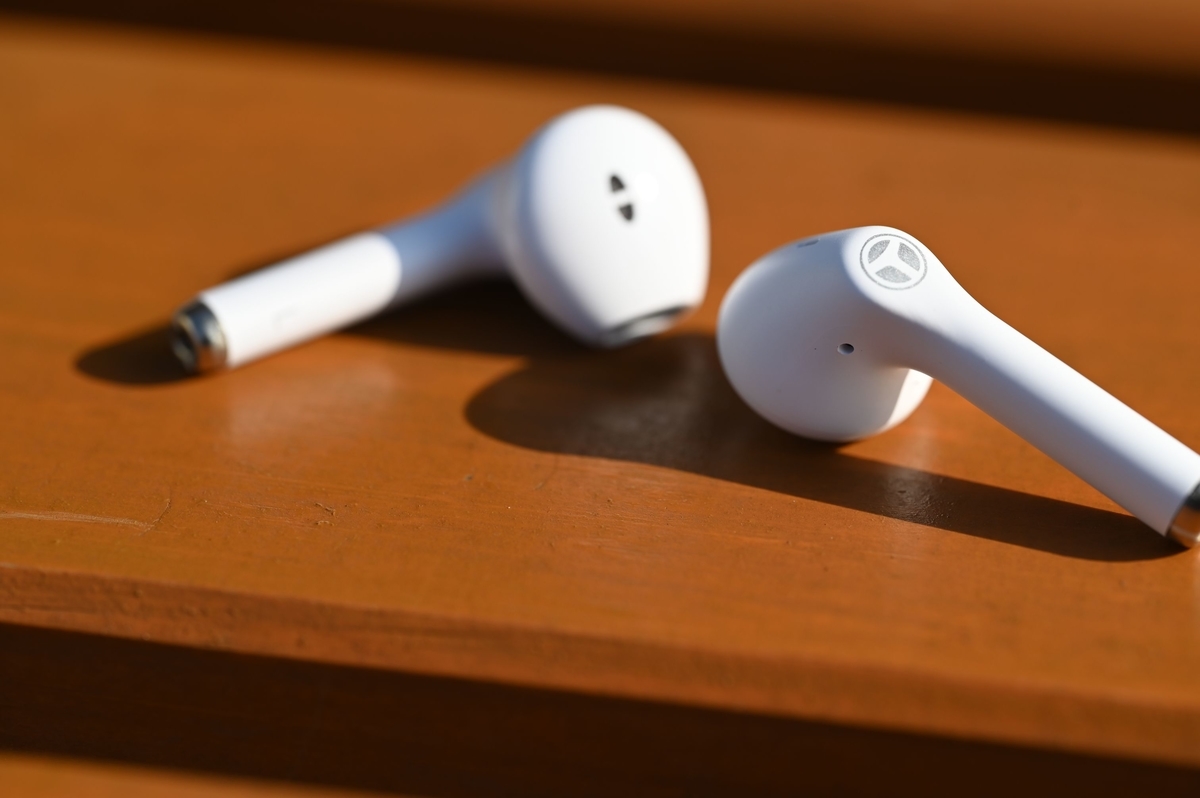 Fit
The fit is good.
Connection quality
I tested it by connecting it to a Cayin N6II/E02 with AAC.
I don't know because I haven't been in crowds, but it is stable in the home. Distance tolerance is excellent, and the connection is seamless and intact even at a distance of about 5 meters. Music is not interrupted even when interrupted by obstructions.
There may be a small amount of background noise, but most people probably won't notice it.
Interface/operation
The operating interface is a touch type.
| | |
| --- | --- |
| Power ON | Open the lid of the charging case and take out the earphones |
| Power OFF | Store the earphones in the charging case |
| Pairing | If there is no connection destination when the power is turned on, pairing mode is automatically activated |
| Play a song | Tap the multi-function button once |
| Stop playback | Tap the multifunction button once |
| Forward song | Tap the right multifunction button three times |
| Backward | Tap the left multifunction button three times |
| Turn up the volume | Tap the right multifunction button twice |
| Turn down the volume | Tap the left multifunction button twice |
| Answer call | Tap the multifunction button once |
| End call | Tap the multifunction button once |
| Switch game mode | Tap the multifunction button four times |
Sound quality
audio status
Sound quality description
The following review was tested on a FiiO M15 with an SBC connection.
Tranya F4 has a full midrange sound signature.
Please see here for detailed reviews on sound quality.
Lows / Bass
With the inner-ear type F4, the low frequency range is particularly susceptible to change in volume depending on the wearing feel.
If worn properly, the F4 will produce a certain amount of low-frequency "volume," but even so, the range is undeniably lacking. In terms of "quality," it can be said that there is almost nothing to see.
If you are looking for low-frequency range in an inner-ear type, you can consider the QCY T20, for example, but it is better to use a canal type.
Mids
F4 emphasizes the midrange and is the most impressive sounding section.
While it is true that the overall sound is bright, clear, and clean with little distortion, the way it sounds tends to be through a loudspeaker, and vocals and instrumental sounds tend to be a bit loud.
Although the clarity is high, the sound image sounds very mixed, as if it has been stirred up, and tastes may differ depending on how you appreciate this kind of atmosphere.
Highs / Treble
The high frequencies are not balanced with the midrange and lack energy.
The F4's lack of highs leads to a lack of subtle ambience and a sense of detail, such as the fineness of the hi-hat, and the overall tendency of music heard on the F4 to lack a sense of crispness is easily seen as an obvious shortcoming.
The overall lack of high frequencies is a safe bet, as it reduces the peartiness of the overall sound, and the lack of a noticeable grinding sound makes for a milder listening experience, greatly reducing the peakedness that these elements can affect.
However, it is still too lacking in general, and in this respect many people may find the F4's sound to be mediocre or unfamiliar.
Sound quality general comment
Original sound fidelity: B+
Recommendation: C
Personal preference: C
There is solid audio technology behind the Tranya F4, and we cannot find any shortcomings in terms of quality, such as the use of large-diameter drivers to achieve a sufficiently low THD and very high resolution considering the price, which makes us feel that the manufacturing capabilities are at least on par with popular brands in the same price range.
Tuning, however, seems less balanced than rival QCY and SoundPEATS' similarly priced inner-ear products.
I don't consider Tranya to be that far behind these brands in the canal type, but as far as listening to the F4, the inner-ear type tuning feels a bit distant.
Sound quality features
Pros
Comfortable to listen to
Good focus on midrange
Mild highs
Excellent resolution
Sufficiently low distortion
Cons
Poor range feel
Sound with poor clamping
Lacks low-frequency depth
Lacks in high frequency extension
Inaccurate texture
Confusing localization
Instruments sounding like sirens, vocals sounding like they are coming through a loudspeaker
Poor sound balance
General comment
The Tranya F4 is not a product that can be specially recommended. In terms of sound quality, it has some technical aspects to look at, but given its poor balance, it is a normal or slightly underwhelming model. It is a safe choice for those sensitive to high frequencies and is not extremely difficult to use. In general, considering its operability, communication quality, and battery performance, it is well put together for the low price, and may be a safe investment overall. However, it is not an attractive investment.
Purchase Link
Tranya F4