Disclaimer
This review is written based on a "private purchase" or "product rented for a price".
No remuneration or compensation, such as a manuscript fee, has been received for publishing this, and it is an honest evaluation based on measurement data from personal testing and personal opinion.
Please read the privacy policy of this website.
Recommended for people like this
People who want to enjoy deep low frequency range
People who like a massive sound
High frequency sensitive
People who like expensive earphones
JH Audio Fans
Overview of JH Audio JH13v2 Pro Universal
This review will give an overview of JH Audio JH13v2 Pro Universal. A complete review of this product can be found here.
audio-sound Score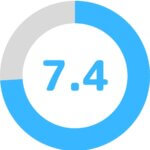 Total Score: 7.4 / 10.0
Package: 7.5 / 10.0
Build quality: 8.0 / 10.0
Fitment: 8.5 / 10.0
High range: 5.0 / 10.0
Mid range: 6.5 / 10.0
Low range: 9.5 / 10.0
Less distortion: 7.0 / 10.0
Want to see the score ranking? Click here!
Basic Specifications
Frequency response: 10Hz to 20kHz
Impedance: 28Ω
Sensitivity: 112dB/mW
Cable connector: 4pin
package
This is a rental item and may differ from the official package. The rating is a standard 7.5.
Package contents
There is no shortage of accessories.
JH Audio JH13v2 Pro Universal
Eartips
Cleaning Tools
Adjustment screwdriver
Carrying case
Instructional Documents
Build quality
The exterior build quality meets the price range standard.
Fit
It is a little large, but fits well in the ear and is comfortable to wear.
Sound quality
REW Frequency Response
Sound quality description
In this review, I use the standard eartips size M and drive it with the FiiO M15.
The JH Audio JH13v2 Pro Universal has a full midrange sound with a flat sound image. The low-frequency adjustment nozzle changes the extension and volume of the low-frequency range.
For this review, the setting with the least low frequency is setting 1, when it is in the middle position is setting 2, and the setting with the most low frequency is setting 3.
Please see here for detailed reviews on sound quality.
Sound quality general comment
Original Sound Fidelity: B-
Recommendation: D-
Personal preference: D-
The JH Audio JH13v2 Pro Universal may be a welcome earphone for low-frequency lovers, but that is all. In general, the only areas of sound quality that seem to meet the price level are resolution and low frequencies, and the rest of the performance is not worth the price.
If you are willing to spend $1,000 for these earphones, there are many other good candidates; even $100 earphones are probably better than these.
Sound quality features
Pros
Deep low frequency range
Adjustable low frequency range
High resolution
Forward localized
Cons
Lacks a sense of structure
Flat sound image
Narrow soundstage
Lack of high frequency extension
Midrange can sound caged
High distortion
General comment
The JH Audio JH13v2 Pro Universal shows JH Audio's commitment to low frequencies, but the sound is not worth $1,000. Many people would not buy these earphones for even $100. And low frequency lovers can get better quality low frequency without spending $100 by buying SoundPEATS T2.
Purchase link
JH Audio JH13v2 Pro Universal

amazon.com