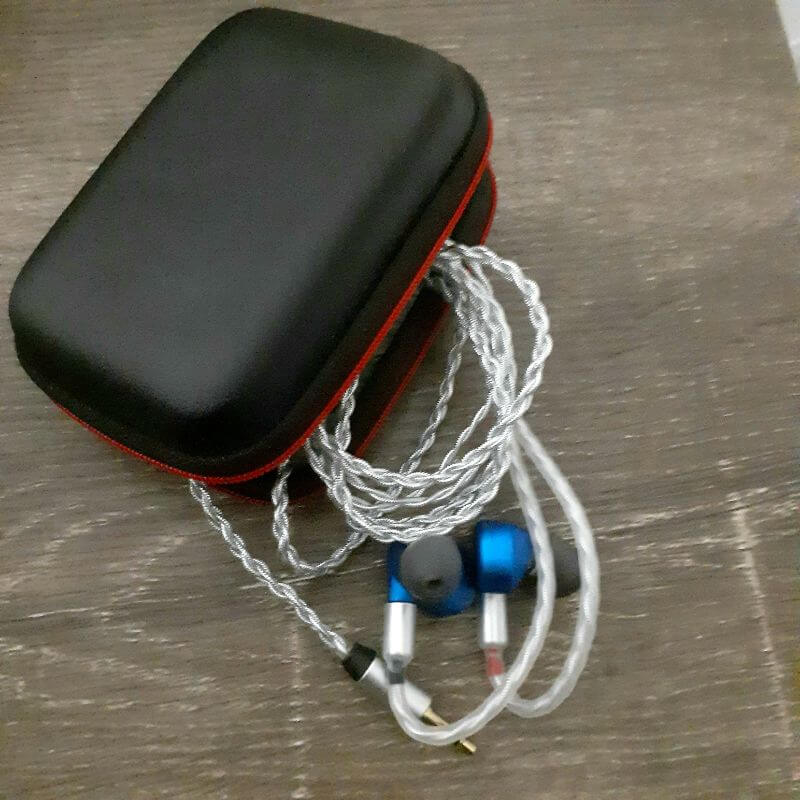 Disclaimer
This review is written based on a "private purchase" or "product rented for a price".
No remuneration or compensation, such as a manuscript fee, has been received for publishing this, and it is an honest evaluation based on measurement data from personal testing and personal opinion.
Please read the privacy policy of this website.
Recommended for people like this
People who prefer chamber music and JAZZ
People who want to hear the vocals clearly
People who like a lush sound
People who want earphones that don't cause listening fatigue
People who like a delicate high frequency range
Overview of ULTRASONE Saphire
This review will give an overview of ULTRASONE Saphire. A complete review of this product can be found here.
audio-sound Score

Total Score: 8.5 / 10.0
Package: 7.5 / 10.0
Build quality: 8.5 / 10.0
Fitment: 8.5 / 10.0
High range: 9.5 / 10.0
Mid range: 9.5 / 10.0
Low range: 8.0 / 10.0
Less distortion: 8.0 / 10.0
Want to see the score ranking? Click here!
Basic Specifications
Frequency response: 10Hz to 50kHz
Impedance: 25Ω
Sensitivity: 106dB/mW
Cable connector: 2pin 0.78mm
About ULTRASONE
Founded in December 1990, ULTRASONE is a German audio company that uses a proprietary surround sound simulation technology called S-Logic. Unlike conventional headphones, which deliver sound directly to the ear, S-Logic is said to diffuse the sound as if it were coming from speakers. S-Logic EX has been further developed in Edition 5 to further refine the sound field expression of S-Logic EX.
10mm AU PEEK + PU Driver
The "Edition 7," released in 2004 in a limited edition of 999 units worldwide, was the best high-end headphone at the time, and had an overwhelming presence that could be called the cornerstone of ULTRASONE. Now, 15 years later, "SAPHIRE" was born based on the concept of introducing the ultimate high-end product that is unparalleled in the earphone market.
SAPHIRE" is a premium class high-end earphone equipped with a hybrid 4-way 6 drivers with electrostatic tweeter. The driver configuration consists of two B.A. for the low frequency range, one B.A. for the mid frequency range, one B.A. for the high frequency range, and two electrostatic tweeters for the ultra-high frequency range. The electrostatic tweeters are driven by power from the headphone output, amplified by a built-in transformer, so no dedicated power supply is required. The cable uses a 2-pin connector and comes with two plugs, one with a 3.5mm/3-pole plug and the other with a 2.5mm/4-pole plug.
ULTRASONE has set its sights on the ultimate in earphones, and the overwhelming sound quality provides the best earphone listening experience.
Hybrid 4-Way 6 Driver
With the following driver configuration, music is reproduced with a wide range and an overwhelming amount of information, and features ULTRASONE's characteristic vast sound stage and clearly localized sound image expression without looseness.
Low frequency B.A. type x 2
Midrange B.A. type x 1
High range B.A. type x 1
High frequency range: B.A. type x 1 - Ultra-high frequency range: Electrostatic type x 2
Dual electrostatic tweeters for ultra-high frequencies
For ultra-high frequencies, an ultra-lightweight 6 μg diaphragm with gold coating provides accurate transient characteristics. It realizes overwhelmingly clear high frequency reproduction with extremely low distortion, which is only possible with electrostatic type. The built-in transformer with 15,000 coils of 16μm wire amplifies the power from the headphone output by 100 times and supplies it as bias voltage, so it can be used by connecting it directly to the headphone jack of the player just like ordinary earphones. It can be connected to the headphone jack of the player as it is.
Housing made of aircraft-grade aluminum
The housing is made of aircraft-grade aluminum for high durability and rigidity. The housing is made of aircraft-grade aluminum, which is highly durable and rigid, and not only suppresses any resonance, but also has a luxurious appearance.
Earphone cable with 2-pin connector
The cable uses a 2-pin connector and comes with two plugs: a 3.5mm/3-pin plug and a 2.5mm/4-pin balanced plug.
package
Considering the price, the appearance is not particularly luxurious, but there is no shortage of accessories.
Similarly, considering the price, the unpacking experience is not particularly luxurious.
The interior of the earphone case is made of luxurious felt, allowing you to safely carry these luxurious earphones.
Build quality
It is relatively simple, but has a high quality design. The build quality is high.
Fit
The fit is relatively good, but the shape is a bit long back and forth, so it may not fit well for people with small ears.
Sound quality
The ULTRASONE Saphire is an earphone that focuses on transparency, especially in the midrange. The music is reproduced in a sound field with a sense of depth, and sounds a bit like a forward localization at the back. This is a typical ULTRASONE tuning that focuses on speaker-like localization.
Please see here for detailed reviews on sound quality.
Sound quality general comment
Original sound fidelity: A-
Recommendation: A+
Personal preference: A+
The ULTRASONE Saphire is an earphone that lets you listen to music with care, focusing on vocals in a wide sound field with speaker-like forward localization.
The high frequency range is calm and delicate with micro details brought out by the electrostatic tweeter. Even if you listen for a long time, you won't feel tired at all, and it seems attractive as a listening earphone with high resolution. The downside is that the price is very high. Clearly, this is not a model with excellent cost performance.
Sound quality features
Pros
Proper focus on midrange
Good vocal focus
Sound field with a sense of depth
Front localization
Mild and pleasant to listen to
Smooth texture
Transparent and lush midrange
Quiet but finely tuned high frequencies
Quietness

Cons
A little lacking in expandability
Not enough weight in the sound
High frequencies too quiet for some people
General comment
The ULTRASONE Saphire has a classy sound that is typical of ULTRASONE, with a forward localized sound field that allows the music to be heard carefully, with a sense of quietness and delicacy. It is bright and vocals can be heard clearly, yet with a smoothness, silence, and separation that is pleasant to listen to and will not tire you even after long hours of listening. The sound field is wide, and instrument sounds are well organized, but this is not a model that offers great range extension in terms of height and depth.
Purchase link