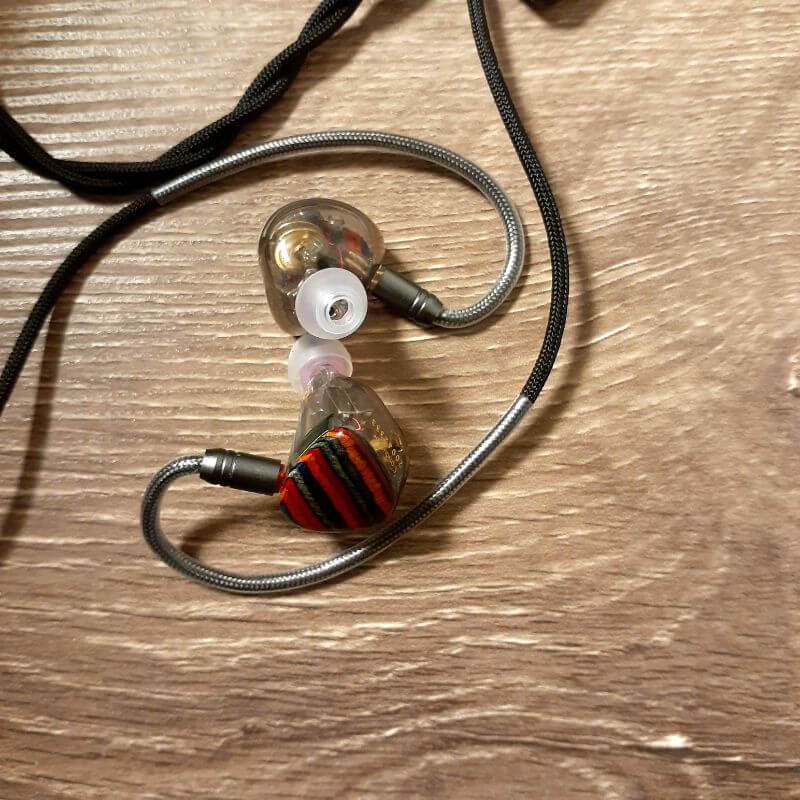 Disclaimer
This review is based on a sample provided by Shuoer to convey a sincere quality review to our readers.
No remuneration or compensation, such as a manuscript fee, has been received for publishing this, and it is an honest evaluation based on measurement data from personal testing and personal opinion.
Please read the privacy policy of this website.
Recommended for people like this
People who like a crisp, slightly hard sound
People who like an analytical monitor flat sound
People who prefer a more detailed sound
Overview of Shuoer Conductor
This review will give an overview of Shuoer Conductor. A complete review of this product can be found here.
audio-sound Score

Total Score: 8.9 / 10.0
Package: 9.5 / 10.0
Build quality: 9.5 / 10.0
Fitment: 9.0 / 10.0
High range: 9.5 / 10.0
Mid range: 9.5 / 10.0
Low range: 9.0 / 10.0
Less distortion: 7.0 / 10.0
Want to see the score ranking? Click here!
Basic Specifications
Frequency response: 20Hz to 30kHz
Impedance: 8±2Ω
Sensitivity: 104dB/mW
Cable connector: 2pin 0.78mm
About Shuoer
Shuoer Acoustics is one of the best-known brands in the industry as a manufacturer of electrostatic IEMs, known for its high-quality in-ear monitors, especially the Shuoer Tape Pro, an EST (electrostatic) driver IEM in the entry-level price range. However, the brand's products are not limited to just low prices.
This manufacturer has a solid development and manufacturing capability with a group of professional engineers skilled in the design and production of advanced driver technology. They not only show their outstanding ability in manufacturing high-end models of their own brand products, but also undertake the production of other brands' products in their entirety.
Features of the Shuoer Conductor
Shuoer's latest flagship in-ear monitor features the newest electrostatic (EST) driver by the European driver manufacturer Sonion. This EST65QB02 is powered by its own proprietary transformer that drives four ultra-nano membrane electrostatic tweeters to extend the treble range even beyond that which is perceptible by the human ear. Paired with Knowles WBFK 30095 super tweeter and Sonion 2389 balanced armatures, the Conductor delivers an extremely cohesive, detailed, and silky-smooth treble response. An in-house 10mm Liquid Silicone Dynamic Driver pumps out a deep and powerful bass that decays quickly enough to make for a transparent and even mid-frequency response.
Balanced output based on Harman Target Curve 2019
The drivers are put together using a carefully calculated three-way crossover system and three sound bores to emphasize instrument separation and stereo-imaging. The overall tuning is an update on the recent 2019 Harman Curve, but modified to deliver a better bass impact and a further-reaching treble extension. You will find the Conductor to be a comfortable and smooth listening experience that is marked by clarity and life-like atmosphere.
Comfortable ear shells made of medical-grade resin
The Conductor's housing is made of European medical resin, commonly used in biological prosthetics and hearing aids. Shuoer uses more intense UV radiation and longer processing times to create a durable shell that will withstand the wear and tear of time while maintaining a comfortable fit. The thicker shell provides a better seal in the ear canal, blocking out up to 26 dB of external noise.
Ultra-high purity copper cable
To maximize sound quality, a custom 6N ultra-high purity oxygen-free copper cable is paired with the Conductor. Copper's natural conductive properties produce a warmer, richer tone in the midrange and more power in the bass, and the Shuoer Conductor is prepared and delivered with the best sound for you.
package
The package quality of Shuoer Conductor is well within the price standard. The package is not elaborate in design, but it is luxurious, functional, and elegant for the price.
The Shuoer Conductor comes standard with 4.4mm/2.5mm balanced and 3.5mm single-ended connections, and Shuoer's product catalog is included.
Package contents
There is no shortage of accessories. The package contains the following:
Shuoer Conductor
A total of 8 silicone eartips in 3 types (S/M/L)
Foam eartips
Cleaning tool
0.78mm 2pin cable for 2.5mm balanced connection
2.5mm to 3.5mmSE conversion adapter
2.5mm to 4.4mm conversion adapter
Carrying case
Shuoer's product catalog is very fun to read.
The cable is fabric coded and of very high quality. However, touch noise is a little more noticeable.
Build quality
The build quality of the Shuoer Conductor is exquisite. The medical-grade resin ear shells are of high quality, and the wiring that can be seen from the inside has been carefully assembled.
The design is not novel, even rather plain, but the overall construction is excellent.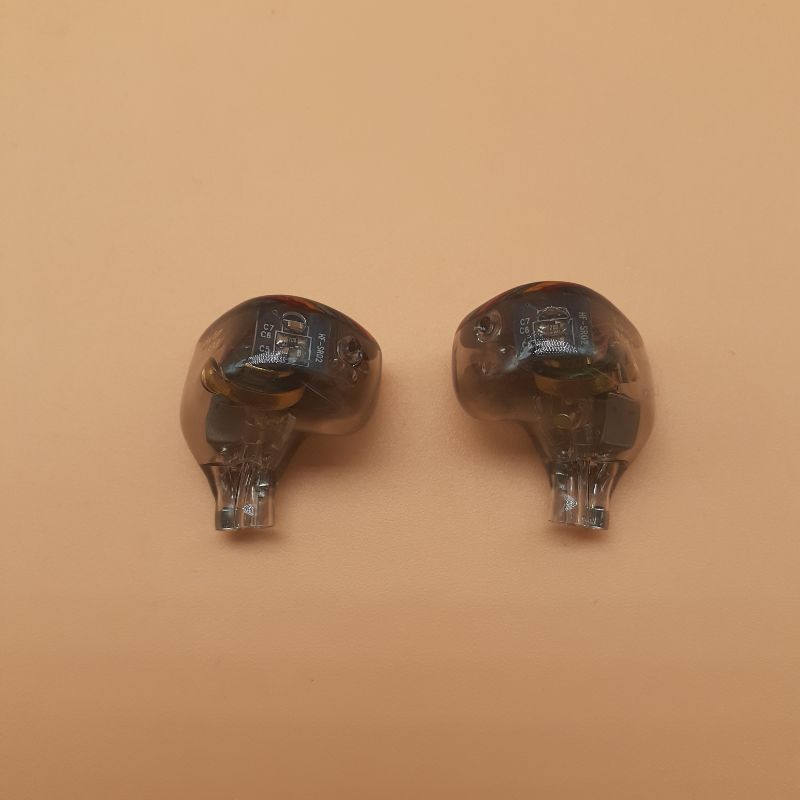 Fit
The resin shell is gentle against the ear and provides a good seal, almost completely blocking the ear canal.
The ear nozzles are a bit long, so some people may need a smaller eartips. I usually use one to two sizes smaller than usual.
Sound quality
The Shuoer Conductor offers a relatively neutral sound in the low to mid-high range. The overall emphasis is on natural textures while ensuring sufficient detail in the mid and high frequencies, making it a very versatile sound.
Please see here for detailed reviews on sound quality.
Sound quality general comment
Original sound fidelity: A+
Recommendation: A-
Personal preference: B
The Conductor sounds near perfect to me and is a great earphone. However, it loses a lot of its appeal when compared to some earphones that seem more perfect.
First of all, while the Shuoer EJ09 with its other-dimensional sound seemed overpriced, the Conductor sounds mediocre to me considering its price. It sounds more natural in terms of texture than the AKG N5005 in the same price range, but it lacks extension and dynamism. In terms of texture, it is inferior to the final A3000, which sounds perfectly natural to me, and sounds slightly boring.
I'm a bit perplexed myself. It's true that the Conductor is quite nice in terms of frequency response and audibility, and it seems to be my favorite sound, but for some reason it doesn't resonate deeply with me, and it sounds a bit pricey or ...... maybe even a bit poorer than the price. But for some reason, it doesn't resonate deeply with me.
But objectively speaking, it is definitely at a high level of recommendation. Therefore, I have scored these ranks high.
However, compared to the visual score, my personal recommendation is much lower, and I even think that many people would be more satisfied with the overall sound quality if they bought the 1more ComfoBuds Pro (which should be more my least favorite model because of its inferior bass to the Conductor).
Sound quality features
Pros
Good balance
Fairly faithful Herman tuning
Natural sound based on diffuse sound field
High uniformity of sound image
Proper focus on midrange
Sound with a sense of detail
Lush midrange
Nearly natural texture
Highs that are well balanced with mids

Cons
Lack of extension in the high frequency range
Slightly irritating high frequencies
Lacks dynamism
Lack of clarity
General comment
The Shuoer Conductor is characterized by good tuning, almost faithful to the Herman target curve, and extremely high quality high frequencies characteristic of the electrostatic type. And the sense of balance is also quite excellent.
However, the slight lack of clarity, micro-detail, and expandability makes the sound of this earphone a bit boring and cramped for me. There are some reservations as to whether this impression is truly objective, and the score was good in many respects, as it is not noticeably inferior in terms of audio specs, in fact it is even superior. Still, this is a product that I personally did not find very appealing. Taking into account the overall package and build quality, it is highly recommended, but I can't shake the impression that I am not really satisfied with it.
Purchase link