Disclaimer
This review is written based on a "private purchase" or "product rented for a price".
No remuneration or compensation, such as a manuscript fee, has been received for publishing this, and it is an honest evaluation based on measurement data from personal testing and personal opinion.
Please read the privacy policy of this website.
Recommended for people like this
People who like punchy sound
People who like dynamic sound
People who care about build quality
Overview of iBasso IT01X
This review will give an overview of iBasso IT01X. A complete review of this product can be found here.
audio-sound Score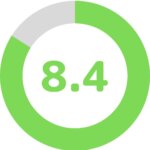 Total Score: 8.4 / 10.0
Package: 8.5 / 10.0
Build quality: 9.0 / 10.0
Fitment: 9.0 / 10.0
High range: 9.0 / 10.0
Mid range: 7.5 / 10.0
Low range: 8.0 / 10.0
Less distortion: 8.5 / 10.0
Want to see the score ranking? Click here!
Basic Specifications
Frequency response: 10Hz to 40kHz
Impedance: 16Ω
Sensitivity: 108dB/mW
Cable connector: mmcx
package
The package is luxurious for the price. It comes with numerous ear tips, a metal case, and a spare filter for replacement.
Package contents
The accessories are relatively complete. There are enough eartips.
iBasso IT01X
Eartips (5 types)
Spare filters for replacement
Carrying case
Build quality
The exterior build quality is above the price level.
Fit
The fit is good and fits well in small ears.
Sound quality
REW Frequency Response
Sound quality description
In this review, I use the standard eartips size L and drive it with the FiiO M15.
The iBasso IT01X has a V-shaped sound signature with a slightly concave midrange. One point of concern is that the low midrange is quite overemphasized, so the sound image in the midrange is easily affected and tends to be fuzzy.
Please see here for detailed reviews on sound quality.
Sound quality general comment
Original Sound Fidelity: A-
Recommendation: C+
Personal preference: C-
The iBasso IT01X is a listening model that emphasizes depth in the midrange. However, if it were limited to sound quality alone, I would recommend buying the CCA CRA, which has a similar sound balance and is superior in midrange expression and range, rather than buying this one.
Sound quality features
Pros
Relatively high original sound fidelity
Excellent in dynamism
Warm
Punchy low frequency
Sound field with depth
Sparkling
Cons
Easily distorted in the midrange
Dark and bulky sounding midrange
Prone to sounding metallic
Too strong in the lower midrange and muddy in the midrange
left-right difference exists
General comment
The iBasso IT01X has a V-shaped sound that is neutral but concave in the midrange. iBasso IT01X is not a bad choice for a listening model in the ¥10,000 range, meeting the standard in terms of specifications. The packaging is gorgeous and the build is excellent. However, there is no reason to actively recommend it in terms of sound quality alone, since there is a higher-end product available at a cheaper price, the CCA CRA.
Purchase link