Disclaimer
This review is based on "private purchases" or "items rented for a consideration".
No remuneration or compensation, such as a manuscript fee, has been received for publishing this, and it is an honest evaluation based on measurement data from personal testing and personal opinion.
Please read the privacy policy of this website.
Recommended for people like this
People who value low-frequency depth
People who like darker sound
Overview of CCA FLA
This review will give an overview of CCA FLA. A complete review of this product can be found here.
audio-sound Score
Total Score: 9.3 / 10.0
Package: 8.0 / 10.0
Build quality: 8.5 / 10.0
Fitment: 8.5 / 10.0
High range: 9.0 / 10.0
Mid range: 9.5 / 10.0
Low range: 10.0 / 10.0
Less distortion: 8.5 / 10.0
Cost performance bonus: 12.5 / 10.0
Want to see the score ranking? Click here!
Basic Specifications
Frequency response: 20Hz to 40kHz
Impedance: 20±3Ω
Sensitivity: 103±3dB
Cable connector: 0.75mm 2pin
Features of CCA FLA
Trendy Design of the Metal Case
U-shaped sound signature
Detachable 0.75mm OFC Cable
Ergonomic IEMs with Smart Mic
10mm Dynamic Driver
For dynamic driver IEM, the size of the dynamic driver determines its performance and the quality of the sound you will get. Thanks to the impressive 10mm driver, the FLA can process sounds down to 20Hz, without any compromise on details or volume, making this IEM a perfect choice for bass heads.
Trendy Design of the Metal Case
CCA FLA adapts the hollowed-out 3D design for its matte face panel. The carves helps in increasing sound quality and dressed up the IEM for professional events. And the matte zinc alloy case gives it the sleek look that goes well with many styles.
U-shaped sound signature
FLA has undergone a serious of tuning and testing for an impressive sound signature. While maintain a harmony performance for the whole frequency spectrum, emphasis is laid upon the bass and the treble. As the lab result shows, the curve of mid-frequency is smooth without any bumps, indicating a lovely vocal and instrumental sound.
Detachable 0.75mm OFC Cable
FLA is equipped with a pair of silver-plated oxygen free copper cable, which is known for excellences in speedy and reliable data transfer. The detachable 0.75mm ports on each buds helps prolong the life cycle of the IEMs even if the cable is broken. And that is not to say the cable is easy to be damaged, as it is proven to be rip-resistant.
Ergonomic IEMs with Smart Mic
This IEMs is designed for user's comfort. The silicone ear tips and wrapping will prevent soreness and tiredness with extended use, while the shape is tailored for a great fit in one's ear. In addition, FLA has integrated mic and smart control. You can press once for play or pause, double press for Next, triple press for Previous in music mode. And in call mode, you can press once to answer/hang up calls and long press to decline calls.
package
Package meets price standard. The package is simple and easy to dispose of.
Package contents
Build quality
Build quality meets the price standard.
Fit
The fit is good.
Sound quality
REW Frequency Response
audio status
Sound quality description
In this review, I use the standard eartips size L and drive it with the FiiO M15.
CCA FLA has a sound signature that is fairly close to neutral.
Please see here for detailed reviews on sound quality.
Lows / Bass
The low frequency range of the CCA FLA is quite deep and well extended, and can achieve quite a sense of realism.
Drum kicks have plenty of impact and a fair amount of weight, and rumble is of a satisfactory level.
Electric bass also sounds black, solid and expansive.
It can be said to be well balanced with the midrange in terms of presence, and can be highly recommended for low-frequency enthusiasts.
Mids
The midrange of the CCA FLA is quite close to neutral, providing a transparent and fresh sound.
The midrange, which is well constructed, focused and very cleanly rendered, is beautiful and impressive. The mid-high range is slightly emphasized, which makes the sound attractive, sounding a bit glossy and colorful.
Vocals sound slightly nasal, slightly flirtatious and husky, electric guitars have a bright edge, and acoustic guitars sound iridescent with a slight sheen.
Recent CCA (KZ) tuning has reached a very high standard of excellence and is entirely comparable for audiophile use.
However, perhaps the manufacturing quality is not stable, and my unit has a slightly large left-right difference and some strange distortion. Nevertheless, considering the price, the quality is sufficient.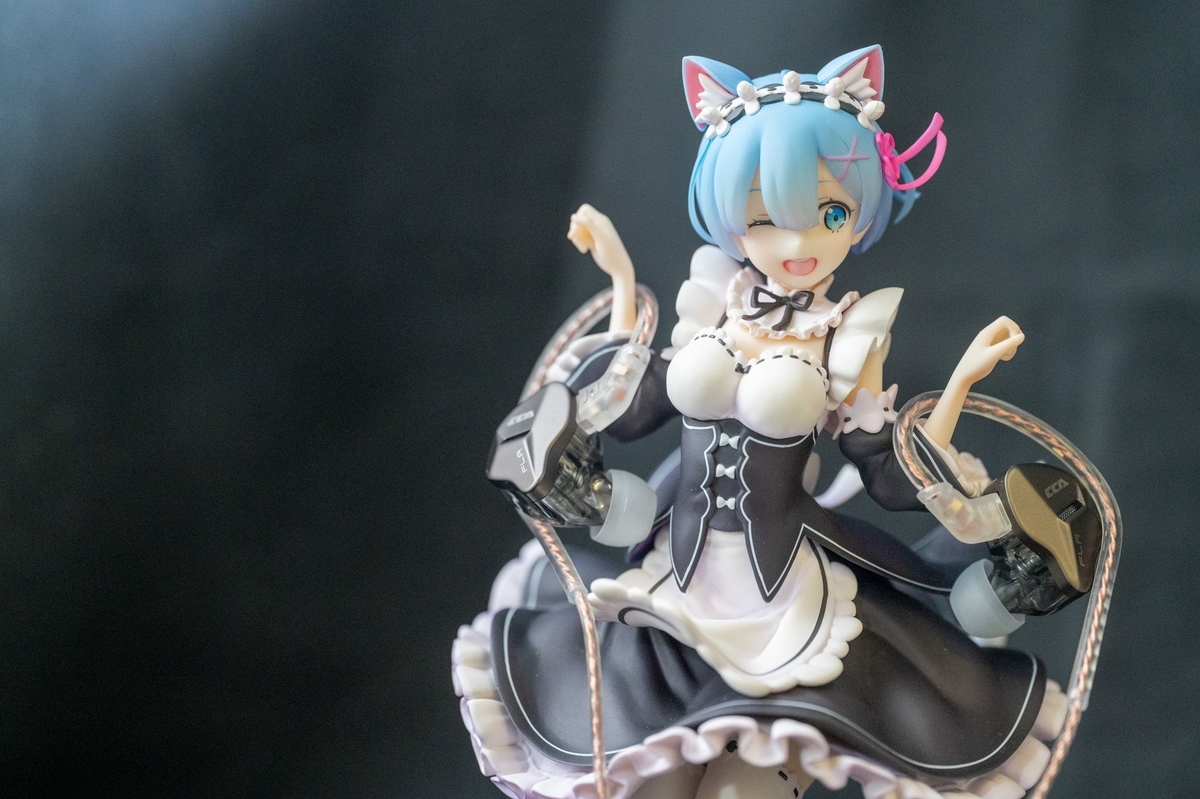 Highs / Treble
The high frequencies of the CCA FLA are tuned for speaker-like forward localization.
Sibilance and Pierce are nicely tuned to be unobtrusive, and the overall roll-off is quite carefully tuned to be gentle. Brightness is a bit low and definition is a bit low, but not to the level of being generally perceived as lacking.
Extension is rather lackluster, so hi-hat spread and string extension are lacking.
Sound quality general comment
Original Sound Fidelity: A
Recommendation: S-
Personal preference: S-
If you prefer a rich, glossy sound, the CCA FLA is a very attractive IEMs. The tuning is of a high standard, and the high frequency range is well-balanced and smooth with few unpleasant peaks, making them comfortable to listen to. The low frequency range is deep enough to satisfy bass lovers.
If you are considering purchasing FLA, I suggest you also consider CXS, which has an almost similar sound.
Sound quality features
Pros
Excellent texture
Good original sound fidelity
Heavy, deep bass
Glossy, colorful and sweet sound
Resolution beyond its price
Smooth, well-damped highs
Good focus on midrange
Good sound balance
Speaker-like forward localization
Cons
Lack of high frequency extension
Slightly dark midrange
Sense of detail is lacking in some cases
General comment
CCA FLA is an attractive IEMs that offers a balanced sound that is close to neutral at a low price. It is highly recommended, especially if you prefer a colorful and glossy sound.
Purchase link