Disclaimer
This review is based on samples provided by Edifier in order to give the reader an honest quality review.
No remuneration or compensation, such as a manuscript fee, has been received for publishing this, and it is an honest evaluation based on measurement data from personal testing and personal opinion.
Please read the privacy policy of this website.
Recommended for people like this
People looking for headphones for casual use
People who value portability
People who value battery performance
People who value communication quality
People who value multipoint
People who value functionality
People who value cost-effectiveness
Overview of Edifier WH500
This review will give an overview of Edifier WH500. A complete review of this product can be found here.
audio-sound Score
Total Score: 8.6 / 10.0
Package: 8.0 / 10.0
Build quality: 8.5 / 10.0
Fitment: 8.5 / 10.0
High range: 8.5 / 10.0
Mid range: 8.5 / 10.0
Low range: 7.5 / 10.0
Less distortion: 7.5 / 10.0
Communication quality: 9.5/10.0
Cost performance bonus: 10.5/10.0
Want to see the score ranking? Click here!
Basic Specifications
Continuous playback time: 40 hours
Waterproof performance: None
Supported codecs: SBC
Features
New generation call noise canceling: WH500 on-ear headphones use a built-in microphone and call noise canceling technology to reduce ambient noise and allow the other person's voice to come through more clearly. You can talk smoothly without being disturbed by ambient noise. High-quality call performance.
High quality sound with a sense of presence: 30mm dynamic driver (PU+PEEK) covers a wide bandwidth and delivers rich and subtle sound output with extended sound from bass to treble. Now you can play sound beyond the limitations of time and give songs more special expression and life.
Multipoint support: Equipped with Bluetooth 5.2, it delivers even faster transfer speeds and superior connection stability independent of the environment. Also, multipoint support and easy switching between devices. You can watch a movie on your laptop, make a phone call, and multitask efficiently.
Long-lasting use: WH500 wireless headphones are equipped with low power consumption Bluetooth 5.2 technology, which allows for approximately 40 hours of continuous use. In addition, they also support quick charging, which allows for 120 minutes of playback on a 10-minute charge. A full charge takes only 2 hours, allowing you to enjoy music and video viewing while commuting to work, school, playing sports, etc.
Hearing Protection: Turn on the hearing protection setting through the Edifier Connect app and the volume limit is up to 85dB. This allows you to enjoy your music and take care of your hearing health at the same time. Children can also use the device with peace of mind.
Shutdown Timer: The APP's shutdown timer feature allows you to manage your music time; you can set it to 5 minutes, 1 hour, or 3 hours. You can set it to 5 minutes, 1 hour, or 3 hours, saving power easily without having to switch off while listening to an audiobook.
package
The package meets the price standard.
Package contents
Edifier WH500
Type-C USB cable
Instruction Manual
Build quality
Build quality meets price standard.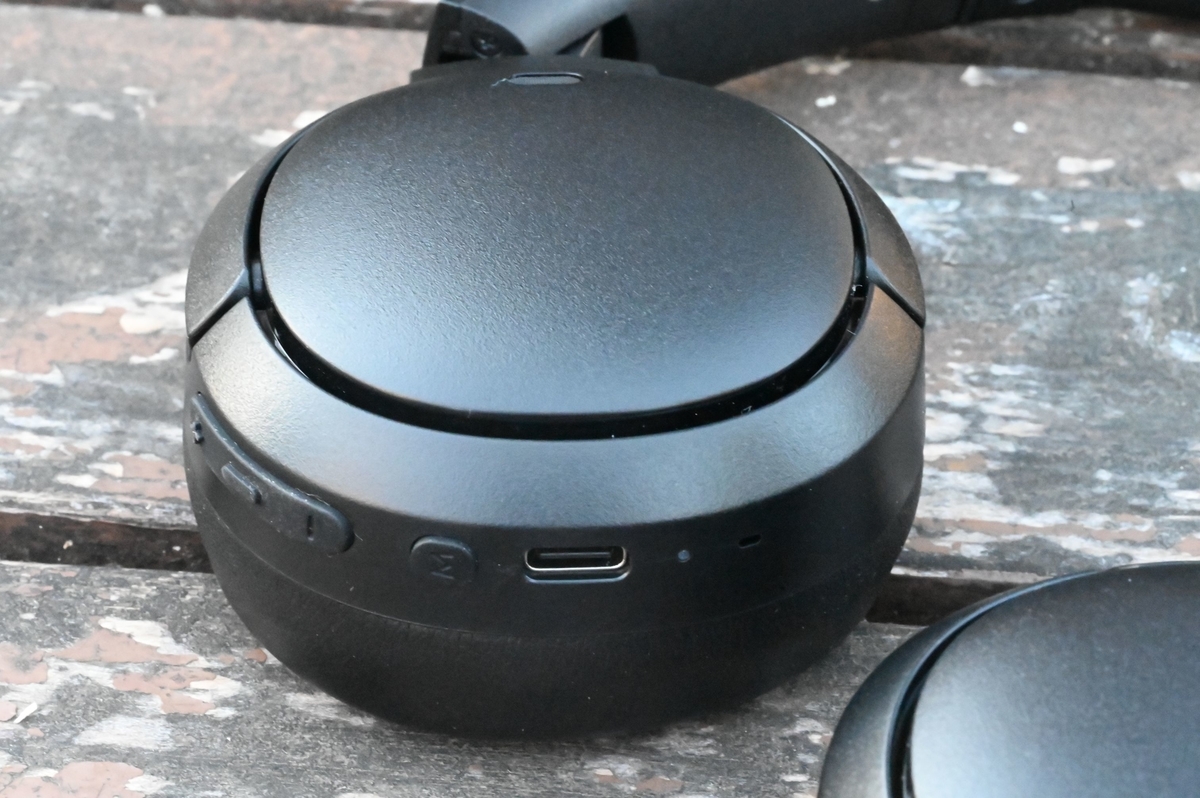 Fit
The main unit is compact and lightweight. The earpads are quite soft and comfortable to wear, so they do not hurt your ears even if you wear them for quite a long time.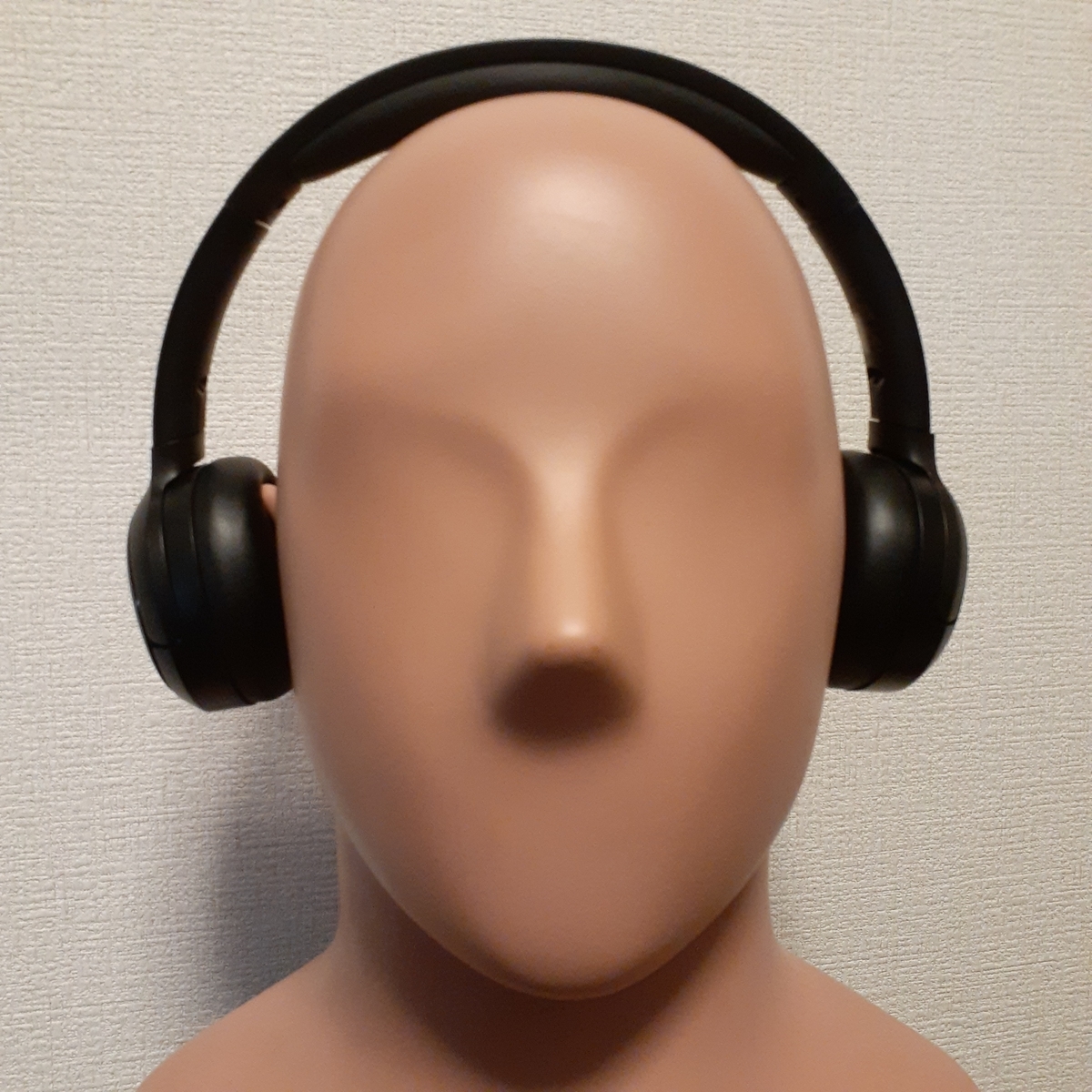 Connection quality
I tested it by connecting it to a Cayin N6II/E02 with SBC.

I don't know because I haven't been in crowds, but it is stable in the home. Distance tolerance is excellent, and the connection is seamless and intact even at a distance of about 5 meters. Music is not interrupted even when interrupted by obstructions.
There may be a small amount of background noise, but most people probably won't notice it.
App
EDIFIER CONNECT is supported.
What is possible with the EDIFIER CONNECT app
Switching EQ presets and user EQ customization
Switching between game modes
Firmware update
Factory reset
Check device information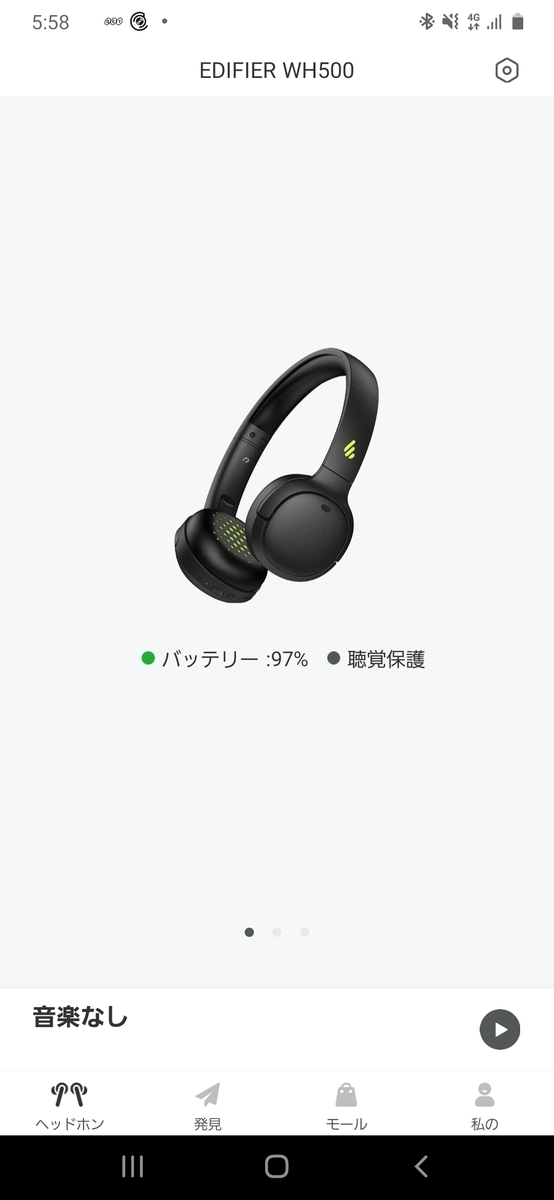 Sound quality
This review will be done by connecting to the FiiO M15 via SBC in classic mode.
Edifier WH500 has a V- or W-shaped sound signature in standard classic mode. The overall balance is generally well balanced with a neutral line in mind.
The hearing protection feature is designed to keep the full range of sound within 85 dB, which may be insufficient for those who normally listen at higher volumes. Although the hearing protection and master volume can be adjusted in the app, it may not work well. And the sound insulation is not very high.
Please see here for detailed reviews on sound quality.
audio status
Lows / Bass
The low frequency range of the Edifier WH500 is well adjusted in presence to be well balanced with the midrange. However, the low frequency emphasizes punch with a slightly booming feel, resulting in a heavy, thick-sounding, rather massive tendency.
Drum kicks are weighty and impactful, but tend to sound somewhat expansive and thumpy, with a strong boom-boom impression. The sound is powerful, strong, and very robust, but lacks tightness. It may sound highly live-like to some people.
The electric bass is also not very deep, lacks a sense of perspective, and is a bit muddy.
The low frequency range is also highly distorted, and the muddiness makes it sound a bit hot, almost like a "hot bath".
Mids
As is typical of Edifier, midrange adjustment is well done for a casual listening product of this type.
Unlike the low frequencies, which are very fuzzy, the midrange transparency is actually quite good, and the textures are reasonably accurate in their presentation.
The lower midrange is slightly raised, which gives the midrange an overall emphasis on depth and a slight backward tilt, but the overall slope is not strong and is mostly neutral.
However, electric guitars, for example, are slightly less colorful. Overall, the sound tends to sound a bit full and sluggish. Therefore, despite the high transparency, the overall sound tends to be muddy, and the three-dimensionality of the atmosphere is not very good.
It is more of a casual sound that audiophiles would enjoy listening to while relaxing, rather than for appreciating.
Highs / Treble
The high frequency range of the WH500 is slightly more detailed and adjusted to a delicate, luminous balance.
These highs are adjusted quite well for their class, adding a delicate and refreshing flavor to the midrange, which tended to be a bit hazy, and improving the overall impression considerably.
Toothiness and sinewy stabs are barely noticeable, and despite being quite safe, hi-hats, for example, are very fine and silky, acoustic guitar clawing sounds delicate, and grainy cymbal crashes sound very pleasing.
The extension is more than adequate and the airiness is good.
Sound quality general comment
Original Sound Fidelity: A
Recommendation: B
Personal preference: B
While the Edifier WH500 has a relatively well balanced overall sound, the midrange is not very well done, so it will not be so popular with audiophiles, who generally tend to focus on the midrange.

However, it is safe, with few irritating elements of sharpness and sting, and has a relatively high sense of detail and a good, clear high frequency range, so it may not be a bad choice for the casual listener.

It should be noted, however, that due to hearing protection, it is difficult to get loud.
Sound quality features
Pros
Good high-frequency extension
Good original sound fidelity
Delicate
Refreshing
Strong low frequency range
Good sound balance
Relatively good localization
Excellent resolution
Cons
Lacking in textural accuracy
Tends to be blurred overall
Lacks low-frequency depth
Difficult to turn up the volume (due to hearing protection)
General comment
The Edifier WH500 is not a bad choice for a low budget, casual use wireless headphones. The sound quality is customizable with an EQ, although it is not audiophile quality. The communication quality is excellent, and the beauty is that they are lightweight, comfortable to wear, and easy to carry with a long battery life.
Purchase link