Disclaimer
This review is based on "private purchases" or "items rented for a consideration".
No remuneration or compensation, such as a manuscript fee, has been received for publishing this, and it is an honest evaluation based on measurement data from personal testing and personal opinion.
Please read the privacy policy of this website.
Recommended for people like this
People who value low-frequency depth
People who like colorful sound
People who value sound balance
People who value cost performance
Overview of KZ DQS
This review will give an overview of KZ DQS. A complete review of this product can be found here.
audio-sound Score
Total Score: 9.0 / 10.0
Package: 8.0 / 10.0
Build quality: 8.5 / 10.0
Fitment: 8.5 / 10.0
High range: 8.5 / 10.0
Mid range: 9.5 / 10.0
Low range: 10.0 / 10.0
Less distortion: 8.5 / 10.0
Cost performance bonus: 10.5 / 10.0
Want to see the score ranking? Click here!
Basic Specifications
Frequency response: 20Hz to 40kHz
Impedance: 14±3Ω
Sensitivity: 110±3dB
Connector: 0.75mm 2pin
Features of KZ DQS
New generation legendary dynamic unit
About 0.15mm magnetic gap: Bring a leapfrog upgrade to sound quality
Magnetic gap generally refers to the distance between the voice coil and the magnet. The smaller the space, the higher the conversion efficiency and the lower the distortion. The magnetic gap of ordinary dynamic units in the market can only be about 0.3mm. In contrast, the new dynamic unit developed by KZ has broken through to about 0.15mm, and its conversion efficiency is far superior to that of peers.
Lightweight metal cover
Metal mesh
Structural support
Self-developed dynamic driver
3D inner bracket
Skin-friendly resin cavity
Metal nozzle
Sound filter
Silicone ear tip
High-precision four-layers voice coil
To improve the low-frequency performance of KZ DQS, we have adopted a four-layers voice coil made of copper-clad aluminum, which is usually used in professional speakers and earphones, greatly improving the performance of bass and high-frequency. Compared with the traditional copper voice coil, it has excellent conductivity and is lightweight.
Senior acoustic tuning team: Create a real Hi-Fi experience
Each frequency band is carefully debugged to ensure a smooth connection of high, medium, and low frequencies. Balanced tuning can easily handle various music styles.
Semi-open ear shell design
KZ DQS face cover adopts a semi-open exhaust design, which can effectively inhibit the reflection of sound waves in the cavity, making the bass crisp and powerful.
Classic ergonomic design
KZ DQS is designed to fit most people's ears, bringing a stable wearing experience and excellent noise cancellation performance.
Pluggable gold-plated structure design
Improved 2Pin interface can adapt to most cables on the market. A submerged plug can effectively protect the needle from breaking.
Good cable brings good sound quality: High purity oxygen free copper flat cable
KZ DQS adopts high-purity oxygen-free copper cable with excellent electrical conductivity, greatly reducing the loss in the signal transmission process.
Simple, practical, and environment-friendly packaging: It has been used for 10 years
We believe that products do not need to be packaged in luxury because the actual performance of products can not be presented in packaging. We advocate environmental protection, but we will not make high profits in the name of environmentalism, which has been one of the beliefs of KZ since its founding.
package
The quality of the packaging meets the price standard.
Package contents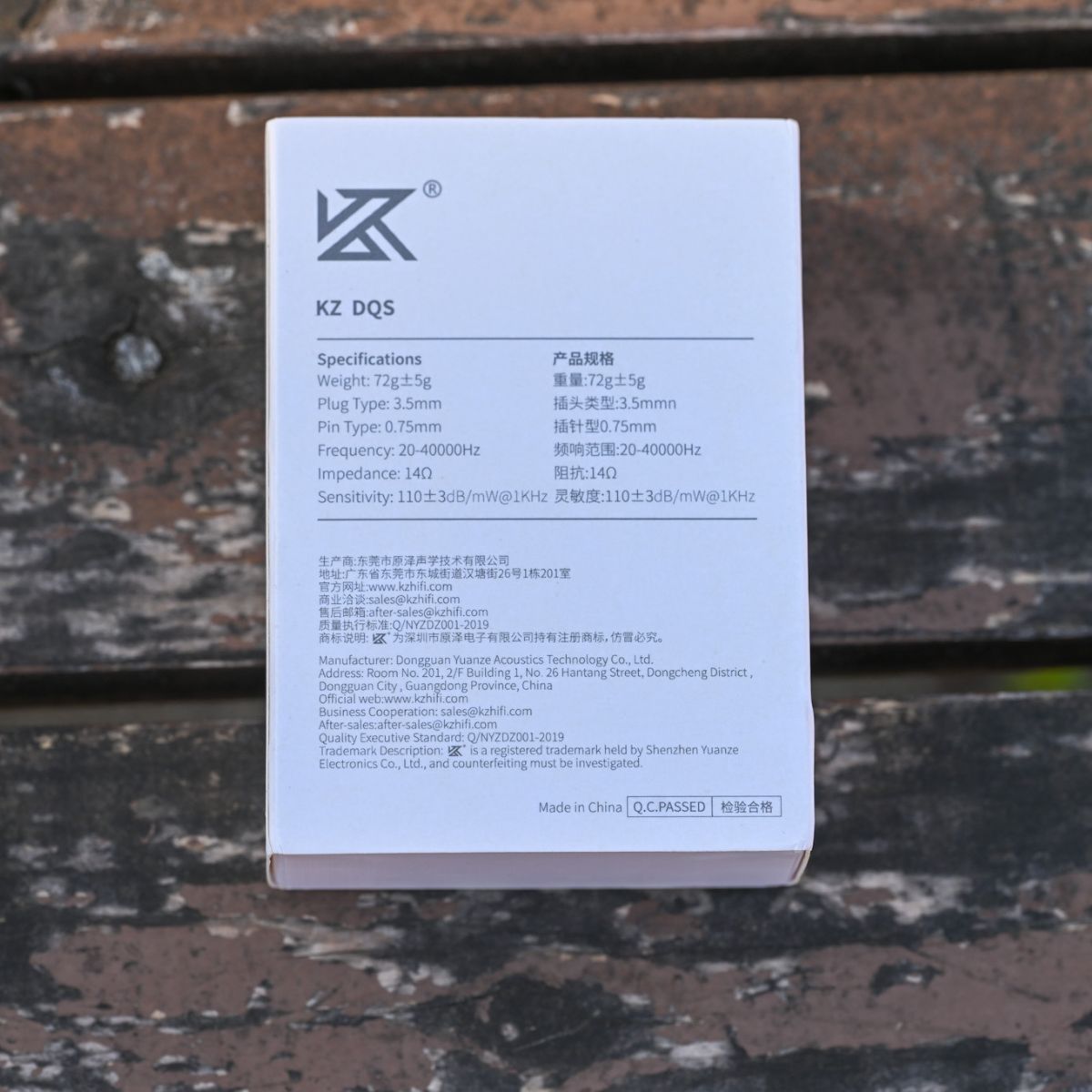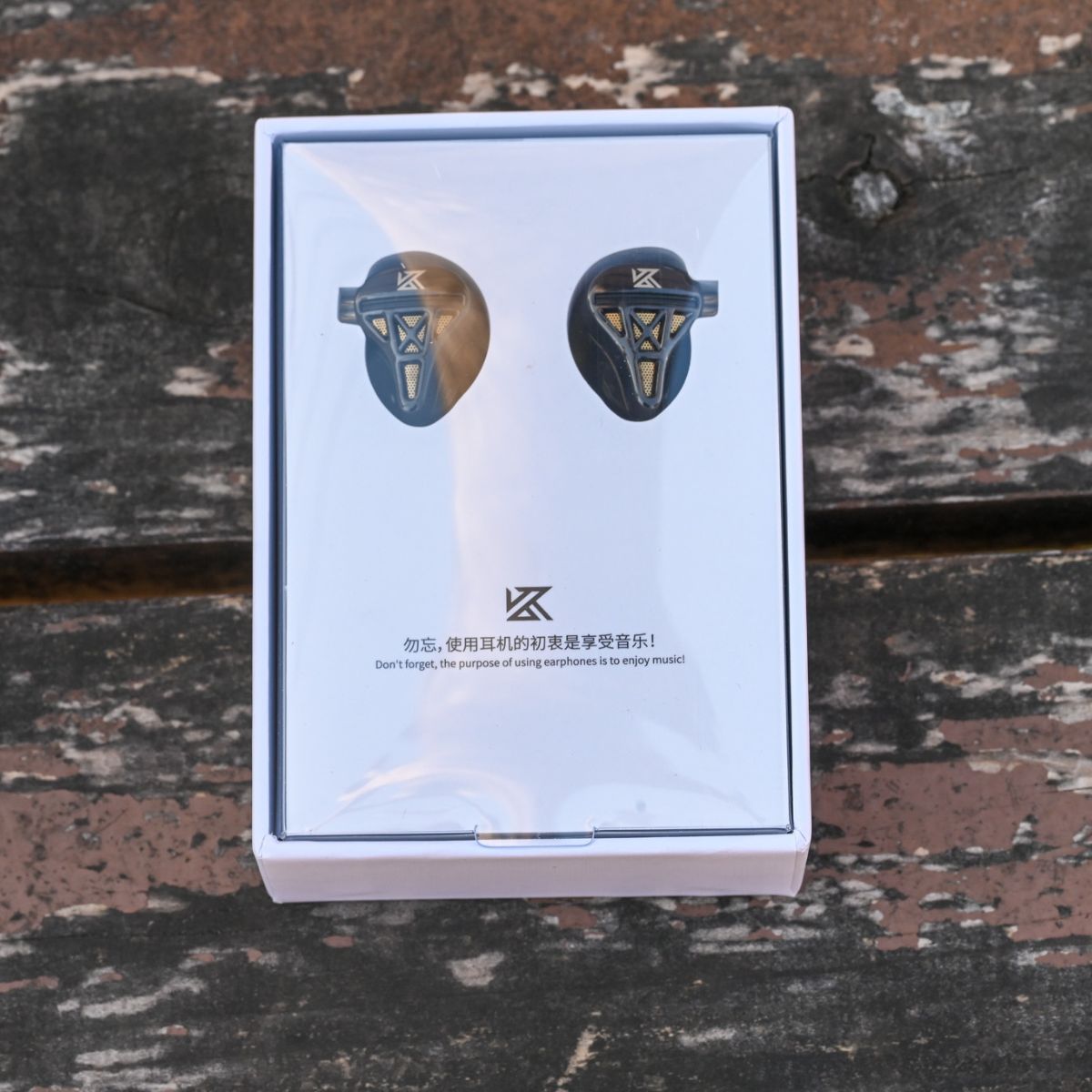 Build quality
Build quality meets the price standard.
Fit
The fit is good.
Sound quality
REW Frequency Response
audio status
Sound quality description
In this review, I use the standard eartips size L and drive it with the FiiO M15.
KZ DQS has a near-neutral U-shaped sound signature.
Please see here for detailed reviews on sound quality.
Lows / Bass
The low frequencies extend quite deep.
Bass drums sound heavy and impactful enough to rumble well enough.
The electric bass is also sufficiently black and expansive to give a definite sense of contrast at the bottom of the music.
It will be able to satisfy bass lovers to a great extent. Even heavy bass fanatics will be fully satisfied. The sense of balance with the midrange is not bad, but the low frequency tends to be a little too strong. The amount of low frequency should be a little excessive, especially for those who usually listen to loud music.
Mids
The midrange of the KZ ZNA is almost completely neutral. It is quite low distortion, but resolution is a bit lacking.
In the same price range, the CCA CXS is basically recommended as it offers a higher quality midrange.
Because the balance is a bit stronger in the low frequencies and slightly more concave in the center of the midrange than the aural neutral, it is assumed that the midrange will sound a bit darker to most people. It sounds darker to me too.
I have always been a fan of low frequencies and prefer a darker midrange, but I think the midrange of the DQS is a little too buried around vocals. The difference in resolution is also a big factor, and the CXS sound is more three-dimensional and the music sounds more vivid.
Highs / Treble
The high frequencies of the CCA CXS are tuned for speaker-like forward localization. Extension is lacking.
Sibilance may sound slightly stronger, but sting is well controlled. Detail is slightly low and brightness may be just slightly lacking, but generally adequate.
Sound quality general comment
Original Sound Fidelity: A-
Recommendation: A-
Personal preference: A+
The KZ DQS reflects KZ's recent superior tuning and dynamic driver manufacturing technology. Since last year, KZ has clearly improved its tuning level to a much higher level than before and has made great strides as a brand for audiophiles. It now produces a completely different level of sound than, for example, KBEAR, TRN, and CCZ (the so-called "hit-or-miss" brands), which used to be almost in a league of their own. No audiophile would mock the tuning of KZ and CCA, at least on the sound curve.
KZ DQS has a sound balance similar to that of its siblings, CCA CXS and KZ ZNA. Simply looking at sound balance alone, KZ DQS can be summarized as the model that focuses on the low frequency range the most among these three.
In fact, the CCA CXS is the best of these when considering audio specs, while the ZNA and DQS are not as good in resolution and are therefore less recommended. If you have to choose one of these three, I recommend buying the CCA CXS.
Sound quality features
Pros
Excellent texture
Good original sound fidelity
Heavy, deep bass
Glossy, colorful, sweet sound
Smooth, well-damped highs
Good focus on midrange
Good sound balance
Speaker-like forward localization
Cons
Insufficient high frequency extension
Insufficient resolution
General comment
The KZ DQS is an excellent IEMs that offers deep bass and a balanced, near-neutral sound signature at a low price. The build quality is not bad, and while you can expect them to provide general overpriced satisfaction, the resolution is a bit lacking.
Purchase link