Disclaimer
This review is based on "private purchases" or "items rented for a consideration".
No remuneration or compensation, such as a manuscript fee, has been received for publishing this, and it is an honest evaluation based on measurement data from personal testing and personal opinion.
Please read the privacy policy of this website.
Recommended for people like this
People who want to brag about how well off they are
Wealthy people
Astell & Kern fans
Campfire Audio fans
Overview of Astell & Kern × Campfire Audio Pathfinder
This review will give an overview of Astell & Kern × Campfire Audio Pathfinder. A complete review of this product can be found here.
audio-sound Score
Total Score: 8.1 / 10.0
Package: 7.5 / 10.0
Build quality: 9.5 / 10.0
Fitment: 8.5 / 10.0
High range: 7.0 / 10.0
Mid range: 7.5 / 10.0
Low range: 9.0 / 10.0
Less distortion: 8.0 / 10.0
Want to see the score ranking? Click here!
Basic Specifications
Frequency response: 5Hz to 20kHz
Impedance: 6.2Ω
Sensitivity: 94dB
Connector: mmcx
Features of Astell & Kern × Campfire Audio Pathfinder
THE HYBRID IEM REDEFINED
Campfire Audio and Astell&Kern have earned the recognition of audiophiles around the world thanks to their excellent technology introduced with the first collaboration model, AK Solaris X, which is a celebrated product that recreates the deep, rich sound of Astell&Kern.
Now, Astell&Kern and Campfire Audio join forces once again to present PATHFINDER, a new hybrid IEM that offers amazing technology and sound.
Astell&Kern and Campfire Audio take innovation to a new level by combining their advanced technologies and designs to create a product worthy of the name PATHFINDER.
To realize this dream, they repeatedly tested numerous designs to produce a structure different from existing IEMs and added an innovative Dual-Diaphragm Balanced Armature Driver, finally achieving the best sound.
Enjoy a unique experience through PATHFINDER, a more advanced Hybrid IEM.
ABOUT CAMPFIRE AUDIO
Campfire Audio springs from a passionate focus on refined audio reproduction. Each model in our earphone line is designed and assembled by hand in our Portland, Oregon workshop; our earphones are second to none in performance and finish. With a small team of highly skilled and dedicated craftspeople, we continuously experiment with materials and techniques to create something unique and special for the people who care most about it.
THE COMBINATION FOR PERFECT BALANCE
A completely new IEM design was needed for a wider frequency range, realistic reproduction, and a perfect balance.
To achieve this, PATHFINDER has a new Dual-Diaphragm Balanced Armature (BA) Driver from Knowles for the key part of the midrange, two BA drivers for high frequencies, as well as two dynamic drivers with hybrid diaphragms that create bass and midrange.
A Radial Venting Acoustic Chamber, newly developed by Campfire Audio, is applied to the two Custom 10mm Dynamic Drivers. The 3D-printed chamber design naturally expresses the intense low-frequency sound produced by the two dynamic drivers while preserving the unique sound of the BA driver.
INTERNAL STRUCTURE
Precision-Milled Aluminum Shell
The precision-milled aluminum shells made with high-quality aluminum are anodized into a pitch-black "Night Sky" color.
The stainless steel parts and aluminum shells used in the body increase the product's durability and suppresses unnecessary vibrations for minimal noise and offers a secure fit so that users can enjoy a comfortable audio environment.
New Level of Performance, Custom Dual Balanced Armature Drivers + T.A.E.C.
The newly customized Dual Balanced Armature Drivers present clearer and more precise expressions with T.A.E.C. (Tuned Acoustic Expansion Chamber) that expresses high frequencies without fatigue or sibilance through a specially designed audio technology.
The World's First, All-New Dual-Chamber Balanced Armature Driver Technology
To create a higher quality acoustic performance and listening experience, we needed a new technology that previous products did not have.
Knowles' new 'Dual-Diaphragm' Balanced Armature Driver, used for the first time ever in PATHFINDER, is an innovative driver in which a single coil operates two individual diaphragms. It's like a twin cylinder engine – delivering more horsepower and smoother operation compared to one with a single, larger piston.
Compared to a traditional BA with a single, larger diaphragm, the all-new design incorporates two chambers, each housing its own diaphragm and drive rod actuated by a single coil, resulting in a higher, more powerful output for its size than any other BA and is excellent at expressing a warmer and more natural midrange.
Find out more about the amazing performance of this brand-new Dual Diaphragm BA Driver unique to PATHFINDER.
BERYLLIUM / COPPER MMCX CONNECTIONS
Custom Beryllium Copper MMCX connectors are more resilient against wear and tear than regular brass connectors, providing a robust mating mechanism; one that is typically made from soft brass.
This selection of a harder material extends the life of the component and the earphone.
SILVER-PLATED COPPER AND FLAT CABLE DESIGN
PATHFINDER comes with three silver-plated copper cables allowing the earphones to reach their full performance potential. The silver-plated OFC copper Litz cable is a newly produced flat cable, with enameled silver-plated copper wire conductor to offer clearer, extended sounds.
The flat cable prevents tangling, can be wound for easy storage, and has minimal cable distortion.
It is over-molded for increased durability and finished with a metal housing.
FEATURED TECHNOLOGIES
T.A.E.C. - Tuned Acoustic Expansion Chamber
Our tuned acoustic expansion chamber technology allows us to deliver extended high frequencies without sibilance or fatigue. We optimize our driver performance by adjusting the volume of space available in front of the driver. This is superior to the typical "Tube+Dampener" system because it provides a direct passage from the driver to your ear, which results in unsurpassed clarity and extension.
Radial Venting Technology - 3D Printed Acoustic Tuning for Dynamic Drivers
This allows our dynamic drivers to vent to the entire circumference of the driver. The practical impact is a larger soundstage and more presence without increasing pressure or bass bloat.
3D Printed Interior - Carefully Designed for Optimum Sonic Performance
Close attention to detail is critical to delivering you the superior musical experience from our earphones. Solaris features an acoustically optimized interior model that allows each driver to deliver the very best sound quality. When heard together, the drivers offer a seamless musical experience as a result of this process.
HANDCRAFTED IEM MADE IN THE USA
PATHFINDER is hand-assembled in Portland, Oregon, USA by skilled craftsmen, ensuring each individual earphone is manufactured to the highest quality standards.
Pathfinder combines Astell&Kern's design philosophy, which expresses the purity of original sound with its philosophy of 'light and shadow', with Campfire Audio's design philosophy, which expresses its awe of nature, gave birth to the 'Mountain Peak' inlay design.
The inlay is individually produced from stainless steel and consists of six different sides that depict light and shadow. Together, these luminous sides form the shape of a brilliant mountain that rises from the earth. PATHFINDER, with its precision production, expresses dynamic beauty and displays the value of the premium craftsmanship and innovation that Campfire Audio and Astell&Kern pride themselves in.
package
The package meets the standard for its price range.
The contents are gorgeous, but given the price, the packaging could have been much more luxurious. The featureless paper packaging looks a bit cheap to me.
Package contents
Astell & Kern × Campfire Audio Pathfinder
Carrying Case
Mesh Pouch
Earphone mesh case
Cable for balanced (4.4mm/2.5mm)
Eartips
Manuals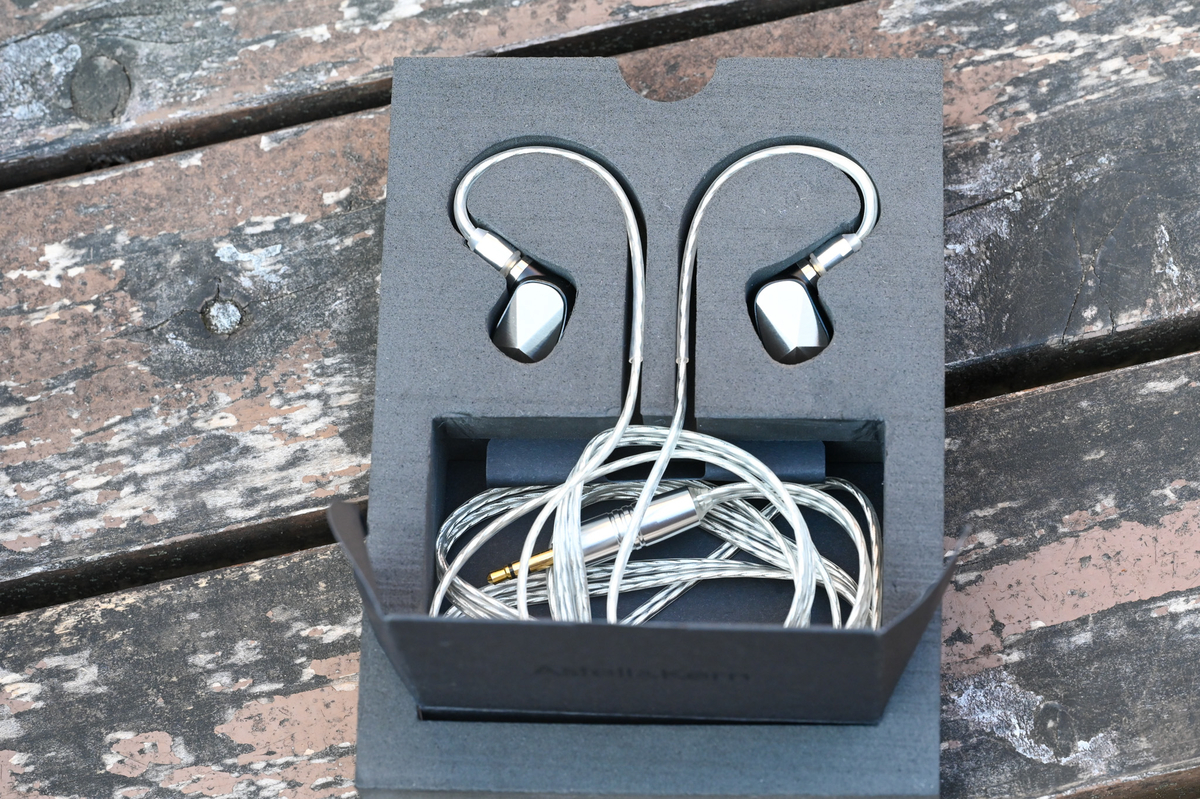 Build quality
Build quality meets the price standard.
I think Campfire Audio's build quality is quite impressive.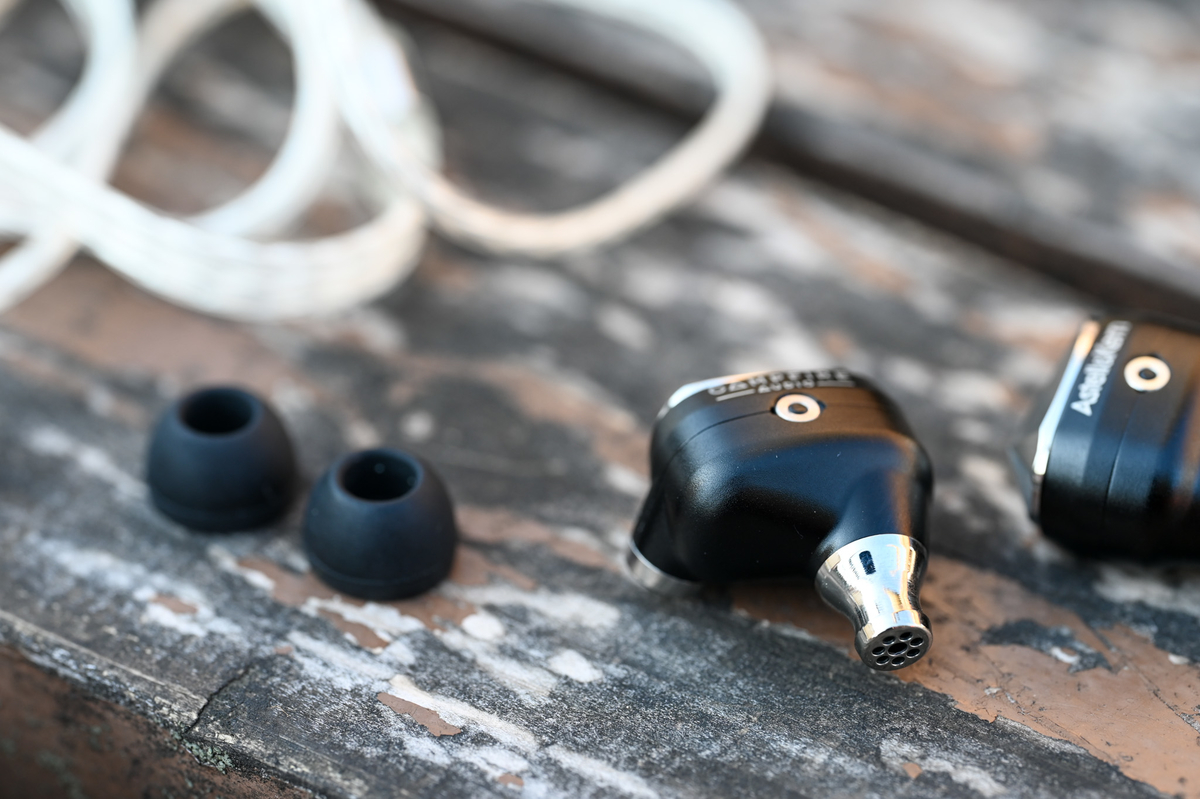 Fit
The fit is good.
Sound quality
REW Frequency Response
audio status
Sound quality description
In this review, I use the standard eartips size L and drive it with the FiiO M15.
The Astell & Kern x Campfire Audio Pathfinder has a unique W-shaped sound signature.
Please see here for detailed reviews on sound quality.
Lows / Bass
The low frequencies of the Astell & Kern x Campfire Audio Pathfinder are fairly linear and extend relatively deep.
It has quite a bit more presence than the midrange, but because of its overall flatness, it is difficult to feel the strength of its presence, and surprisingly, it is a low frequency range that may not satisfy low frequency lovers.
For my taste, the drum kicks have enough weight and impact is not bad, but the tightness is a bit lacking. I think the rumble is out there enough, but it may be a little short.
The electric bass is also a bit short on blackness for me due to the shallow sink, but the depth spread is not quite right.
If you like a monitor-like low-frequency sound, you'll probably like it, but heavy bass enthusiasts will want it to reach a little deeper.
Mids
The midrange of the Astell & Kern x Campfire Audio Pathfinder has a V-shaped structure with a slightly concave midrange center, which emphasizes a sense of depth in the midrange.
Linearity is a bit of a problem, and the sound is not suitable for audiophiles who generally place importance on midrange, but rather for consumers who tend to disregard the midrange.
Vocals tend to sound soft and soft, with a strange lack of core and power, despite the large sound image.
The high-frequency direction also lacks linearity, so the overall sense of localization is a bit difficult to discern, and the sound tends to be a bit unfocused. There is also a bit too much distortion.
With the involvement of Astell&Kern, I think there is a possibility that the midrange could have been made more decent if the product was made properly. At least the linearity could have been made better with relative ease. The transparency of the midrange is so poor that it is hard to believe that it is the midrange of a product costing about $2000. Resolution would also be lacking for a high-end product.
For example, the TinHiFi C2 (one of my recent favorites) sounds much cleaner, more texturally accurate, and more lively with high resolution.
Highs / Treble
Pathfinder's high frequencies are tuned for definition. Extension is not too bad, but not enough for high end.
The high frequencies are considered safe overall, but sibilance can be perceived as a bit stronger.
I am not sure if it is a lack of tuning ability or if it is intentional, but Campfire Audio products tend to lack linearity in the highs, and while the Pathfinder's highs do not have any obvious peaks, they lack linearity, making it difficult to get a sense of localization and so on. It is not very reliable as a studio monitor at least.
On the other hand, this lack of localization may be perceived as depth of musical expression or spatiality, and perhaps this is why Campfire Audio's avid fans continue to buy their products, so they prefer this kind of sound.
Sound quality general comment
Original Sound Fidelity: A
Recommendation: C
Personal preference: C
I am not sure how much Astell & Kern was involved in these earphones other than the packaging and build design and name. To me, if Astell & Kern was proactively involved, they could have made a more decent product in terms of sound quality.
Recently, even low-priced Chinese IEM brands such as TinHiFi and KZ have been excelling in tuning technology, driver materials, and other related technical knowledge and sourcing, so technically, the higher-priced brands are clearly lagging behind, and the high-end is becoming more and more mere shells of their former selves.
High-end products have specialized writers who are paid to write about these products and window-dress them to make them sound good, so it doesn't matter if they sound bad. Fortunately, high-end products contain so many patented technologies that don't seem to make much sense that writers can almost enumerate them and pretend that they are fascinating products full of wonderful, advanced technology.
Of course, the serious audiophile wonders, if so much great technology is used, why are the measurements so poor and the results so bad? It doesn't sound good when you actually hear it with your ears.
A great audio product is not just one that is great because it uses great patents, but one that properly utilizes great patented technologies to ultimately put together a great sound quality. Patented technologies are like the parts that make up a product, and no matter how many excellent, high-quality, and expensive parts are made and how beautifully the exterior is finished, it cannot be called a superior product unless it is accompanied by the substance of the final quality.
And especially for a specialty store like e-earphones, which claims to cater to audiophiles, the most important thing to sell is high-end products with high profit margins and a large share of the store's profits, so it is only natural that price is more important than sound. There are many consumers who consider themselves audiophiles who believe that the more expensive the product is, the better the sound is, and they tend to casually pay more money for fake audio to make people think they have a good sounding product, to raise their status within the audiophile community, or to flaunt their financial vanity.
The earphone industry is at the height of inflation, and while in the 2000s it was considered quite extravagant to pay $100 for it, since the 2010s prices of $500, $1000, and more have become the norm. Some brands in the earphone market have succeeded in driving up the price of earphones at a rate similar to the FANG stock price. It is not clear how long this vanity bubble will last, but the coming recession may encourage a shakeout and contribute to a certain amount of price adjustment.
Sound quality features
Pros
Good original sound fidelity
Distinctive resonance and enhanced dynamics
Monitor-like low frequencies
Good detail
Cons
Lacks accuracy of texture
Lacks linearity
Slightly lacking in high-frequency extension
Lacks low-frequency depth
Inaccurate localization
Outrageous pricing not commensurate with sound quality
General comment
The Astell & Kern x Campfire Audio Pathfinder is a pair of in-ear headphones that offers Campfire Audio's distinctive, dynamically enhanced sound with a sophisticated and beautiful Astell & Kern-style design. It is basically not a product made for audiophiles, but rather a brand decoration item for wealthy people who want to act like audiophiles.
Purchase link
Astell & Kern × Campfire Audio Pathfinder