Disclaimer
This review is written based on a "private purchase" or "product rented for a price".
No remuneration or compensation, such as a manuscript fee, has been received for publishing this, and it is an honest evaluation based on measurement data from personal testing and personal opinion.
Please read the privacy policy of this website.
Recommended for people like this
People who want to enjoy deep low frequency range
People who like massive sound
People who want to enjoy music with a lustrous atmosphere
High frequency sensitive
Overview of TFZ LIVE 3
This review will give an overview of TFZ LIVE 3. A complete review of this product can be found here.
audio-sound Score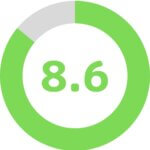 Total Score: 8.6 / 10.0
Package: 7.5 / 10.0
Build quality: 8.0 / 10.0
Fitment: 8.5 / 10.0
High range: 7.5 / 10.0
Mid range: 9.0 / 10.0
Low range: 9.5 / 10.0
Less distortion: 8.0 / 10.0
Want to see the score ranking? Click here!
Basic Specifications
Frequency response: 5Hz to 40kHz
Impedance: 20Ω
Sensitivity: 108dB/mW
Cable connector: 0.78mm 2pin
package
The packaging for the TFZ LIVE 3 is relatively simple.
Package contents
The accessories are relatively complete. There are enough eartips.
TFZ LIVE 3
Eartips
Manuals
Build quality
The exterior build quality meets the price range standard.
Fit
The fit is not bad.
Sound quality
REW Frequency Response
Sound quality description
In this review, I use the standard eartips size L and drive it with the FiiO M15.
The TFZ LIVE 3 has a V-shaped sound signature with the midrange slightly concave from neutral. The balance is relatively good, but the highs are a bit weak.
Please see here for detailed reviews on sound quality.
Sound quality general comment
Original Sound Fidelity: A-
Recommendation: A-
Personal preference: A
The TFZ LIVE 3 is an excellent listening earphone in the price range of under $100. The lack of high frequencies keeps this earphone away from the analytical and critical audiophile. However, the relatively good midrange presentation and deep, realistic low frequencies deliver rich grooves, satisfying clarity, good dynamics, and fairly natural articulation.
They are not the best earphones in their price range, but they are better than many models around the same price range, including the TxBEAR MONICA, which is considered a higher-end model.
Sound quality features
Pros
Good balance
Relatively high fidelity of original sound
Glossy sound
Forward localized
Mild, uninspired highs
Warm
Rich groove
Deep enough low frequency range
Cons
Not suitable for analytical listening
Lack of high frequency extension
Midrange can sound muddy
General comment
The TFZ LIVE 3 has the deep lows typical of TFZ, with gentle, mild highs and near-neutral mids that are comfortable to listen to. It is a fairly well-balanced listening earphone in its price range and a relatively easy variant to recommend.
Purchase link
TFZ LIVE 3
$67.00

amazon.com