Disclaimer
This review is based on a sample provided by Shuoer to convey a sincere quality review to our readers.
No remuneration or compensation, such as a manuscript fee, has been received for publishing this, and it is an honest evaluation based on measurement data from personal testing and personal opinion.
Please read the privacy policy of this website.
Recommended for people like this
People who like a clear sound
People who like a sound with good separation
People who like to focus on vocals
People who like a warm sound
People who like detailed sound
Overview of Shuoer Singer
This review will give an overview of Shuoer Singer. A complete review of this product can be found here.
audio-sound Score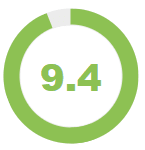 Total Score: 9.4 / 10.0
Package: 9.5 / 10.0
Build quality: 8.0 / 10.0
Fitment: 8.5 / 10.0
High range: 9.5 / 10.0
Mid range: 9.5 / 10.0
Low range: 8.5 / 10.0
Less distortion: 9.0 / 10.0
Cost performance bonus: 12.5 / 10.0
Want to see the score ranking? Click here!
Basic Specifications
Frequency response: 20Hz to 30kHz
Impedance: 32Ω
Sensitivity: 103dB/mW
Cable connector: 2pin 0.78mm
Features of Shuoer Singer
The Shuoer Singer is a hybrid earphone with an 8mm dynamic driver and an electrostatic driver. The dual drivers are tuned with great care, and the frequency response range of 20 to 30,000 kHz ensures that you can hear a wide variety of sounds. The sound from the Shuoer Singer is beautiful. The sound from the Shuoer Singer is beautiful, with strong penetration in the mid and high frequencies, richness in the vocal parts, and clarity in the low frequencies.
Special design
Shuoer Singer is designed with a special design idea, Shuoer Singer creates different earphone styles. Shuoer Singer creates different earphone styles, combining the basic elements of earphones with the fashionable elements of the times. The inspiration for this design comes from modern industrial design and decorative art, as if a piece of 20th century modern style was born.
Comfortable fit
Shuoer Singer adopts a comfortable and lightweight design, Shuoer Singer has a better sealing and canal type design, which fits your ear very well. The Shuoer Singer has a better seal and the canal design fits the ear very well, bringing a better fit. In addition, the cable of Shuoer Singer is less likely to break, and the careful design of the appearance allows you to feel the good quality of Shuoer Singer by sight and touch.
High quality cable
The Shuoer Singer is equipped with a high-purity single crystal copper cable with 128 cores and 4 cores of high-purity single crystal copper, which has excellent audio conductivity. The 128-core 4-core high-purity single crystal copper cable has excellent audio conductivity, and the special material on the outside of the cable makes it hard to break. The cable will last longer. There is also a convenient earphone storage case. The leather earphone case is very comfortable to touch. You can bring your earphones with you when you are out. You can enjoy your HiFi music anywhere.
package
The appearance of the Shuoer Singer package is not luxurious considering the price, but it meets the standard.
Package contents
The accessories are gorgeous considering the price. The package includes the following:
Shuoer Singer
6 silicone ear tips (S/M/L) in 2 types
Foam ear tips
2.5mm to 3.5mm conversion adapter
Carrying pouch
Manual
Build quality
The build quality of the Shuoer Singer is relatively good, but the workmanship of the screws on the nozzle filter replacement part seems to be a bit lax.
The filter nozzle came off a few times a day, which made me a little uneasy. I'm sure there are individual differences, but it's very worrisome. If the filter itself were more effective, it would still be good, but as I mentioned later, its effectiveness is limited, so I could have done without it.
The retro cylindrical design is very quaint and I personally like it.
The polarity of the cable may be difficult to understand. If you align the "●" on the connector on the cable side with the "+", you will get the correct polarity.
Fit
The small size makes for a good fit.
Sound quality
The Shuoer Singer is quite close to a free-field flat sound, and the electrostatic drivers provide ample extension in the high frequencies. There is a little bit of a stickiness in the whole range with little sense of depth, which is characteristic of flat sound, but the overall balance is very good. In addition, there is a sense of clarity in the sound image that is characteristic of free-field flat sound, and each sound image is well integrated and localized, resulting in what is called "good sound separation" sound.
If you replace the low frequency nozzle filter, the high frequency range will be attenuated.
Please see here  for detailed reviews on sound quality.
Sound quality general comment
Original sound fidelity: A+
Recommendation: A+
Personal preference: A+
The Shuoer Singer doesn't seem to be a very popular earphone, and some overseas reviewers have given it a straightforwardly negative review, saying that it is badly tuned.
I don't think the review is wrong, because it criticizes the Singer's compact soundstage, which is exactly what I pointed out as a problem in my own review. And the review actually does a good job of capturing the Singer's excellent sense of detail, pointing out the fatiguing sound that results from its cramped midrange, slightly stilted mid-highs, and slightly lacking high-frequency structure.
However, I would modify that to say that the Singer was not really that badly tuned, just a little short. And it seems to me that it actually sounds better than many earphones in the same price range, so I won't give it a negative review while acknowledging its shortcomings.
In fact, the high frequency extension is quite good for this price range. It is not a "bad earphone" but a "regrettable earphone," and moreover, the perfection of sound quality is excellent considering the price. Therefore, I can recommend these earphones without any particular resistance.
Sound quality features
Pros
Clear localization
Glossy
Constructive and solid contours
Warmth
Adequate focus on the midrange
Natural and rich vocals
Good detail
Expansive highs

Cons
High-pitched and audible sound
Not a large sound field
Localization that is too intimate
Lack of height of sound
General comment
The Shuoer Singer is one of the most complete earphones you can buy in this price range in terms of sound quality, flat and suitable for everyone. The nozzle filter is prone to loosening, and the workmanship could use a little more precision, but the overall package quality is of a high standard, including support for both 2.5mm balanced and 3.5mm single-ended at this price. The sound field is a bit narrow, but localization is clear and, as the name suggests, the vocal focus is excellent.
Purchase link