Disclaimer
This review is written based on a "private purchase" or "product rented for a price".
No remuneration or compensation, such as a manuscript fee, has been received for publishing this, and it is an honest evaluation based on measurement data from personal testing and personal opinion.
Please read the privacy policy of this website.
Recommended for people like this
People who are looking for monitor earphones for DTM
People who like studio tuning
People who care about cost performance
Overview of NF Audio NM2+
This review will give an overview of NF Audio NM2+. A complete review of this product can be found here.
audio-sound Score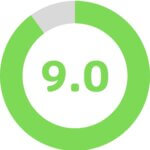 Total Score: 9.0 / 10.0
Package: 8.0 / 10.0
Build quality: 9.0 / 10.0
Fitment: 8.5 / 10.0
High range: 8.5 / 10.0
Mid range: 9.5 / 10.0
Low range: 8.0 / 10.0
Less distortion: 9.0 / 10.0
Want to see the score ranking? Click here!
Basic Specifications
Frequency response: 20Hz to 18kHz
Impedance: 56Ω
Sensitivity: 124dB/mW
Cable connector: T2
package
The packaging meets the price standard. The unpacking experience is a bit luxurious.
Package contents
There is no shortage of accessories.
NF Audio NM2+
Eartips
Carrying case
Explanatory documents
Build quality
The build quality of the exterior meets the standard of the price range.
Fit
It sits well in the ear and feels good to wear.
Sound quality
REW Frequency Response
Sound quality description
In this review, I use the standard eartips size L and drive it with the FiiO M15.
The NF Audio NM2+ has a near-neutral sound signature in the midrange with a slight emphasis on the mids and highs, making it an excellent studio reference monitor. Both resolution and distortion are of a high standard, and the NM2+ meets the high specification requirements of monitors outside of frequency response. It is comparable to the best high-end models, and it would be rare to find a model that can compete with this earphone even in the upper price range. The only drawbacks are the lack of extension in both low and high frequencies, i.e., the compact imaging and sound field, and the lack of accurate localization.
Please see here for detailed reviews on sound quality.
Sound quality general comment
Original Sound Fidelity: A+
Recommendation: A+
Personal preference: B+
The NF Audio NM2+ is a very good monitor earphone. The resolution and THD specs are perfect, and the sound balance is well done. If I had reviewed them a little earlier, this time last year, I might have been more excited. I probably would have considered buying one.
Unfortunately, I must point out that there is currently a less expensive alternative, the TinHiFi T3 Plus, which offers better sound balance and specs. And with a little more money, you can get even better earphones called Moondrop KATO.
Sound quality features
Pros
Good balance
High fidelity of the original sound
Colored sound
Front localization
High resolution
Cons
Monitor-like and tasteless low frequencies
Lack of immersion
Lack of high frequency extension
Lack of depth in the low frequency range
Midrange tends to sound too loud
General comment
The NF Audio NM2+ is the first choice for users who are looking for a practical studio monitor for DTMs at a low price. It reproduces the sound of monitor speakers quite faithfully. The audio specs are excellent and far beyond the value of the price range, so you won't be disappointed with your purchase.
Purchase link
NF Audio NM2+
$169.00
HiFiGO