Disclaimer
This review is based on a sample provided by SoundPEATS to convey a sincere quality review to our readers.
No remuneration or compensation, such as a manuscript fee, has been received for publishing this, and it is an honest evaluation based on measurement data from personal testing and personal opinion.
Please read the privacy policy of this website.
Recommended for people like this
People who are looking for comfortable sounding earphones
People who like inner-ear earphones
People who like full, rich sound
People who like well-balanced sound
People who focus on vocals
People who value cost-effectiveness
Overview of SoundPEATS Air 3 Deluxe HS
This review will give an overview of SoundPEATS Air 3 Deluxe HS. A complete review of this product can be found here.
audio-sound Score
Total Score: 8.6 / 10.0
Package: 8.0 / 10.0
Build quality: 8.0 / 10.0
Fit: 8.5 / 10.0
High range: 8.5 / 10.0
Mid range: 8.5 / 10.0
Low range: 7.5 / 10.0
Less distortion: 8.5 / 10.0
Communication quality: 9.5 / 10.0
Cost Performance Bonus: 11.5/10.0
Want to see the score ranking? Click here!
Basic Specifications
Continuous / maximum playback time: 5h / 20h
Waterproof performance: IPX4
Supported codecs: LDAC / AAC / SBC
Features of SoundPEATS Air 3 Deluxe HS
Hi-Res Audio Certification & LDAC Codes
14.2mm Driver & Four Microphones
In-Ear Detection & 20 Hours of Playtime
Low Latency Game Mode & App Control
The World's First Hi-Res Certified Half-in-ear Earbuds
Combined with Hi-res certificated quality, LDAC technology, and 14.2mm bio-diaphragm large dynamic driver, the Air3 Deluxe HS delivers immerse music with richer details, supports ultra-wide frequency range to 20hz-40kHz, a bit depth and a sampling rate of 24bit/96kHz, a bit rate to 990kbps. A perfect choice for close to Airpods sound quality but at the best budget.
Less Weight, More Comfort
Each earbud weighs only 0.14oz(4.06g). Sculpted ergonomics of this wireless earbuds provide a superior fit to offer a pleasant experience with all-day comfort and less presure to your ear canel.
Uninterrupted Game Experience
Just a simple triple tap on left earbuds to enter game mode. The Air3 Deluxe HS enables the ideal latency as low as 60ms to offer you more smooth, lag-free and uninterrupted viewing and interactivity. Wise choice for most viewers and gamers!
Stay with You All the Time
Get 5 hours of playtime from a single charge and 20 hours of total playtime using the rechargeable USB-C carrying case. The compact charging case boasts a built-in 300mAh battery that can charge your earbuds on the go.
package
The package meets the price level. The overall package is eco-friendly.
Package contents
There is no shortage of accessories. The package contains the following:
SoundPEATS Air 3 Deluxe HS
Charging case
USB Type-C cable
Manual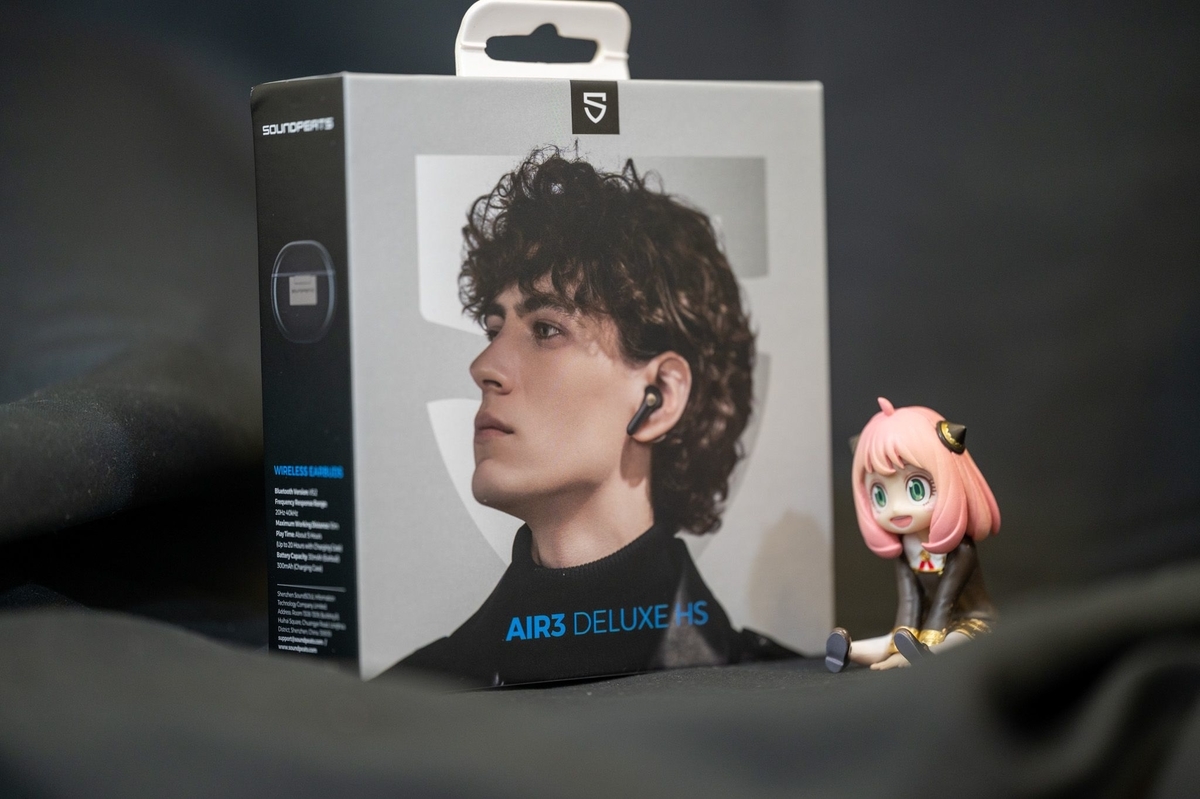 Build quality
Build quality meets price standard.
Fit
The fit is good.
Connection quality
I tested it by connecting it to a Cayin N6II/E02 with LDAC.
I don't know because I haven't been in crowds, but it is stable in the home. Distance tolerance is excellent, and the connection is seamless and intact even at a distance of about 5 meters. Communication was uninterrupted and music could be heard consistently, even across obstructions.
There may be a small amount of background noise, but most people probably won't notice it.
Interface/operation
The operating interface is a touch type.
| | |
| --- | --- |
| Power ON | Open the charging case lid |
| Power OFF | Store the earphones in the charging case and close the lid |
| Pairing | Automatic pairing mode if no connection is available when power is turned on |
| Song playback | Tap the multi-function button twice |
| Stop playback | Tap the multifunction button twice |
| Forward song | Press and hold the right multifunction button for 1.5 seconds |
| Backward song | Press and hold the left multifunction button for 1.5 seconds |
| Volume + | Tap the right multifunction button once |
| Volume - | Tap the left multifunction button once |
| Answer call | Tap the multi-function button twice |
| End call | Tap the multi-function button twice |
| Activate voice assistant | Tap the right multifunction button three times |
| Switch game mode | Tap the left multifunction button three times |
Compatible Apps
SoundPEATS Air 3 Deluxe HS is compatible with the SOUNDPEATS app, allowing you to customize the sound quality to your liking.
What is possible with the SOUNDPEATS app
Customize sound quality
Firmware updates
Factory reset
Check device information
Sound quality
audio status
Sound quality description
The following review was tested on a FiiO M15 with an SBC connection.
SoundPEATS Air 3 Deluxe HS has a sound signature of a full midrange.
Please see here for detailed reviews on sound quality.
Lows / Bass
Many inner-ear models are not expected to have low frequencies, and the Air 3 Deluxe HS is no exception. Even when worn with the earpiece pushed deep into the ear, it will be difficult to hear the deepest part of the bass.
In the low frequency range, you'll hear the best around the punch and boom a bit higher up. As a result, the drum kicks are full of power, thick, tough, and weighty, but they are quite expansive and sound more like bongs than thumps. The sound is impactful, thick, and immersive, but not very tight.
The electric bass is a bit brighter, with a shallow impression and lacks tightness.
In general, if you are looking for low-frequency quality, you should use a canal type, but if you stick to the inner-ear type, we recommend the QCY T20, for example.
Mids
The midrange is concave near the center and sounds a bit muddy, slightly affected by the low frequencies.
A moderate sense of depth is felt and emphasis is given to the three-dimensionality, but this causes a lack of linearity, and the midrange transparency sounds low. The sound is rounded, harmonic, and mildly pleasing to the ear, but it tends to be hazy overall.
The sense of definition is quite high, so there is no sense of buried detail, but the overall sense of separation is poor and the sense of structure is quite lacking.
Also, the highs are closed, so the midrange sounds quite dense. The fullness is high, and the volume and resonance are rich and enveloping, but it is hardly suitable for audiophiles.
Highs / Treble
High frequencies are somewhat tame. Extension is not very good.
The high frequencies are basically safe, as the toothiness and pealiness are quite restrained. Despite the overall sound balance, which is easily blurred due to a high degree of fineness, details are not buried.
In that sense, the highs are relatively well adjusted within the overall sound, but the sense of lack of mid and high frequencies has a significant impact on the lack of musical structure, making the sound a bit separated from likes and dislikes.
Sound quality general comment
Original sound fidelity: A
Recommendation: A
Personal preference: B
SoundPEATS Air 3 Deluxe HS basically inherits the well-balanced sound of the previous generation Air 3, but with a slightly revised sound balance and improved original sound fidelity.
As an inner-ear type, this model is as well-balanced as previous models.
Sound quality features
Pros
Rich power
Good original sound fidelity
Good sense of weight
Not bad texture
Good definition
Gentle on the ear, comfortable to listen to
Harmonic atmosphere with a sense of envelopment
Cons
Lacks in depth of low frequency range
Lack of sense of structure
Muddy feeling
Poor sense of separation
Lack of extension in the high frequency range
General comment
The SoundPEATS Air 3 Deluxe HS is the final evolution of the brand's Air series in its current state. Although the case itself is slightly larger, the earbuds are still small and lightweight, and the fit is comfortable. The communication quality is stable, and the rich functionality of the application has achieved a high level of perfection for an inner-ear model.
Purchase Link
SOUNDPEATS Air3 Deluxe HS