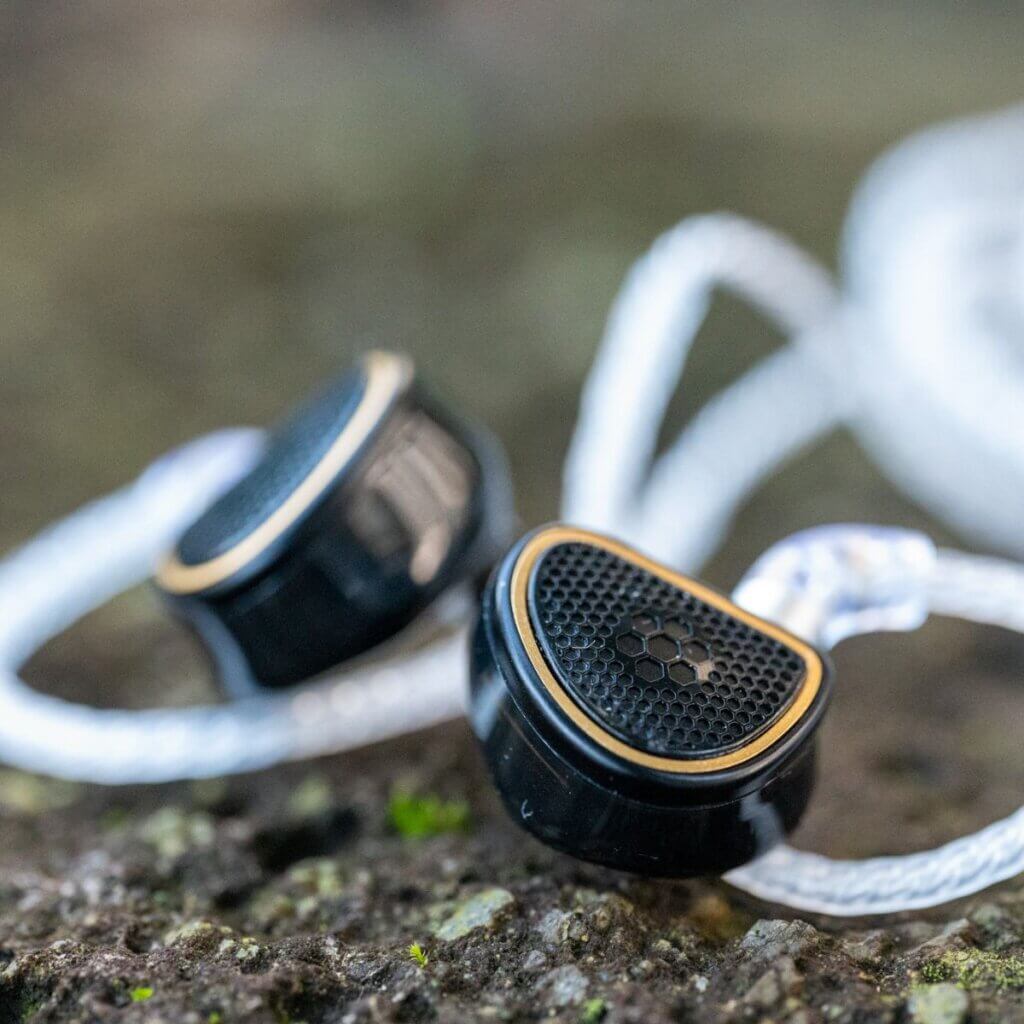 Disclaimer
This review is based on "private purchases" or "items rented for a consideration".
No remuneration or compensation, such as a manuscript fee, has been received for publishing this, and it is an honest evaluation based on measurement data from personal testing and personal opinion.
Please read the privacy policy of this website.
Recommended for people like this
People who value low-frequency depth
People who like darker sound
Overview of TRN XuanWu
This review will give an overview of TRN XuanWu. A complete review of this product can be found here.
audio-sound Score
Total Score: 8.7 / 10.0
Package: 8.0 / 10.0
Build quality: 8.5 / 10.0
Fitment: 8.5 / 10.0
High range: 8.0 / 10.0
Mid range: 8.5 / 10.0
Low range: 10.0 / 10.0
Less distortion: 8.0 / 10.0
Cost performance bonus: 10.5 / 10.0
Want to see the score ranking? Click here!
Basic Specifications
Frequency response: 20Hz to 20kHz
Impedance: 12Ω
Sensitivity: 117dB
Cable connector: 2pin
Features of TRN XuanWu
The Name XuanWu Comes From The Four Symbols Of Chinese Astronomy
Exclusive 10mm Square Planar Driver
Compact and Durable
4 Core Stranded Cable
Groundbreaking and Revolutionary Driver
Immortality and Eternity
The name XuanWu comes from the Four Symbols of Chinese astronomy. The XuanWu, or the Black Tortoise (a.k.a. "Black Warrior") is actually a tortoise entwined together with a serpent, representing the combination of movement and stillness, or the yin and yang. It is the symbol of winter and the domination of the northern sky. It also represents the lifecycle and harmonization of the universe.
Square Planar Driver
Developed and manufactured by Bellsing, this distinctively new and exclusive 10mm square planar driver contribute to the powerful bass and warm vocal, perfect for daily music listener. By combining the strength of dynamic driver and conventional planar drivers, the Bellsing driver is a master in maintaining the harmony of all frequencies, which is a rare contribution among planar driver headphones.
Compact and Durable
Made of Aluminum alloy faceplate and semi-permeable resin shell, the TRN XuanWu is a perfect example of simplicity and quality. The metallic case is not only durable but looks classy and premium.
4 core stranded cable
TRN XuanWu uses 4 core cables made of pure copper and silver-plated copper, which has the advantage of both types of copper cable, making the output sounds wider. As the resolution increases, the audio output is richer with details. Connectors is available in 3.5mm, 2.5mm, and 4.4mm that is gold-plated.
Groundbreaking and Revolutionary Driver
The innovated Bellsing driver of TRN XuanWu makes it possible for planar magnetic driver to be used on headphones and not just the bulky speaker and amplifiers that require great power to drive. The TRN XuanWu only has a 12Ω impedance, even a smartphone could drive it excellently.
package
Package meets price standard. The package is simple and easy to dispose of.
Package contents
TRN XuanWu
Eartips
Manuals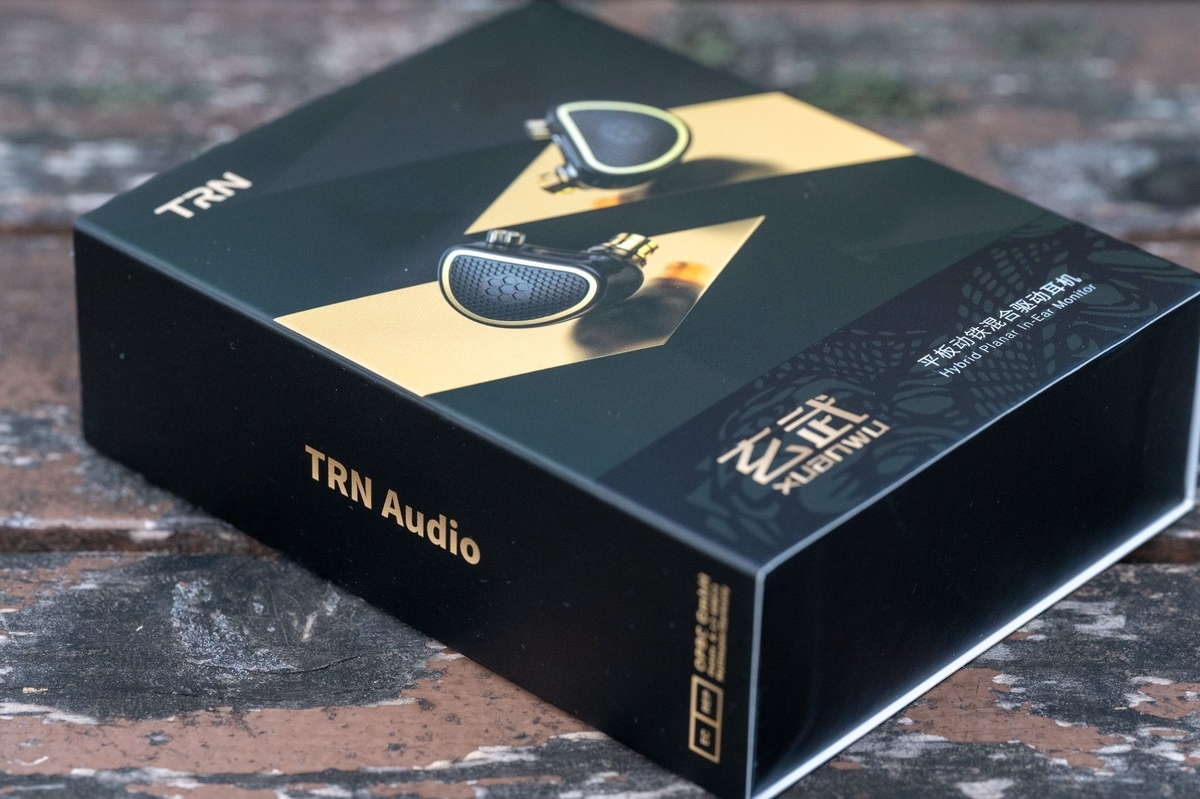 Build quality
Build quality meets the price standard.
Fit
The fit is good.
Sound quality
REW Frequency Response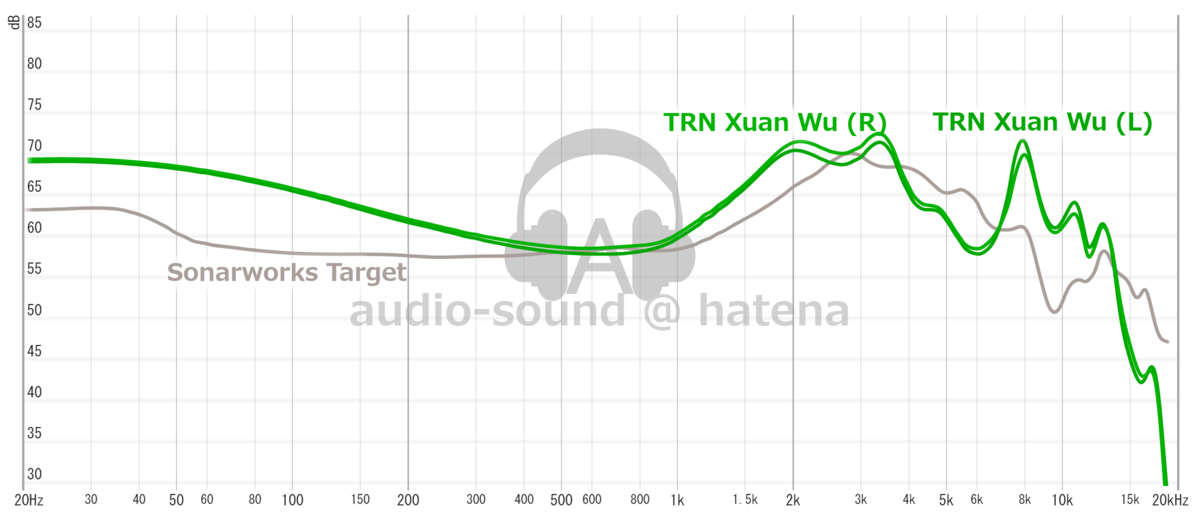 audio status
Sound quality description
In this review, I use the standard eartips size L and drive it with the FiiO M15.
TRN Xuan Wu has a sound signature with an emphasis on mid-high and low frequencies.
Please see here for detailed reviews on sound quality.
Lows / Bass
The low frequencies of the TRN XuanWu extend well into the quite deep range and can achieve quite a sense of realism.
Drum kicks have plenty of impact and a fair amount of weight, and rumble is of a satisfactory level.
Electric bass also sounds black and well-spaced.
It can be said to be well balanced with the midrange in terms of presence, and can be highly recommended for low-frequency enthusiasts.
Mids
The midrange of the TRN XuanWu is fairly close to neutral, but the upper midrange is emphasized and generally forward.
However, the edges are a bit poor, so the midrange tends to sound dull with a poor sense of construction. Guitar edges lack color, and the snare tends to sound bobbly or lumpy.
The vocals are also a bit nasal, the consonants are not very articulate, and the voice tends to be a bit husky. It tends to sound a little fluffy, and has a sense of being comfortable in the ear, but impressively lacks liveliness and tends to sound a little dark. It is easy to get the feeling that there is not enough spotlight on the vocals, and it sounds as if the singer is singing in a dark position, and many may think that the focus is not good.
Highs / Treble
High frequencies are lacking in extension. Overall, the highs are lacking in energy, and the brightness is a bit low, but the definition is not bad, so there is probably no shortage of detail.
It sounds a little superior in delicacy, with a fairly safe high frequency range and a little emphasis on the highs. However, the airiness is lacking, so the diffuse spread of hi-hats and cymbal crashes is poor, and the woodwinds and violins are not very exhilarating with poor extension.
Sound quality general comment
Original Sound Fidelity: A+
Recommendation: B+
Personal preference: B+
If you are a fan of low frequencies and like a chic and classy atmosphere where you can enjoy vocals in a slightly darker atmosphere, TRN XuanWu may not be a bad choice. The original sound fidelity is not bad, and the overall balance is not bad either.
Nevertheless, for a low-frequency model around the same price, the FloAudio Calla, for example, seems to be generally superior.
Sound quality features
Pros
Good texture
Good original sound fidelity
Heavy, deep bass
Elegant and chic
Resolution above price
Cons
Insufficient high frequency extension
Poor coloration
Sound a little too rounded, lacks a sense of construction
Dark midrange
Overall subdued sound
General comment
The TRN XuanWu is an IEMs with a massive, deep low frequency range and a chic, classy, dark-sounding midrange. It is not a particularly outstanding IEMs in its price range, considering its sound performance and overall package, but if you like low frequencies, you will find it quite appealing, and it is a good candidate.
Purchase link