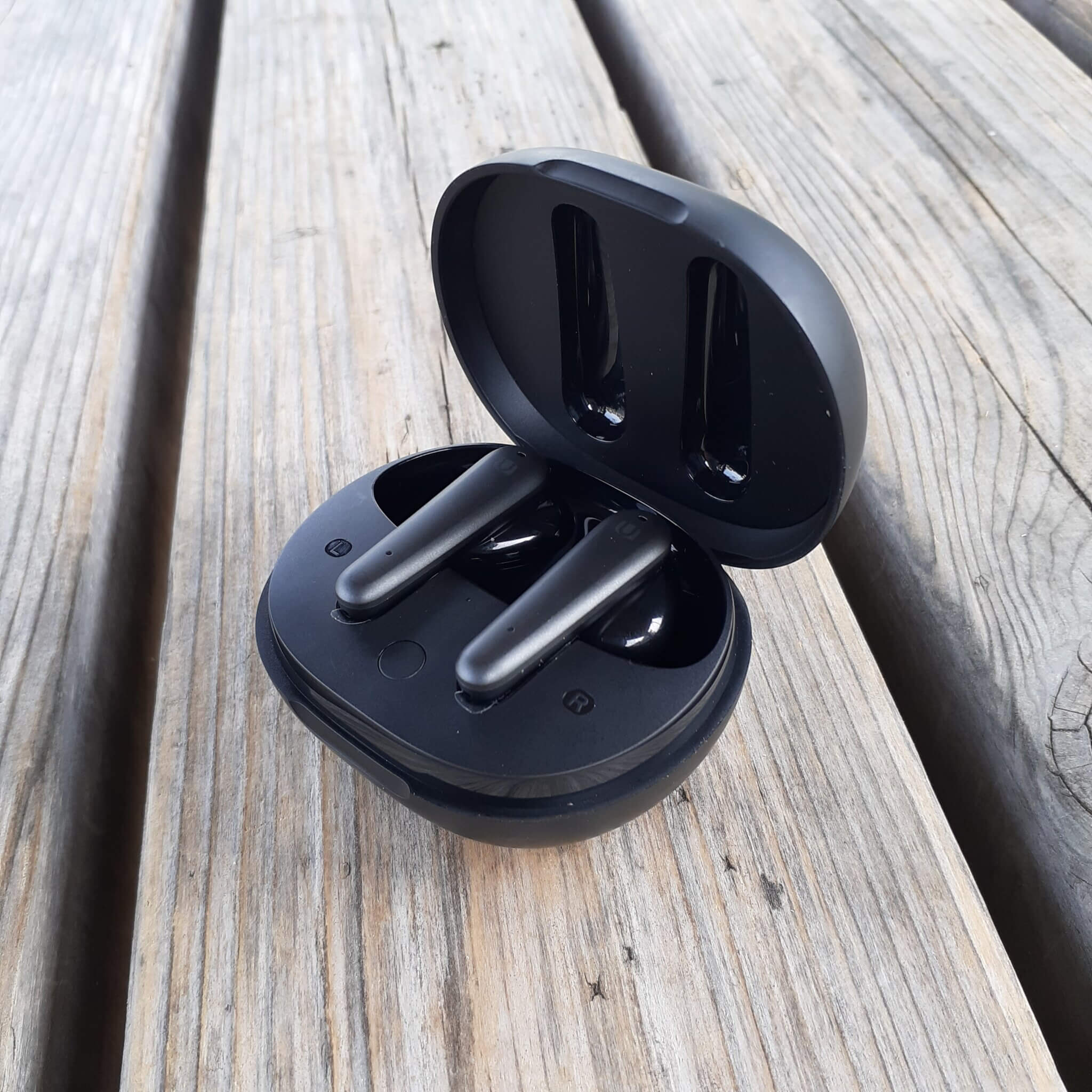 Disclaimer
This review is written based on a "private purchase" or "product rented for a price".
No remuneration or compensation, such as a manuscript fee, has been received for publishing this, and it is an honest evaluation based on measurement data from personal testing and personal opinion.
Please read the privacy policy of this website.
Recommended for people like this
People who like analog sound
People who like the sound of tube amps
People who like studio tuning
People who care about localization
People who care about harmonics
People who value cost performance
Overview of UGREEN HiTune X6
This review will give an overview of UGREEN HiTune T1. A complete review of this product can be found here.
audio-sound Score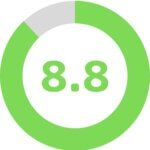 Total Score: 8.8 / 10.0
Package: 8.5 / 10.0
Build quality: 8.5 / 10.0
Fit: 8.5 / 10.0
High range: 9.5 / 10.0
Mid range: 9.5 / 10.0
Low range: 8.5 / 10.0
Less distortion: 7.0 / 10.0
Communication quality: 7.5 / 10.0
Cost Performance Bonus: 11.5 / 10.0
Want to see the score ranking? Click here!
Basic Specifications
Continuous / maximum playback time: 5h / 24h
Waterproof performance: IPX5
Supported codecs: AAC / SBC
【4 Microphones & ENC Environmental Noise Reduction】Each earphone has two microphones for clearer call effects, and the ENC noise canceling function suppresses environmental noise and voices, and amplifies only the voice of the conversation. Furthermore, combined with DSP (Digital Signal Processing) technology, environmental noise can be significantly reduced by as much as 90%. This allows users to enjoy face-to-face conversations even in noisy environments.
【Balance & Bass Mode】Equipped with a 6.0mm dynamic driver capable of reproducing powerful sound, the speakers deliver a realistic sound quality and allow you to hear high-resolution lossless sound sources clearly. It is 35% lighter and 100 times stiffer than regular drivers, yielding superior accuracy and clarity.
【Select your preferred mode】Easily switch between balance and bass modes by touching and holding the right earpiece for 2 seconds.
【Ergonomics & Comfortable Wear】UGREEN HiTune T1 earphones are ergonomically shaped with a 30° in-ear slanted design to fit the ear structure for a comfortable fit. It also comes with XS/S / M / L ear tips, allowing you to choose the appropriate size for you. Furthermore, they are IPX5 waterproof and can be used safely even when exposed to water drops from rain, sweat during exercise, or splashes from hand washing. It is ideal for jogging, yoga, travel, Zoom meetings, FaceTime, etc. 
【Up to 24 hours of music playback & USB-C fast charging】HiTune T1 Bluetooth 5.0 earbuds support USB-C fast charging, which takes only 1.5 hours to complete charging, and you can play up to 1 hour of music after only 10 minutes of charging. The 60mAh high-capacity battery inside the earbuds provides up to 5 hours of use on a single charge. The battery can also be used with the charging case for up to 24 hours of music playback.
【Touch Control & Instant Pairing】Equipped with a smart hole switch, HiTuneT1 turns on when the charging case is opened and automatically enters pairing mode. Once paired, it will automatically connect the next time. Working with Siri and Google Assistant, both L/R earphones support touch control functions such as EQ setting, play/pause, song switching, answer/end/reject calls, etc.
package
UGREEN HiTune T1 package meets the price standard.
Package contents
There is no shortage of accessories. The package contains the following:
UGREEN HiTune T1
Charging case
Eartips
USB Type-C cable
Manual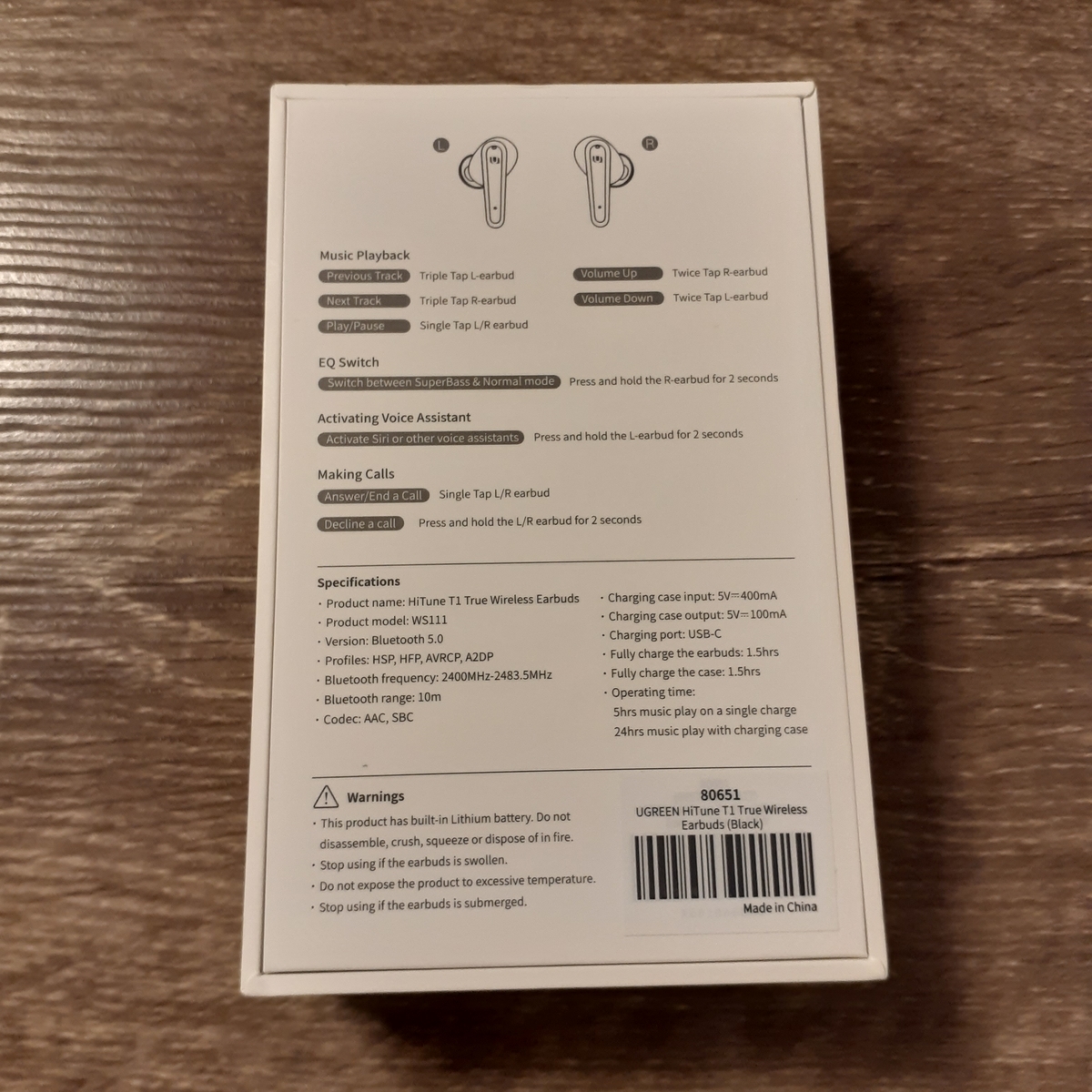 Build quality
The build quality of the UGREEN HiTune T1 meets the price standard.
The case is shallow in the earphone compartment and will not hold earphones if larger eartips are worn.
Fit
The fit is good.
However, for those with large earholes, the standard earpieces will probably not provide a good enough seal. We recommend that you get larger ones. In such cases, it should be noted that the eartips may not fit into the case.
Connection quality
I tested it by connecting it to a Cayin N6II/E02 with AAC.
I don't know, I haven't been in crowded places, but it is stable in my home. Distance tolerance is excellent, and the connection is seamless and intact even at a distance of about 5 meters. The sound is interrupted when an obstruction is placed in between, and communication is restored after a short while, but it is choppy and it seems a little difficult to listen to music consistently.
There may be a small amount of background noise, but most people probably won't notice it.
Interface/operation
The operating interface is a touch type.
| | |
| --- | --- |
| Power ON | Open the lid of the charging case and take out the earphones |
| Power OFF | Store the earphones in the charging case |
| Pairing | After turning on the earphones, if there is no connection destination, pairing mode is automatically activated |
| Play songs | Tap the multifunction button once |
| Stop playback | Tap the multifunction button once |
| Forward song | Tap the multi-function button on the right ear three times |
| Backward | Tap the multifunction button on the left ear three times |
| Volume + | Tap the multifunction button on the right ear twice |
| Volume - | Tap the multifunction button on the left ear twice |
| Answer call | Tap the multi-function button once |
| End call | Tap the multi-function button once |
| Reject call | Press and hold the multi-function button for 2 seconds |
| Bass mode ON/OFF | Press and hold the multi-function button on the right ear for 2 seconds |
Sound quality
REW Frequency Response
Sound quality description
The UGREEN HiTune T1 delivers a very balanced, almost completely neutral sound; the Super Bass mode sounds V-shaped and emphasizes the low frequencies considerably.
The following review was tested on a FiiO M15 with an SBC connection.
Please see here for detailed reviews on sound quality.
Sound quality general comment
Original sound fidelity: A+
Recommendation: S-
Personal preference: S+
The UGREEN HiTune T1 is a listening earphone with excellent texture and localization reproduction. Unlike the original HiTune, which sounded very monitor-like and articulate, the HiTune T1 has a distinctive, harmonic sound with less resolution and clarity. The sound is suitable for people with extensive audio experience who love tube amplifiers.
Sound quality features
Pros
Very well balanced
Almost perfect neutral sound
High sense of definition
Warm and pleasant to listen to
Excellent localization
Rich harmonics
Mild
Mids and highs sound impressive due to distortion
Extended, open soundstage
Glossy and colorful sound
Cons
Lacks low-frequency depth
Lacks transparency
High distortion and noise
Lacks resolution
Sounds flat
General comment
The UGREEN HiTune T1 offers a unique, connoisseur-like sound with excellent neutral balance and warm harmonics. If you like to enjoy music with a high harmonic sound like a tube amplifier, you will enjoy these earphones a lot.
Purchase Link