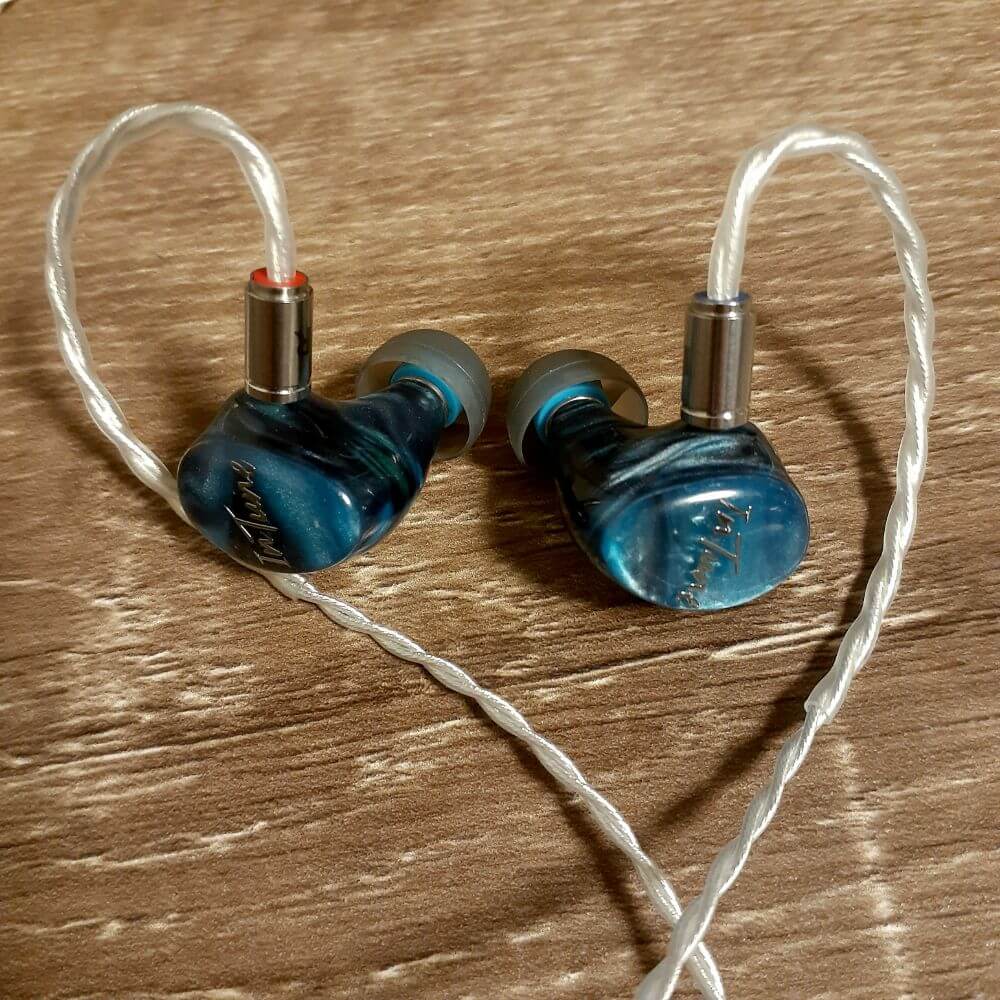 Disclaimer
This review is written based on a "private purchase" or "product rented for a price".
No remuneration or compensation, such as a manuscript fee, has been received for publishing this, and it is an honest evaluation based on measurement data from personal testing and personal opinion.
Please read the privacy policy of this website.
Recommended for people like this
People who want to taste the clear and distinct low frequency
People who like earphones that can be tuned for sound
People who want to satisfy their desire for ownership with a luxurious package
Overview of iBasso IT07
This review will give an overview of iBasso IT07. A complete review of this product can be found here.
audio-sound Score

Total Score: 9.0 / 10.0
Package: 9.0 / 10.0
Build quality: 8.5 / 10.0
Fitment: 9.0 / 10.0
High range: 8.0 / 10.0
Mid range: 9.5 / 10.0
Low range: 10.0 / 10.0
Less distortion: 9.0 / 10.0
Want to see the score ranking? Click here!
Basic Specifications
Frequency response: 7Hz to 40kHz
Impedance: 32Ω
Sensitivity: 107dB/mW
Cable connector: mmcx
Features of iBasso IT07
The iBasso IT07 is the latest flagship model of in-ear monitors, featuring a powerful 7-driver hybrid setup on both sides.
The IT07 features a premium driver setup consisting of a Tesla Moving Coil dynamic driver unit with 4-way frequency division design and six Knowles balanced armature driver units.
Experts have been working on the IT07 project for more than two years to create a beautiful earphone with precise tuning to provide a natural and lifelike sound output. It's simple, yet beautifully sculpted.
The IEMs come with a premium sterling silver cable with a 2.5mm end port for a fully balanced connection.
Powerful 7-driver hybrid setup (6BA + 1DD)
Reference level high resolution and clarity sound
Premium resin ear shells
Patented acoustic construction
2.5mm end plug for fully balanced output
Impedance: 16 ohms
Frequency range: 5Hz to 40kHz
Sensitivity: 108dB / mW
THD + N: <1
Noise Isolation: -30dB
2.5mm to 3.5mm conversion connector
Tesla Moving Coil DD Unit
The iBasso IT07 features a Tesla Moving Coil dynamic driver unit. Due to the large magnetic flux, the vibrating motion of the coil is smoother and better, resulting in a powerful low end and agile bass slam. It is very sensitive and responsive to sensitivities as low as 5Hz, ensuring a deep and extended low end to complement the music.
Knowles Balanced Armature Drivers
In addition to the Tesla DD drivers, the iBasso IT07 also features six balanced armature drivers from Knowle. These drivers cover the mids, highs, and ultrahighs with crisp, clear, and high-resolution output. The Knowles 30017 produces fully extended ultra-high frequencies, the Knowles 31785 produces natural and detailed mids and high frequencies, and the Knowles 30989 ensures beautiful midrange frequencies.
Professional tuning for reference-grade output
iBasso has a team of experts with years of experience in the audio industry. They have researched and tuned the latest IT07 to the fullest extent to provide reference grade acoustic performance with crisp, clear and high resolution output. This IEM performs exceptionally well with a wide variety of music genres, making it the perfect choice for your next collection target.
Patented Acoustic Construction
Inside the beautiful earshell of the IT07 is iBasso's patented acoustic tube construction. It is designed to effectively reduce the sound distortion caused by multiple driver units and produce ultra-crisp sound with a layered feel.
Premium Earshells
iBasso products are always designed properly, and the IT07 is no exception. The beautiful earshell is ergonomically designed and its surface looks artistic and starry. These IEMs fit comfortably in your ears and provide a secure and comfortable fit that won't make you feel uncomfortable even when listening to music for a long time.
package
The package of iBasso IT07 is quite gorgeous.
Package contents
There is no shortage of accessories. The package contains the following:
iBasso IT07
Five types of eartips (S/M/L)
Replacement filters (silver/gold/black)
Carrying case
Manual
Build quality
The build quality of the iBasso IT07 is well within the price standard.
The nozzle filter thread engagement was good and did not loosen up during use.
Fit
The fit of the iBasso IT07 is good.
Sound quality
The main feature of the iBasso IT07 is the very good quality of the low frequencies delivered by the Tesla drivers.
The iBasso IT07's sound is wonderfully deep and subdued, with a ladder that continues into the abyss with high clarity and excellent hierarchy. On the other hand, the highs have an excellent sense of detail, but lack extension and airiness. Micro-details are sometimes lacking, and despite their apparent clarity, they are not necessarily superior in terms of edge and crispness, which are related to the sense of separation in music. As a result, they are not good enough for analytical listening, and can be positioned as listening earphones rather than monitor earphones.
In this review, I will use the standard silver filter.
Please see here for detailed reviews on sound quality.
Sound quality general comment
Original sound fidelity: A
Recommendation: A
Personal preference: B
The iBasso IT07 is an interesting model for me personally. There is no doubt that its greatest feature is its very low distortion and clear low frequency. On the other hand, the high frequency range is not as sharp as it could be with the strength of multiple drivers, and I feel it lacks in extension and micro-detail.
The sound is somewhat supple, soft-spoken, and musical, and vocals sound sweet.
Some people will deeply love the IT07 because of its unique sound, but personally I find it quite a difficult model. The midrange, which is supposed to sound beautiful and natural, seems to be affected by both inadequate highs and unnecessarily detailed lows, and is not used to its full strength. And this is not a problem that can be improved with a tuning nozzle.
Sound quality features
Pros
Clear and hierarchical low frequencies
Natural texture
Soft and gentle sound
Fat and thick sound
High clarity

Cons
Low frequency is too clear
Poor sense of separation
Lack of harshness and sharpness
General comment
The iBasso IT07 has a musical, midrange-oriented sound with excellent fullness and a soft, thick sound. The best feature of the iBasso IT07 is the clear and high quality low frequency range provided by the Tesla driver. Although the separation is a bit lacking, the unique sound achieved by iBasso has its own unique appeal.
Purchase link