Bluetooth Earbuds Wireless,Bluetooth5.0,IPX5 Waterproof,One Step Pairing,Pumping Bass,Noise Canceling,TWS Headphone with Charging case/Mic for Work Out, Sports
This time we will focus on the coumi TWS-817. To be honest, I really don't know about a brand new to me, called coumi. Quality tends to be found in low-priced true wireless plastic earphones, such as toys, which tend to have fingerprints on them and look cheap.
Basic specifications
Continuous / maximum playback time: 5h / 20h
Waterproof performance: IPX5
Supporting codec: AAC / SBC
Unboxing
The contents are the earphone pair, S / M / L ear tips, manual, charging cable (Type-C), etc. The package contents are standard for a true wireless earphone in this price range. The ear tip is a thin-skin type and the fit may not be stable depending on the person.
Fit
The standard ear tips may have different fits depending on the person, but in my case, the fit is good. It fits tightly in the ear and sound insulation is not bad. Even if you shake your head violently, it will not come off.
Connectivity
Probably mediocre. I don't know because I haven't been to a crowded place, but communication may be disrupted even at home when I first connect. Probably the communication disorder will settle down in less than a minute, but the communication quality may not be so good.
However, the distance tolerance seems to be excellent, and even if it is 5 meters away, it will seamlessly connect and there will be no disturbance.
In addition, I confirmed AAC connection with Hiby R6 Pro (Android OS).
Sound Quality
Measuring equipment
SAMURA HATS Type3500RHR System: HEAD & TORSO, left and right S-Type ear model (Type4565 / 4566: IEC60268-7 compliant)
AWA type 6162 711 ear simulator
Microphone preamplifier: Type4053
Type5050 microphone amplifier power supply
Audio interface: ROLAND Rubix 24
Analyzer software: TypeDSSF3-L
Frequency response
In order, left and right, left and right average, left and right (free sound field adjusted), left and right average (free sound field adjusted). In the case of this earphone, the standard ear tip L size was used for measurement.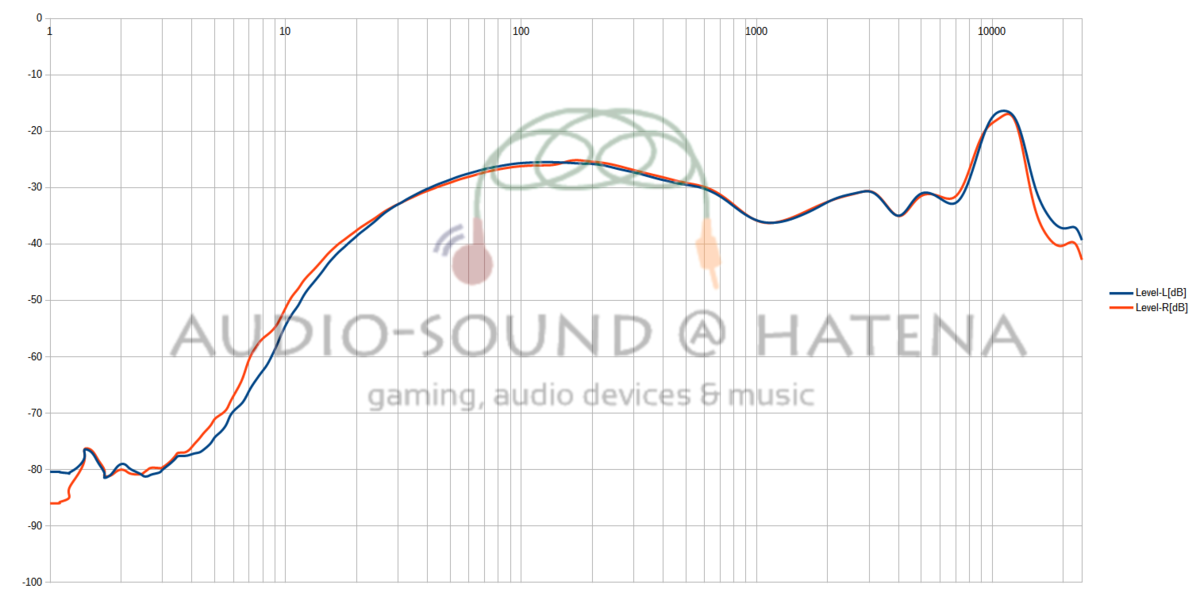 The mid-low range is lifted up, the lower part of the mid-range is emphasized a little, and the body of the drum is emphasized. The lows provide plenty of warmth, but some people may find that the emphasis on the drum body leads to excessive swelling and may feel a bleeding. In general, the whole song is soft and the edges are low, but the slight lack of mid-range and the incline at the top of the mid-range makes the vocals a little husky and the consonants stand out slightly. However, consonants and breaths should generally not be sharp or stinging. Also, the lack of the central part of the midrange tends to lead to lack of stability of the music as it is, and it depends on the taste, but at 1khz a more forward-looking one will feel sweetness and moisture, and a rich taste will be felt.
There is warmth, if anything, it is suitable for acoustic songs. The number of notes and clues are appropriately saved and easy to listen to, while the high range has a little sparkle, so the high range has a rather sharp feel, and the hammer of the piano and hi-hat sound surprisingly lively.
The vocals are a bit lacking in body, but they sound progressive.
As a drawback, I think you can understand it by listening to the "rock" of the recording signature below, it is a place where the sound is dry and easy to rattle due to lack of midrange. Of course, there are individual differences, so if there is no discomfort when listening, or if you like it, there is no problem.
Recording signature
The recording signature is posted for advisory. Free sound field adjustment is added. The source is KANN CUBE and the gain setting is high.
The music used in the recording signature is from the game maker Nippon Falcom, which I love.
JAZZ
Classical
Rock
Final Verdict
Comprehensive evaluation:

★★★

★★
The sound is warm and mild and easy to listen to, but due to the lack of mid-range body, some songs lack fullness. Also, the sound is dry, so it is not suitable for people who like a sound with a sense of moisture.
Besides the mild and easy-to-listen sound quality, the beauty is that it has high sound insulation and a compact size, making it easy to carry.
Bluetooth Earbuds Wireless,Bluetooth5.0,IPX5 Waterproof,One Step Pairing,Pumping Bass,Noise Canceling,TWS Headphone with Charging case/Mic for Work Out, Sports
Recommended articles
---